Of all the different diet plans out there, keto tops the list in popularity; in fact, it's the most popular diet in the United States. The popularity of the ketogenic diet is totally understandable, too. Why? – Because it's not only effective, but it's super-easy to do and stick to (which is largely why it is so effective). You see, there are so many different keto-approved foods. All you need to do is make up a low calorie, high health fat, medium protein menu, stick to it, and you should have no trouble seeing the pounds melt off. Plus, you'll reap the other numerous benefits that the keto diet can offer, including appetite suppression, increased heart health, decreased blood pressure, blood sugar maintenance, and increased HDL (the good for you) cholesterol levels.
Eggs, bacon, zoodles (zucchini noodles), cheeses galore, and so much more – there's absolutely no shortage of keto-approved foods to choose from. However, when your sweet tooth starts to itch, finding something that you can safely eat without thwarting your diet might seem a bit more challenging.
Fortunately, there's a great solution.
What is it? A smoothie!
Keto smoothies aren't just great for when you need to quench a craving, but they're also an ideal, tasty, and healthy on-the-go breakfast. If you're looking to add some keto breakfast smoothies (or dessert or snack) to your cookbook, keep on reading!
A Good Personal Blender Can Make All The Difference
Before we jump into our picks for the best keto smoothies for weight loss, first, a word on blenders. A high-quality personal blender really is a must if you want your smoothies to come out as smooth and creamy as possible. It doesn't have to be pricey; something like a magic bullet would work. With a good blender, making your keto-friendly shakes will be a lot quicker and easier.
Breakfast Keto Smoothie and Shake Recipes
So, now for the good stuff: the best keto smoothie recipes. We won't waste any more of your time; let's dive in and take a look!
Recipe

Nutritional information (per serve)

Prep time

4.4g carbs
14.1g protein
16.7g fat
229 calories

Prep time: 5 mins

8g carbs
10g protein
37g fat
470 calories

Prep time: 2 mins

4.66g carbs
3.13g protein
23.31g fat
270 calories

Prep time: 5 mins

11g carbs
19g protein
27g fat
326 calories

Prep time: 2 mins

10.75g carbs
3g protein
31g fat
303 calories

Prep time: 5 mins

11g carbs
7g protein
4g fat
140 calories

Prep time: 5 mins

34g carbs
10g protein
12g fat
277 calories

Prep time: 5 mins
1. Green Tea Avocado Smoothie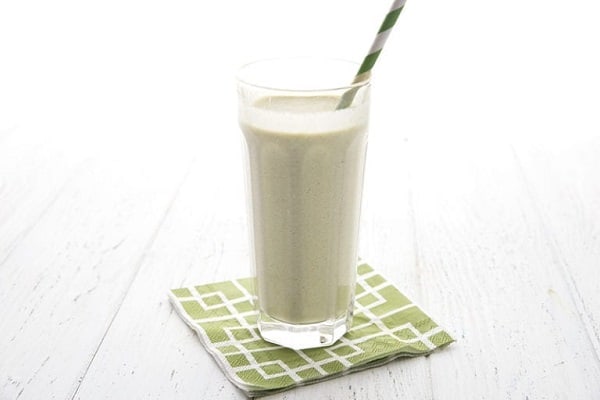 Avocado is a staple on the keto diet. That's because these fruits are low in calories and are loaded in healthy fats and have just the right amount of protein. They taste great, too; especially when they're mixed with green tea.
It takes about 10 minutes total to make and has just 229 calories, 4.4 net carbs, 14.1 grams of protein, and 16.7 grams of fat.
Check out alldayidreamaboutfood.com.
2. Blackberry Cheesecake Keto Smoothie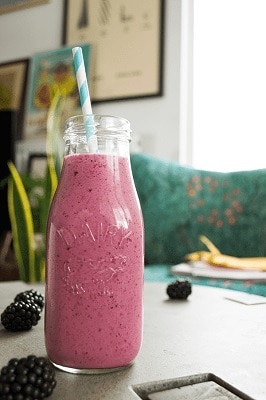 Hold onto your hats (or taste buds), because this blackberry cheesecake keto smoothie is an absolute taste-sensation! It's so delicious, in fact, you'll swear you're cheating on your diet, but with just 8 net carbs, 37 grams of fat, and 10 grams of protein, you totally won't be! It takes no time to put together, too, so it's a great way to start your day with something sweet, delicious, nutritious, and fulfilling.
Visit ieatketo.com for the full recipe.
3. Blueberry Banana Bread Smoothie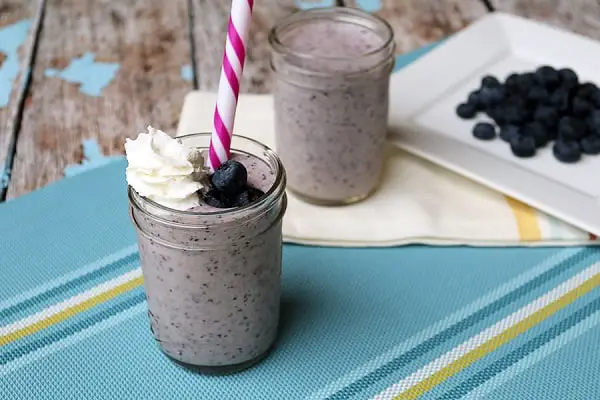 Enjoy banana bread in a glass with the added flavor bonus of blueberries. Just hearing the name of this keto-friendly shake is making our mouths water!
The best part is that it has only 4.6 net carbs, but it has 23.3 grams of fats, and 31.3 grams of protein, so it's totally in-line with your diet and makes for a fantastic low-carb snack.
Find the full recipe at ruled.me, and in just a few minutes, you'll be sipping yummy goodness.
4. Keto Cinnamon Almond Butter Breakfast Shake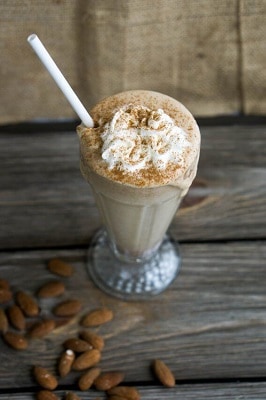 This is another keto breakfast that will totally knock your socks off. It's so unbelievably delicious that it might just make you swoon. Seriously, with every sip you take, you'll be completely blown away. The combination of cinnamon and almond butter are just so delightful that even the pickiest pallet will love it.
Each shake has about 27 grams of fat, 1.1 net carbs, 5 grams of fiber, 19 grams of protein, and 326 calories.
Find the recipe at ibreatheimhungry.com.
5. Instant Keto Chocolate Milkshake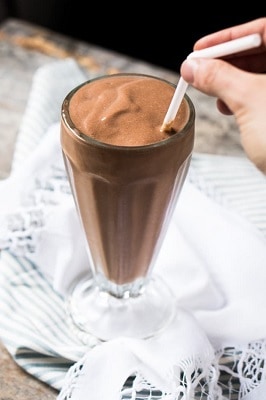 Calling all chocolate lovers! This keto breakfast shake is totally for you! Delightfully thick and creamy and bursting with chocolatey goodness; this shake is loaded with deliciousness in each and every sip. It even features an avocado for good measure, too!
Each shake has about 300 calories, 10.75 net carbs, 3 grams of protein, and 31 grams of fat.
Head to gnom-gnom.com for the full recipe.
6. PB&J Keto Smoothie
This is a totally unique keto-friendly smoothie. It's like your favorite childhood sandwich in a glass! Low in carbs, high in flavor; this PB&J Keto Smoothie would be great for breakfast, a grab-and-go lunch, or an after-dinner treat.
It takes just about 5 minutes to make and each shake has just around 140 calories, 4 grams of fat, 11 grams of carbs, and 5 grams of fiber.
You can find the detailed recipe at peaceloveandlowcarb.com.
7. Low Carb Minty Green Protein Smoothie Recipe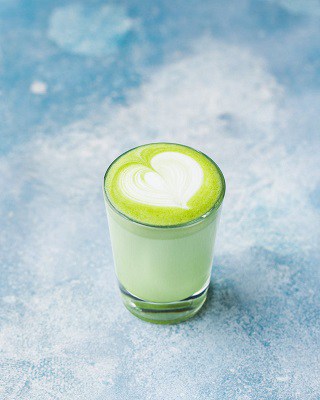 We wrap up our list of keto smoothies for weight loss with a recipe that's minty and refreshing; the perfect way to start the day or finish off a meal. It's made with avocado, Greek vanilla yogurt, vanilla protein powder, agave, peppermint extract, and even chocolate chips! Talk about delicious!
Each serve offers 12g fat and 277 calories.
You can head to hqketo.com for the full recipe.
Our Thoughts on Breakfast Keto Smoothies and Shakes
Whether it's a grab-and-go breakfast, a mid-day treat, or a sweet way to wrap up your day, these keto smoothies and shakes recipes are sure to leave you feeling satisfied.