Breakfast is the most important meal of the day. Not only does it give you the fuel you need to get up and go, but it also jumpstarts your digestive system, which in turn speeds up your metabolism. When you're on a diet, however, breakfast can be a bit tough; especially if you're in a rush.
On those mornings when you hit the snooze button too many times, everything just seems to go wrong, or things are totally hectic, you might be tempted to grab something quick, like a cereal bar, or you may even think that you have to forego breakfast altogether. Fortunately, you don't have to do either!
Can you eat breakfast on the paleo diet?
Yes, of course you can! While it might seem like most breakfast foods are grain-based, laden with calories, or are manufactured and made with ingredients you can't even pronounce, there are actually tons of ingredients that can safely be consumed as a paleo diet breakfast. There are plenty of paleo breakfast recipes that don't take a lot of time to make, that taste great, and that meet the guidelines of this relatively straightforward diet.
Can you eat oatmeal on the paleo diet?
While it might seem like it would be a quick paleo breakfast meal, technically, you should steer away from it, as this diet calls for no grains.
Now, with all of that said, if you are interested in eating a more natural diet and taking advantage of all of the benefits that such a diet provides, you might be looking for a sampling of some tasty paleo diet breakfast ideas. Below, we've compiled a list of six simple paleo breakfasts that you can grab when you're on the go.
Quick Paleo Diet Breakfasts
What makes for a great quick paleo breakfast? Anything that's grain-, sugar-, dairy-, and legume-free would be just fine for a simple paleo breakfast; of course, you should absolutely skip anything that's processed, too. These paleo diet breakfast ideas are perfect for meal prepping.
Recipe

Nutritional information (per serve)

Time

4g carbs
26g protein
39g fat
475 calories

Prep time: 10 mins | Cook time: 20 mins

49g carbs
20g protein
34g fat
574 calories

Prep time: 30 mins | Cook time: 15 mins

9g carbs
5g protein
9g fat
134 calories

Prep time: 10 mins | Cook time: 30 mins

33g carbs
8g protein
17g fat
323 calories

Prep time: 15 mins | Cook time: 0 mins

12 carbs
5g protein
17g fat
216 calories

Prep time: 15 mins | Cook time: 25-30 mins

2g carbs
19g protein
21g fat
275 calories

Prep time: 15 mins | Cook time: 40 mins
1. Sausage Frittata
This sausage frittata is made with sweet potatoes, onions, coconut oil, and eggs, and can be whipped up in just a matter of minutes.
This recipe serves 4g of carbs and 26g of protein.
This paleo tasty and satisfying paleo breakfast recipe can be found at sarahfragoso.com.
2. Sweet Potato Breakfast Skillet with Bacon
This is another savory and oh-so-satisfying breakfast that's totally paleo-approved. Bacon, sweet potatoes, zucchini, onion, eggs, and bell pepper are the key ingredients, and they all come together to create an excellent paleo meal.
Each serving whips 20g of protein and 34g of fat.
Check out allergyfreealaska.com for the full recipe.
3. Sticky, Ooey, Gooey Paleo Cinnamon Rolls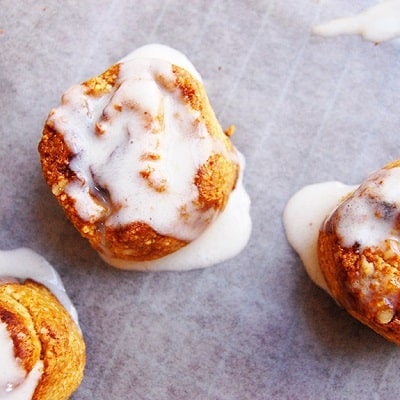 The name definitely doesn't sound like it would be paleo-friendly but believe it or not, these cinnamon rolls are totally approved for this diet. Made with almond and coconut flour and topped with cinnamon honey coconut cream, they're a sweet way to start the day.
The rolls offer 134 calories and 9g carbs each.
Check out paleogrubs.com for the recipe.
4. Raspberry Sherbet Chia Pudding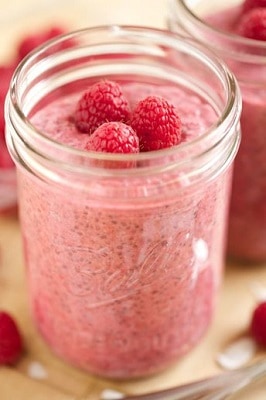 Medjool dates, coconut milk, raspberries, chia seeds, and vanilla extract blended together make for a totally taste bud-tantalizing breakfast. Whip it up the night before, pop it in the fridge, and grab when you're running out the door. It stays good for up to 3 days!
Each cup has 17g of fat and serves 323 calories.
Visit getinspiredeveryday.com for the complete recipe.
5. Paleo Blueberry Muffin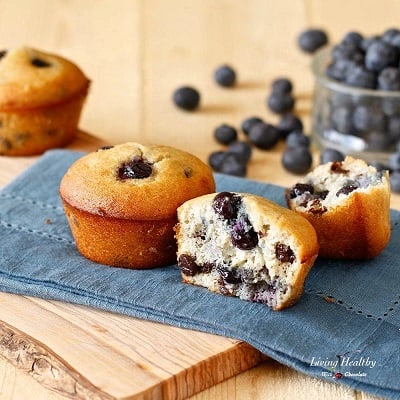 Grain-free, gluten-free, low-carb, and completely fulfilling, these paleo blueberry muffins can be whipped up at the start of the week. Grab a few and munch them while you're driving into work or munch on them at the office. They also make for a great keto breakfast on the go!
The recipe offers 17g fat and 216 calories.
You can find the recipe at livinghealthywithchocolate.com.
6. Meat Bagels
Meat bagels? Say what?! Yes, you read that right. You can totally make meat bagels for a great-tasting paleo breakfast on the go. The recipe calls for grass-fed ground pork, but you could easily substitute for ground turkey or beef.
Each bagel only has about 2g of carbs, which is ridiculously low. If you want a yummy paleo or keto breakfast without the eggs, this ones for you.
With this dish, you have a total of 275 calories served.
Check out ditchthewheat.com for the full recipe.
Our Thoughts on Paleo Breakfast Recipes
The above-mentioned recipes prove that there are plenty of paleo diet breakfasts to choose from. These recipes are easy to make, fulfilling, and will totally keep you on track with your diet goals.