A frittata is what Sunday brunches are meant for! In my home, Sundays are the days to relax and rejuvenate – which means waking up a little later than usual and having a late breakfast. Most of the time, the breakfast will merge with the lunch and I'll make it a brunch! On such days, there's not aren't too many restrictions on the type of food being made – except that it's keto / low-carb, of course.
I try go for something super easy, something that I can just whip up and throw in the oven. Or, something that I can easily cook on a pan or instant pot.
This keto vegetable frittata is one such delightful dish that you can whip up in no time and with simple ingredients that are usually part of one's pantry. It's usually a clean the fridge kinda dish for my family. Basically, you can throw in any and every vegetable of your choice.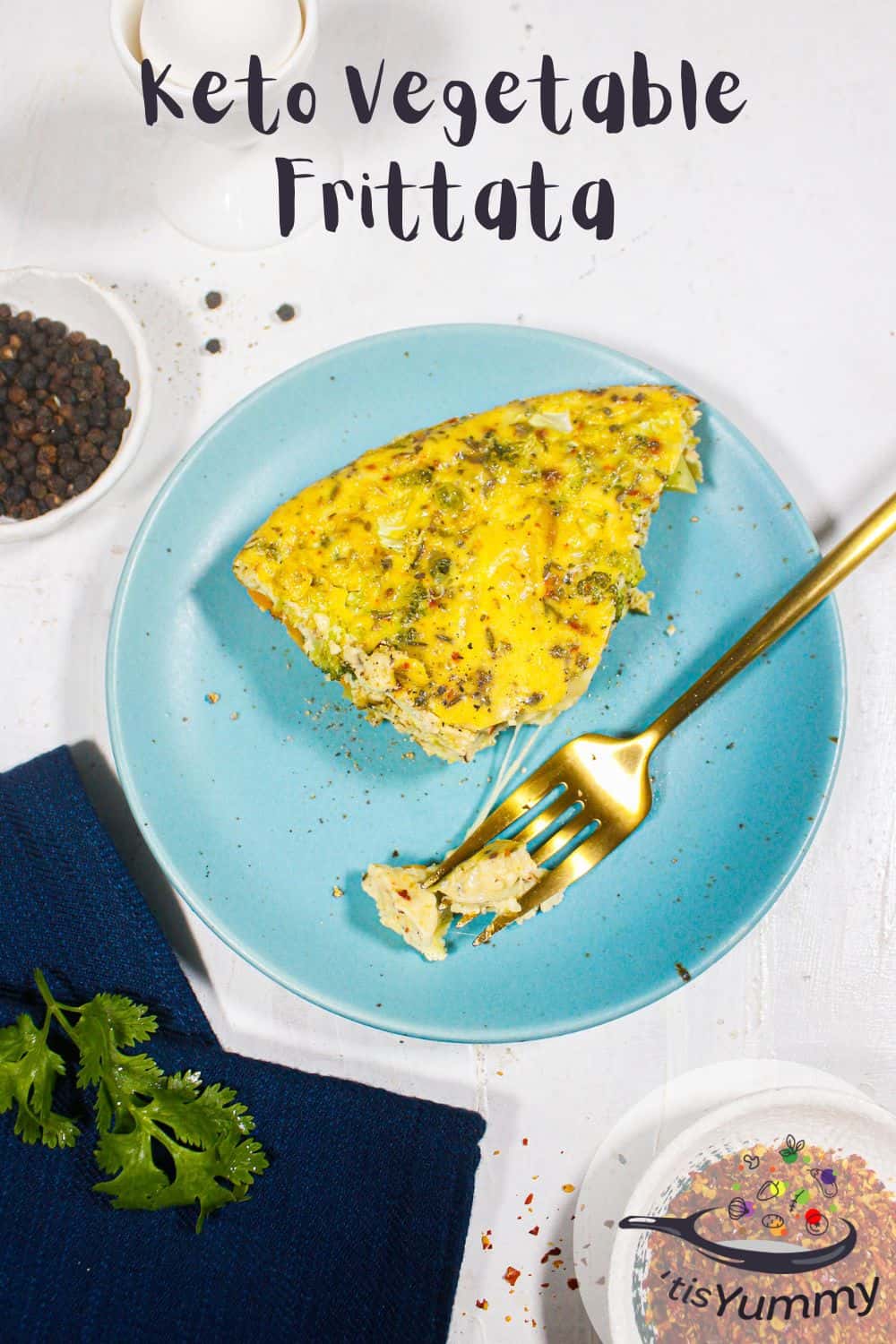 Here are a few key points you should keep in mind while making this easy keto frittata:
Use a lot of vegetables and pre-cook them before adding the eggs
It is always a good option to slightly cook your vegetables before adding the eggs. The reason being, raw vegetables release a lot of water while cooking and they would take a lot more time to cook as well as hinder the proper cooking of the eggs. Pre-cooking the vegetable help to avoid this and also brings out the best qualities of the veggies.
Cheese is good
A good frittata is a creamy and flavorful frittata and cheese helps to add the extra burst of flavor as well as the creamy element. Best cheeses that go well in a frittata are cheddar and parmesan. You are free to use any cheese of your choice.
Never overcook your frittata
This is a very important tip. Overcooked frittatas are just dry and spongy and that's not just great at all. While baking the frittata, keep an eye on the cook. The frittata should just be cooked with a gentle wiggle at the center. The frittata will continue to cook due to the heat trapped inside and hence it is a good idea to take it out of the oven on time.
How to store this keto vegetable frittata?
Usually frittatas get gobbled up within minutes of them being made. That's how delicious they are! But if you wish to store them, you can store it for a maximum of 3-4 days in a refrigerator. Make sure to use a sealed air – tight container.
For long term storage, you can freeze the frittata. Proper freezing can maintain the texture and taste of the frittata for up to 3 months.
What substitutions can you make?
For this recipe, we have kept the frittata keto. We have made it low carb as well. But if you do not have any such restrictions then you are free to add any meat and veggies of your choice. Addition of bacon elevates the taste of the frittata to a next level.
You can also use minced chicken or shredded chicken to add the meat element to your frittata. The steps remain the same. You will have to first cook the chicken and the vegetables at least 80% before pouring the egg mixture and baking it.
The same goes for seasoning. I have kept the seasonings limited for this recipe. You can adjust them as per your liking.
Now that we have talked so much about frittatas, let's get on to the recipe, shall we?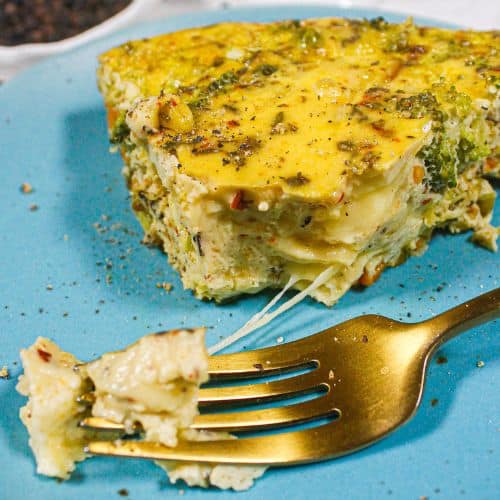 ---
Keto Vegetable Frittata
This quick and easy keto vegetable frittata uses plenty of healthy veggies, eggs and a good deal of cheese. Each of the 4 servings has 6g of net carbs, 21g of fat and 15g of protein.
Equipment
1 Large mixing bowl

1 Oven-safe baking / casserole dish
Ingredients  
2

tbsp

Olive oil

1/2

cup

Carrot

(finely chopped)

1

cup

Green bell peppers

(finely chopped)

1

cup

Mushrooms

(sliced)

1

cup

Broccoli

(finely chopped)

1/4

cup

Peas

(leave these out to reduce carbs)

1/4

cup

Haricot beans

(leave these out to reduce carbs)

8

large

Eggs

1/4

cup

Heavy cream

1

cup

Cheddar cheese

(shredded)

1

pinch

Salt

1

tsp

Black pepper

2

tsps

Mixed Italian herbs

1

tsp

Red chilli flakes

1

tsp

Ginger garlic powder

1

tsp

Onion powder
Instructions 
Pre-heat the oven to 375°F.

Heat the oil in a pan. Add all the chopped vegetables into the pan, add a little bit of seasoning (optional) and saute for 2 minutes or just until they start caramelizing. Turn off the heat and keep them aside.

Next, take a mixing bowl. Add the eggs, cream, sea salt, black pepper powder, mixed Italian herbs, red chili flakes, ginger garlic powder, and onion powder. Whisk everything together.

Add in the cheese next into the egg mixture and fold it well

Take a casserole baking dish and grease it with butter

Next, layer the bottom with the prepared vegetables

Pour the egg mixture over the vegetables. Ensure that the egg sips down in between the crevices of the vegetables. You can use a ladle to flatten out the egg mixture.

Top the mixture with some more shredded cheese

Bake for 25-35 minutes, or until the center of the frittata is cooked through at the center. Use a toothpick to check if the center is cooked. It should come out clean.
Notes