Chicken breast… one of the staples of anybody who's ever gone to the gym or wanted to clean up their diet. It's no secret that it dries out REALLY quickly and doesn't typically knock you off your feet taste-wise. These juicy keto ricotta stuffed chicken rolls, however, really break the mold! They're anything but dry, thanks to the awesome stuffing and the marinade + gorgeous cheese mix really make it shine. Just try it and you will never again throw your meat straight into the tray without marinating it first, trust me.
The Ricotta cheese in the stuffing makes this such a yummy dish. The rich and creamy texture mixed with the tangy lemon and pepper makes for a culinary keto delight. This is certainly one of my favorite keto ricotta recipes to have for dinner or lunch.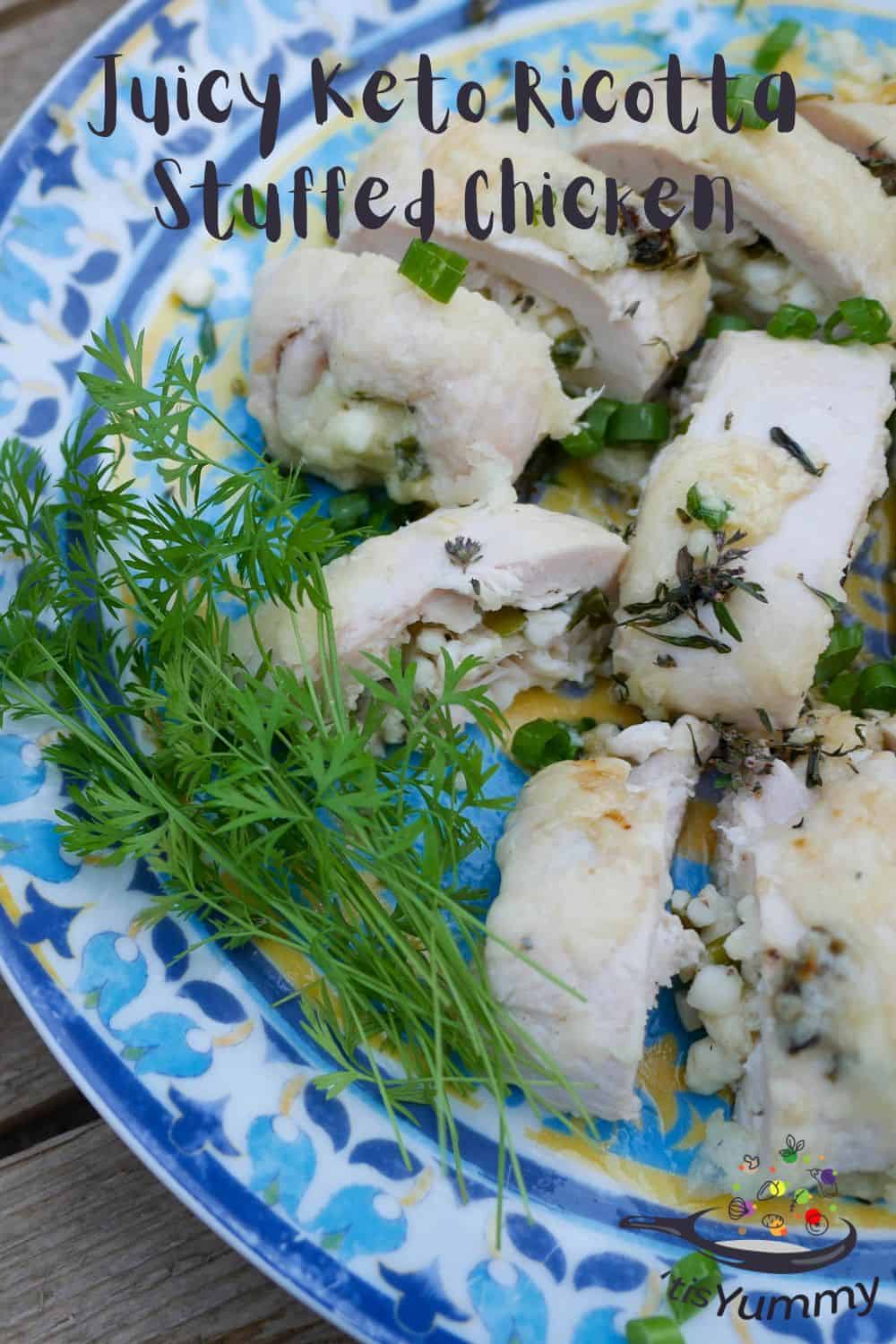 Black pepper, nutmeg and your tastebuds?
I'm going to go on a bit of a rant, but I think it's warranted. Rarely does one take the time to really think about which condiments mix well and what form they should use. Never, ever buy your black pepper pre-ground – this defeats the whole purpose of adding it in the first place! Always grind everything fresh, including cheeses like mozzarella and parmesan. Anything else is an insult to the product and a shortcut you shouldn't even be considering.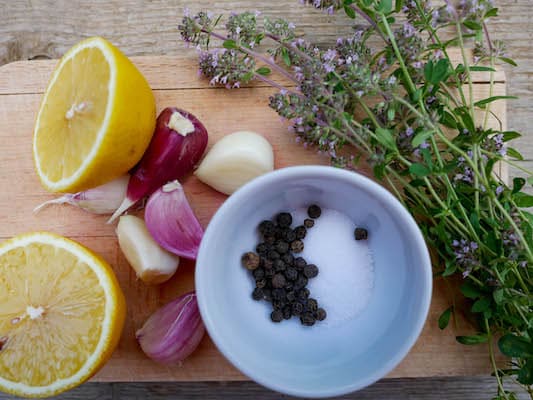 Obviously, origin and quality matter so make sure you know where your products are coming from. There are known hotspots for specific ingredients – for example, the best cinnamon comes from Sri Lanka, not China (big surprise). However, most people just don't know or don't care enough, but let me tell you… the difference is huge! Small details typically make the biggest impact in a dish, even if it's as simple as a chicken breast.
What substitutions can you make?
Ricotta: While it's the star of the recipe, you can actually swap out the Ricotta. You want to go with a similarly creamy alternative. An obvious option is cottage cheese as it's creamy and mild, however it needs to be nice and fresh as most commercial cottage cheese is too runny to make for a good stuffing. You can also go with goat's cheese, pot cheese, or even some soft and mild feta cheese.
Chicken: You could also use turkey breast if chicken is unavailable or undesirable for any reason.
How long will these keto ricotta stuffed chicken breasts keep?
Refrigerate leftovers straight away in an airtight container and they'll last up to 4 days.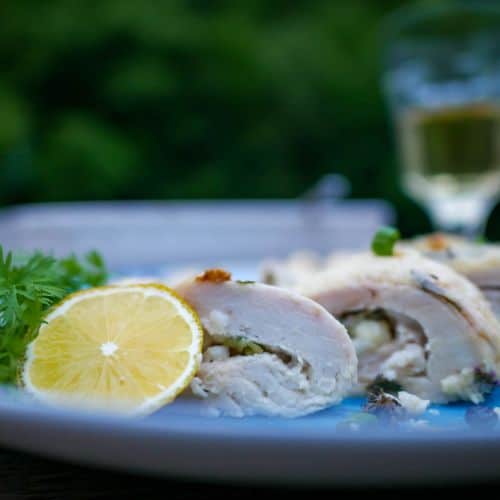 ---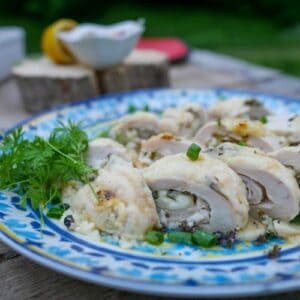 Keto Ricotta Stuffed Chicken
This delightful low carb dish sees us marinating chicken breast in a lemony herb mixture before rolling and stuffing with a yummy Ricotta cheese mixture. It makes 4 servings with each serve containing 2g or less of net carbs
Equipment
1 Mixing / marinading bowl

1 Large baking dish
Ingredients  
500

grams

Chicken breast

20

grams

Parmesan cheese

(grated)

40

grams

Butter

(melted)
For the stuffing
100

grams

Ricotta cheese

35

grams

Mozzarella cheese

(grated)

2

small

Stalks of green onion

1

large

Egg

1

tsp

Nutmeg

(freshly grated if possible)

1

tsp

Salt

1

tsp

Black pepper
For the Marinade
1

medium

Lemon

4-5

cloves

Garlic

1

tsp

Salt

Whole black peppercorns

(typical in marinade)

2-3

spriggs

Thyme
Instructions 
Cut the chicken breast into 4 identical pieces

Use a flat object with some cling film to tenderize and flatten the meat

Prepare the marinade in a large bowl by adding the juice from 1 lemon, 4-5 cloves of finely chopped garlic, some salt, whole black peppercorns, fresh thyme and enough olive oil to cover the meat

Leave to marinate for 30 minutes - make sure to keep the precious liquid, DON'T throw it away after the time is up!

Let's prepare the stuffing! Grab another bowl and crack one egg. Beat it thoroughly

Add 100 grams of ricotta, 35 grams of freshly-grated mozzarella (don't buy pre-grated) and 2 small pieces of finely chopped green onion

Now it's time to make everything smell nice! Grate some nutmeg, add a pinch of salt and freshly ground black pepper. Mix all ingredients.

Once the 30 minutes for the meat are up, preheat your oven to 350 F (180 C)

Take each piece of breast and lay it flat. Place some of the stuffing in a row close to one edge and roll it up like a carpet

Carefully place each chicken roll in the oven tray

When you're done with all 4 pieces, pour the marinade on top & finish off with about 40 grams of butter

Bake for 25 minutes and then take the tray out of the oven

Grate some parmesan cheese on top and bake for another 15 minutes

Finally, leave to cool and decorate with some fresh forest thyme & green onion on top during plating
Notes