It's hard to overstate the joy of biting into the glorious texture of these awesome fluffy keto ricotta brownies! The moist, yet crunchy nutty base, contrasting with the melting buttery frosting… Especially if you've just taken yours out of the fridge, it's almost like digging into the best chocolate ice cream you've ever had in your life ❤️
The Ricotta cheese gives these low-carb brownies the rich creamy texture that helps mimic the forbidden original. This is definitely one of my favorite keto ricotta recipes to have as an after-dinner treat.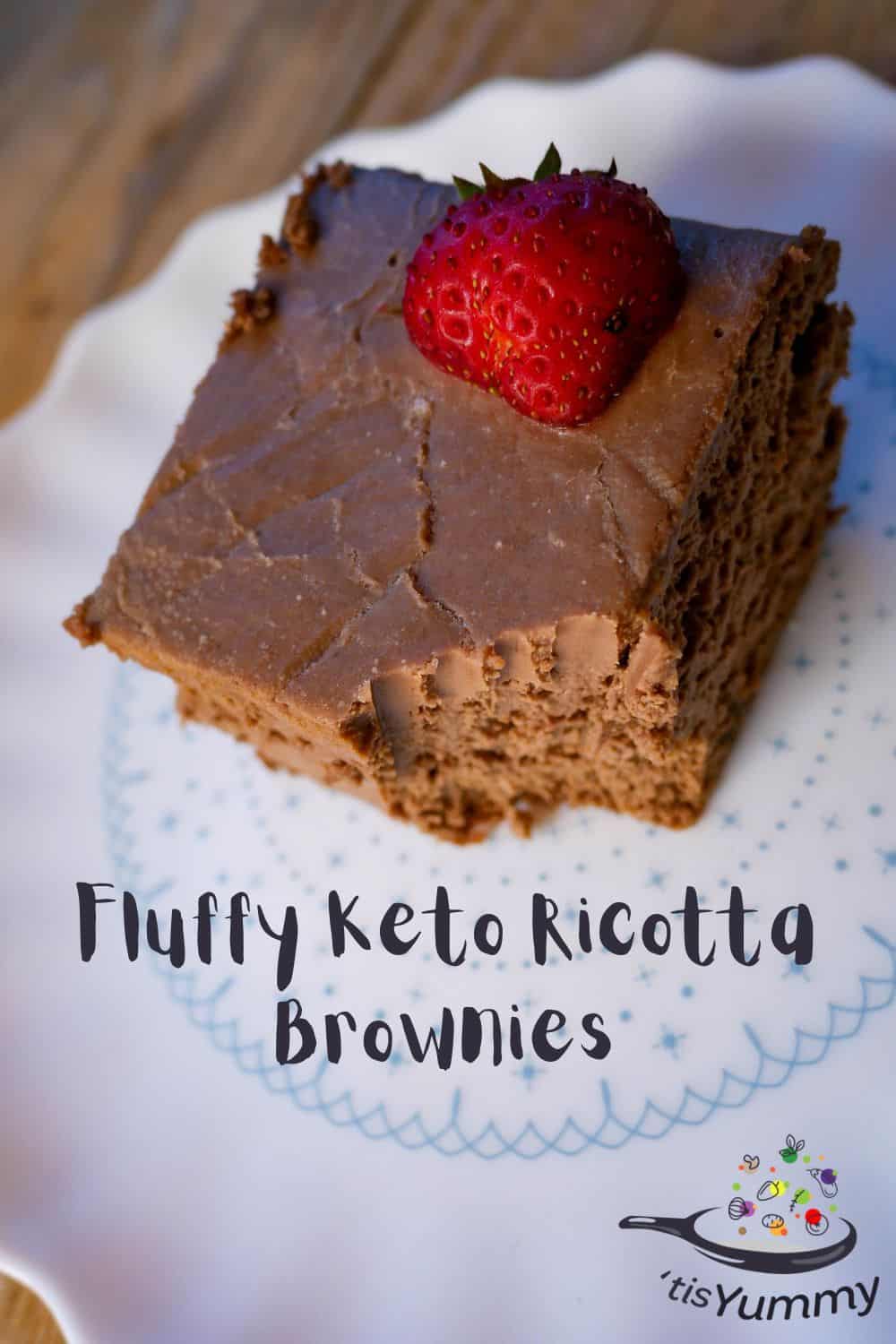 What variations of the keto ricotta brownies can you make?
I prefer using carob flour instead of cocoa for a variety of reasons – the taste, the color and the fact that it doesn't contain caffeine. If carob is not your thing, you can definitely use cocoa powder or even a keto-compatible chocolate bar of your own choosing.
The ricotta can also be changed out for cottage or even curd, if you don't have some handy. The sweetener can be swapped, as well, but make sure that it will dissolve nicely. We don't want crystals or lumps, just smooth chocolate-y goodness 🍫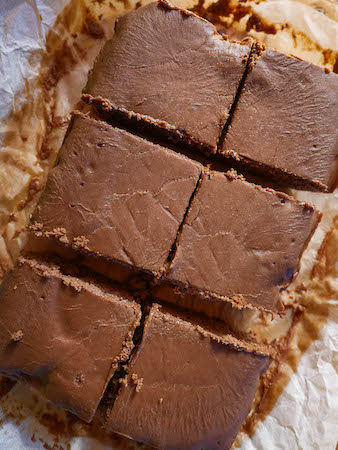 Cooking tips
Most of this recipe comes together in the blender, so make sure you have a quality one at hand ☺️ You will also need a saucepan to portion out a part of the mixture for the frosting, after you're done with the initial ingredients.
How long will these keto ricotta stuffed chicken breasts keep?
Keep these yummy brownies in an airtight container on the kitchen counter for no more than 4 days.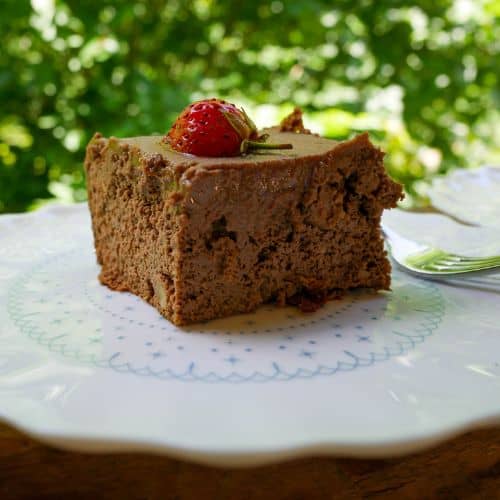 ---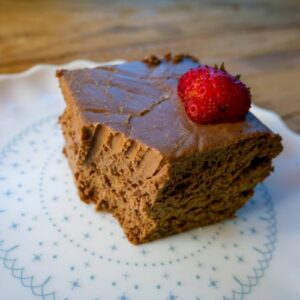 Fluffy Keto Ricotta Brownies
These impeccably fluffy keto brownies utilize ricotta cheese to make them soft and creamy. Carob flour or cocoa powder make them chocolatey as all get up! A serving has around 7g of net carbs, so definitely a sometimes treat!
Ingredients  
The mix
30

grams

Carob flour or cocoa powder

100

grams

Powdered erythritol

160

grams

Heavy cream

5

tsp

Coconut oil

(about 25 grams)
The base
200

grams

Ricotta cheese

(can also use curd)

3

large

Eggs

2

ml

Vanilla extract

4

tsp

Coconut flour

(about 40 grams)

50

grams

Raw walnuts

(chopped)

1

pinch

Salt

5

grams

Baking powder

(add right before mixture goes in oven)
The icing
60

grams

Butter

40

grams

Heavy cream
Instructions 
We'll first have to prepare the initial mix, which we'll then divide up so we have some leftover for the frosting.
Take out your blender and make sure to turn your erythritol into powder, if it's in granule form. This will ensure that it dissolves properly and has the best possible texture once cool. Measure out 100 grams and blend until you see a fine powder form. Wait a while before opening the lid so the fine particles can settle or skip this step entirely, if you're starting with erythritol powder.

Preheat your oven to 350 F (180 C). Prepare an oven-safe tray - preferably use one with a smaller surface area so your brownie can rise upwards during the baking process. Mine was 25x15 cms, for reference. Line the tray with a moist baking sheet.

Add 30 grams of carob flour or cocoa to the erythritol in the blender. As mentioned, you can also use a keto-friendly chocolate, if you prefer.

Add 160 grams of heavy cream and 25 grams of coconut oil

Blend until the entire mixture becomes homogeneous

Pour out about 100 ml into a saucepan and put it aside. We'll use this later to make the frosting

Let's get on with adding everything needed for the base to the blender

Add 200 grams of ricotta, cottage or curd, 3 eggs, some liquid vanilla extract, a pinch of salt and 40 grams of coconut flour. Blend thoroughly and disconnect your blender from the mains. You won't be needing it anymore.

Measure out 50 grams of raw walnuts and chop them into your preferred size by hand. We like to leave them somewhat larger so you can feel the crunch when you bite into the brownie.

Once your oven reaches heat, add the walnuts to the blender jug, along with 5 grams of baking powder and stir with a wooden spoon. DO NOT BLEND anymore at this point.

Pour the mixture into the tray and distribute evenly.

Bake for 30 minutes and then leave to cool before adding the frosting. Make sure the base doesn't dry out - the center should look moist at the end of the baking process (check image).
Speaking of frosting, here's what to do once the base has cooled and you're ready for the final step:
Get the saucepan that we put aside in step #6 above

Add 40 grams of heavy cream and 60 grams of butter

Don't worry, you can put in large blocks of butter, we'll be melting it in a second anyway

Put the saucepan on a low flame and stir until everything comes together

Carefully pour the frosting on top of the base in the tray and wait for it to cool

This step is optional, but I highly recommend putting your brownie in the fridge overnight before digging in. It will really feel like awesome chocolate ice cream, if eaten cold. You will also have an easier time cutting identical pieces out

Decorate with some fresh strawberries on top and enjoy!
Notes