Everybody knows that a good lasagna takes time, patience and a little bit of magic! If that's true, a keto ricotta lasagna takes a whole LOT of magic as you really need to make everything yourself – the sauce, the topping, everything! Nothing is pre-made for you. I'll show you how to start from scratch with a couple of quality ingredients and make a mouth-watering keto lasagna every time! Keep in mind, this recipe takes time and effort, it's not something you would do if you have just 15 minutes to spare.
Now, this ain't going to look like a traditional lasagna. For starters, there's no pasta, and there's no layers. I also make it in a round dish, so it looks a bit more like a shepherd's pie. But the flavor and texture is close, and I've had some Italian friends say they love it. The secret is in the Ricotta cheese. It makes the topping so rich and creamy! This is, without question, one of my favorite keto ricotta recipes to have for dinner.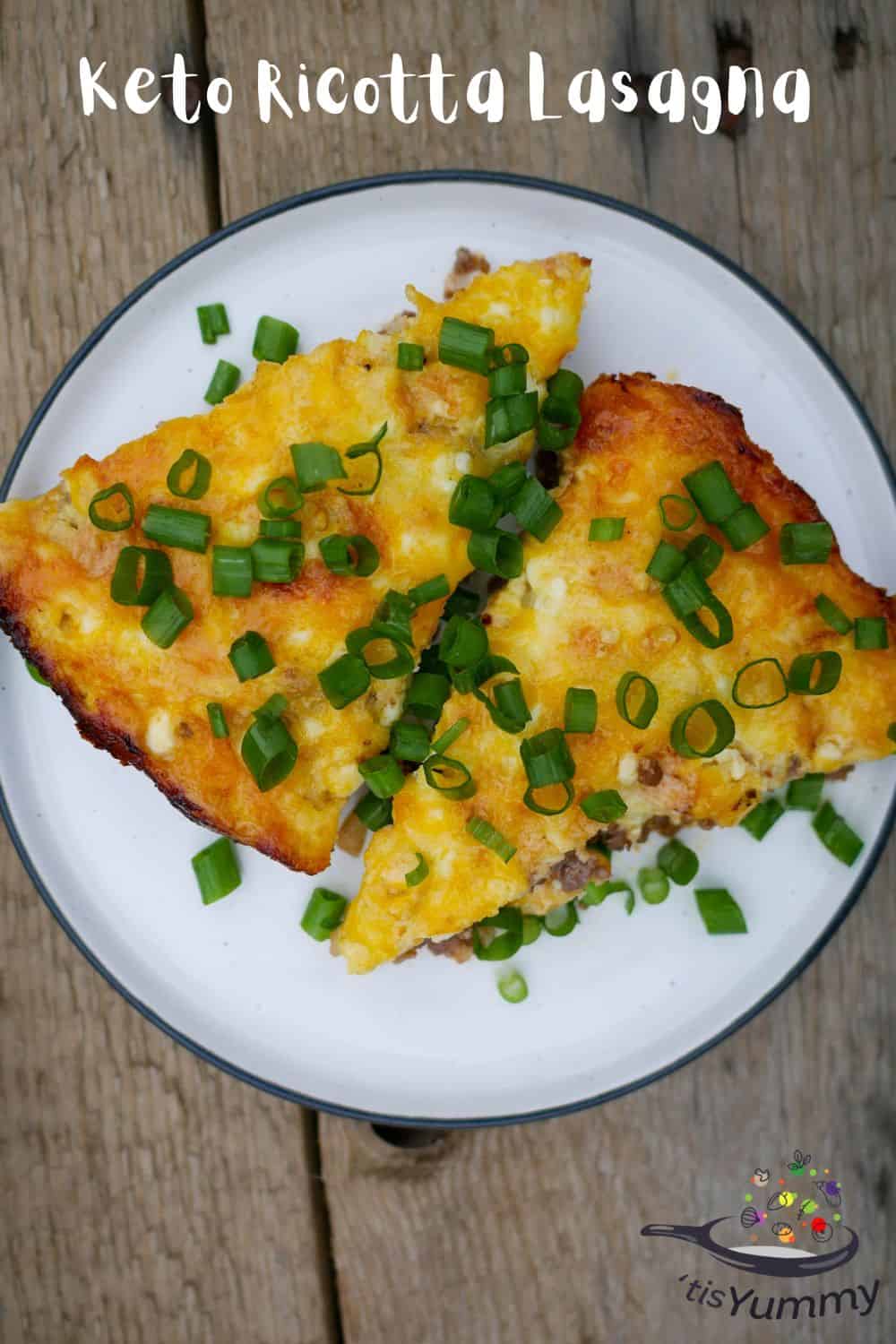 How can you speed things up with this keto ricotta lasagna?
To be honest, speed is the enemy of a great lasagna. There's really something special in zoning out and doing everything yourself. However, there are some things you can do to speed things along if you're short on time:
Get yourself a quality iron-cast skillet so you can use less dishes and avoid transferring to a tray for the final broiling. Keep in mind that the skillet needs to be deep enough to be able to hold all of the ingredients.
Use a tomato paste or puree from a can, instead of grating fresh tomatoes. Yes, this is also an option, even though most Italians would gawk at the idea. But hey, we also don't use any pasta in this dish, so why not give it a try?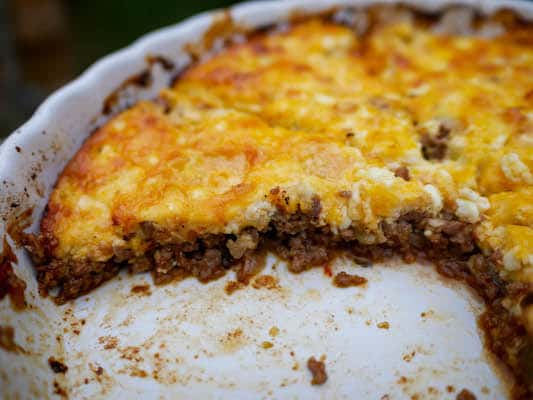 What variations can you make?
Topping: The cheese mix for the topping can be made from a number of different types – ricotta, cottage, cheddar, mozzarella… Pick and choose, based on what you prefer and actually have in your fridge.
Beef: You could also use pork if quality beef is hard to come by or you just don't have some handy.
Tomatoes We already discussed the fresh vs. canned tomatoes, but you can also opt for marinara sauce or something similar. Again, it's up to you!
How long will it keep?
Refrigerate leftovers straight away in an airtight container, and they'll last up to 5 days. I prefer to reheat this in the overn than the microwave, but the latter is still fine if you cook for longer on lower power. It will still make a great keto lunch for work 🙂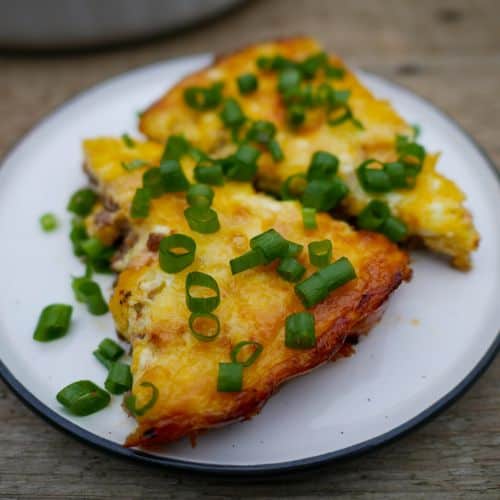 ---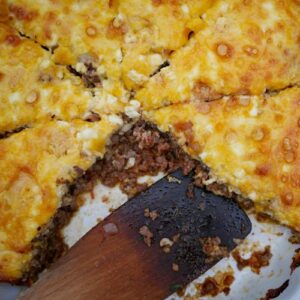 Keto Ricotta Lasagna
While not styled like the classic Mediterranean dish, this keto ricotta lasagna is close enough to the real thing to satisfy those cravings for Italian food. Each serve contains 12g of net carbs with 22g of fat and whopping 49g of protein!
Equipment
1 Mixing bowl

1 Baking dish
Ingredients  
For the bottom layer
440

gram

Ground beef

(quality butcher's mince is best here)

350

grams

Tomatoes

(nice and fresh tomatoes also makes a difference)

1

medium

Onion

(diced)

6

cloves

Garlic

1

tbsp

Seasoning

(equal parts Salt, Black pepper, Oregano, Thyme)
For the topping
2

large

Eggs

90

grams

Mozzarella cheese

200

grams

Ricotta cheese

(can also use Cottage cheese)

100

grams

Cheddar cheese

(grated)
Instructions 
Like anything in life, having a solid base is paramount. This cheesy beef keto lasagna is no different 😊
Start by grating your tomatoes as this can take some time

Get a medium-sized frying pan and heat some olive oil on medium

Cut the onion into fine cubes and sauté for 5 minutes on a medium frying pan on medium heat

Add the ground beef and cook for another 5 minutes, stirring occasionally

Add the garlic and cook until you can sense its aroma; 1-2 minutes, no more

Now add the grated tomatoes, salt + black pepper. Let simmer for 5 more minutes on low

Add thyme and oregano right before taking the pan off the stove, remembering to stir

Preheat your oven to 350F (180C)

Move everything to an oven-safe container, if you don't have a fancy dual-purpose cast iron skillet
We're now ready with the base and will prepare the cheese mixture for the topping
Grab a bowl and thoroughly mix 2 eggs

Grate your cheeses of choice - cheddar and mozzarella both work great!

Measure out your ricotta or cottage cheese

Mix everything together and finally distribute on top of the ground beef & vegetables in the tray

Bake for 30-35 minutes until topping becomes golden

Cut into even pieces and use green onions for decoration. Some freshly-grated Parmesan cheese can really take things to the next level
Notes