This protein-packed keto cottage cheese, egg and sausage frittata is the perfect recipe to prepare in advance for either breakfast, lunch, dinner or a snack! Simply bake in advance, store in the fridge and reheat in the microwave as needed. It's perfect for your weekly meal prep!
It has a mere 2g of net carbs per serve, with a whopping 26g of protein. This is largely owing to the cottage cheese, which gives it extra body and a creamy, moist texture. It's absolutely delicious, and without doubt one of my go-to keto cottage cheese recipes! Oh and rather than using beef or offal sausages, I use Italian chicken sausages that are oh so delicious!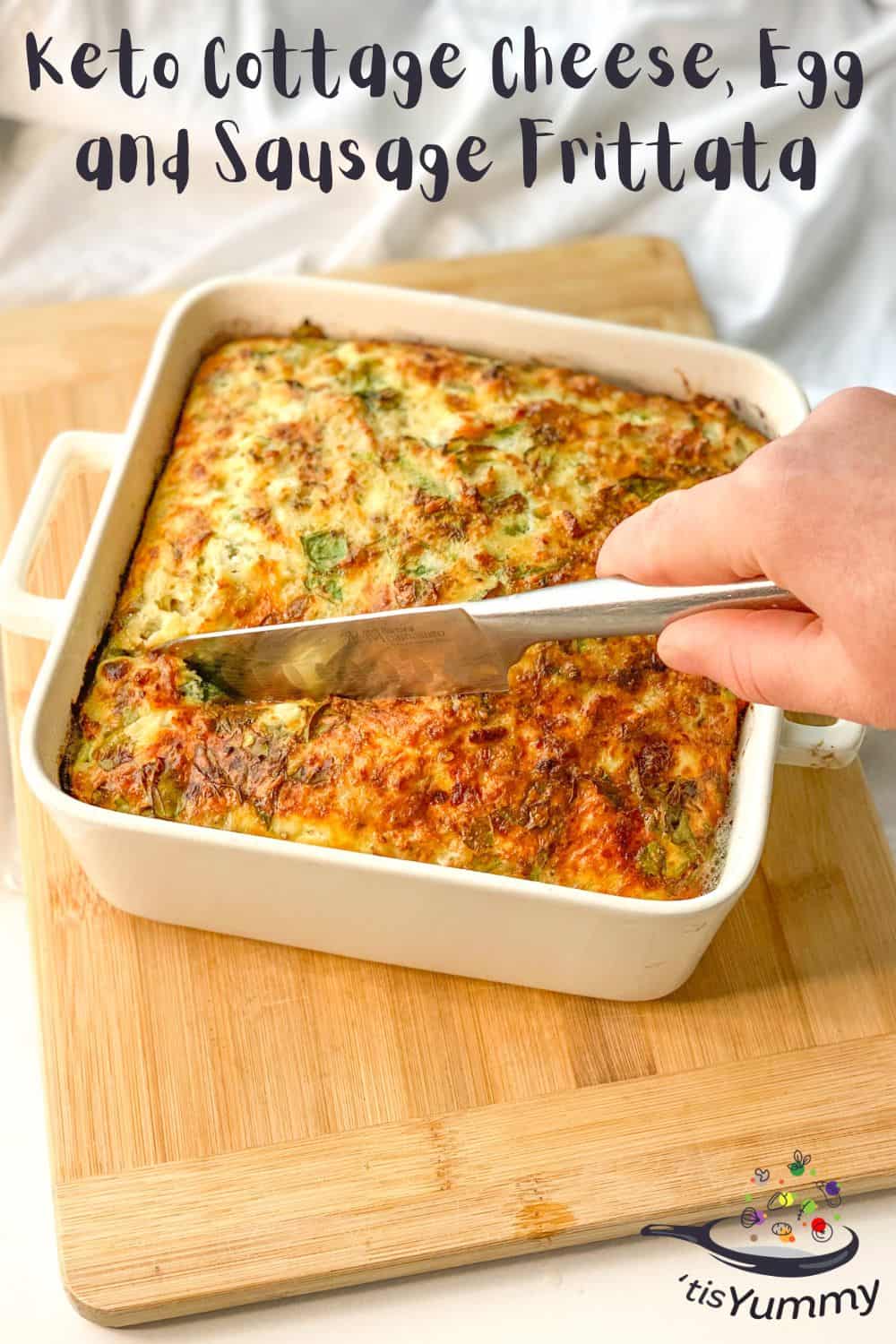 What equipment do you need for frittata?
You'll need an oven-safe baking dish or pan for this recipe. Whilst it starts being cooked on the stove top, it is finished off in the oven. Therefore, an oven-safe pan such as a cast iron pan would work best, as it can do both – meaning less dishes and washing up to do!
What goes nicely alongside this keto frittata with cottage cheese?
This frittata goes perfectly on it owns, otherwise you could pair it with a side of fruit if you are having it for breakfast, or a simple salad if you are having it for either lunch or dinner.
I've previously made it as a light lunch with a simple Greek salad of cucumber, cherry tomatoes and red onion tossed with some crumbled Greek feta, dill weed, olive oil and a splash of good quality balsamic vinegar. Yummy!
Can you meal prep my keto cottage cheese, egg and sausage frittata?
Yes, you can absolutely meal prep this recipe!
Simply make it in advance and refrigerate in an airtight container for up to 4 days. To reheat, simply slice your portion and warm in the microwave. This is one of my go-to meal prep ideas for lunch to have at work.
What substitutions can you make?
You can easily substitute the spinach for other any other low carb vegetables you have on hand, such as kale, capsicum or swiss chard. Additionally, if you can't find any chicken sausage, turkey sausage, or aged beef or lamb sausage will also work well in this recipe.
---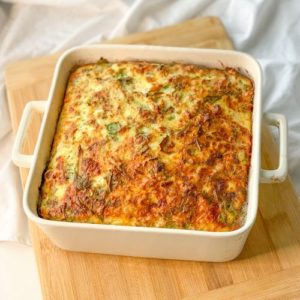 Keto Cottage Cheese, Egg and Sausage Frittata
This delicious frittata uses chicken sausage and cottage cheese to make a unique and protein-packed meal. It's perfect for breakfast, lunch or dinner. It has only 2g of net carbs, but 26g of protein and 16g of fat!
Equipment
1 Baking dish

(preferably one that can go on the burner too)

1 Medium or large skillet

1 Medium-sized mixing bowl
Ingredients  
1/2

cup

Cottage cheese

(4% or 4.5% is my favorite)

1/2

cup

Parmesan cheese

(grated)

8

large

Eggs

1

link

Italian chicken sausage

(casings removed if possible)

1

cup

Baby spinach

(chopped)

3/4

tsp

Sea salt

Ground black pepper to taste
Instructions 
Preheat your oven to 350°F (175˚C) and move oven rack to high position (I use second from top).

Lightly spray a 10-inch oven-safe pan with olive oil spray

In a medium bowl, whisk eggs, cottage cheese, parmesan cheese, spinach, salt and pepper. Set aside and place your skillet or cooktop-safe dish on a medium heat.

Add sausage to a skillet, breaking it up in small pieces with a wooden spoon over medium heat and cook until browned and cooked through - about 4 or 5 minutes.

Add your egg and cheese mixture to the pan and cook 1 minute to let the bottom set.

Move the cooked mixture into your baking dish (this can be a bit tricky and is why a cooktop-safe dish is great) and bake in the oven until the top is set, about 15 to 20 minutes depending on your oven.

Once out of the oven, slice the frittata into pieces and slide them out with a spatula, or just serve direct from the dish.

Enjoy on its own, or serve with a side of garden or Greek salad if desired!
Notes