Looking for the perfect low-carb dessert to satisfy that sweet tooth craving? Look no further! This keto jello fluff salad is a healthy variation on that old classic. Made up of sugar-free black cherry jelly, cream, nuts, cheddar cheese and cottage cheese, it's a deliciously sweet treat that'll also give you a nice hit of healthy fats and good bit of protein.
Whilst the mixture of ingredients may sound unusual at first, I promise you will want to come back for more after trying it. It's the cheese that steals the show. The cheddar gives it a rich flavor, while the cottage cheese gives it a nice moist texture, and decent hit of protein. In fact, this is one of my favorite, albeit simple, keto cottage cheese recipes!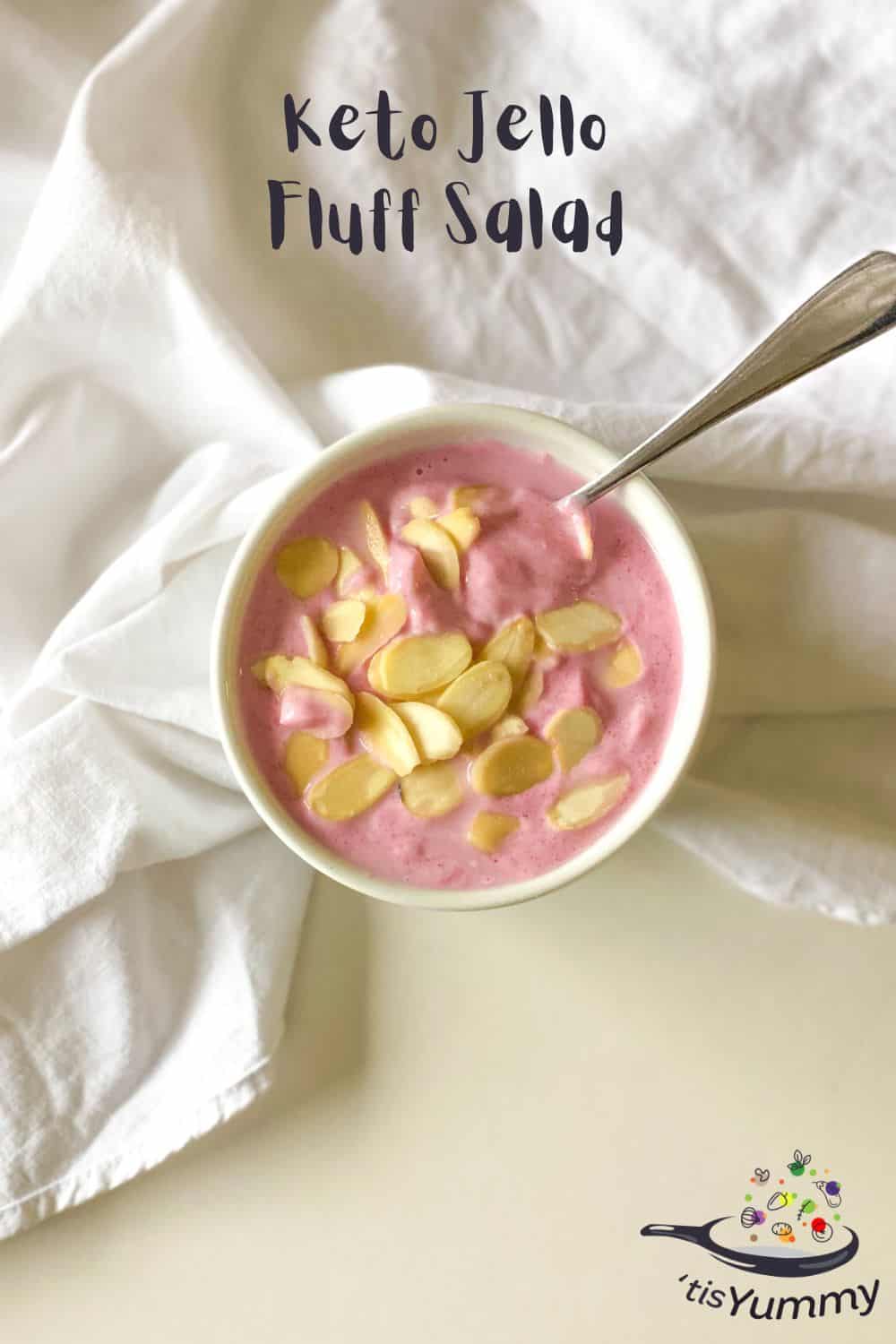 What the heck is jello fluff salad?
A typical jello fluff salad is made of a mixture of jello, pieces of fresh fruit, whipped cream or some other whipped topping, and mini marshmallows. There are plenty of variations, but that is the basic idea. The one thing most classic fluff salads have in common is they contain a ton of carbs – mostly in the form of sucrose and fructose.
This keto jello fluff salad is is a sugar-free, low-carb dessert made up of black cherry jelly, cottage cheese, nuts, cream and cheddar cheese. It's a healthier, low carb twist to the usual recipe, that doesn't compromise on the quality of flavor.
Why is cottage cheese necessary for this keto jello fluff salad?
Plenty of traditional fluff salads include cottage cheese too, but the cottage cheese in this recipe is intended to provide a low-carb, high protein ingredient that won't up the fat or calorie content any more than necessary. It also results in a slightly denser, but oh so much creamier dessert, that is also good for you!
How to make it and how to store it?
To make this recipe, combine the jelly with the cottage cheese. Add the almonds and cheddar cheese. Finally whip the cream with sweetener until stiff peaks form and combine all together before placing in the refrigerator for a few hours to allow it to set.
Store your keto fluff salad in an air tight container in the fridge for up to 4 days.
What substitutions can you make?
You can swap the almonds out for pecans, walnuts or any other type of nut if you like. You can also use cream cheese in place of cottage cheese, but the fat content will increase significantly.
---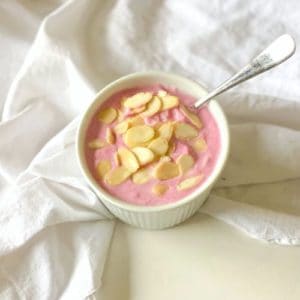 Keto Jello Fluff Salad
This qiuick and easy dessert packs a wonderful flavor punch, as well as containing only 2g of net carbs, 12g of fat and 7g of protein. It's a lovely low-carb take on an unhealthy classic!
Equipment
1 Mixing bowl

1 Pair of beaters
Ingredients  
1

cup

Cottage cheese

(4% or 4.5% is my go-to)

1

packet

Sugar-free black cherry jello

(strawberry also works well)

1

cup

Heavy whipping cream

1/2

cup

Cheddar cheese

(shredded)

1/3

cup

Almonds

(chopped or slivered)

2

tbsp

Sweetener of choice

(don't use granulated)
Instructions 
Place whipping cream, mixing bowl and beaters in freezer for about 10 minutes before starting. This helps the whipping cream whip faster and become fluffier.

Mix the jelly powder and cottage cheese together until completely combined

Add almonds and shredded cheese to the jelly mixture and combine well

Whip the cream to soft peaks, and add in your sweetener

Continue whipping cream until it forms stiff peaks

Gently fold whipped cream and jelly mixture together until completely combined

Chill for 2 to 4 hours before serving
Notes