It's no secret that eating right is an absolute must when you're on a diet – it's no different with the keto diet. While there's no shortage of keto-friendly meals to choose from, when you're in a rush or you just don't feel like doing a lot of dicing, chopping, filleting, or sautéing, ordering take-out can be super-tempting. Resist the urge and set yourself up for success by adding the following totally delicious, completely nutritious, super-easy-to-make 5 ingredient keto dinner recipes to your cookbook.
5-Ingredient Keto Meals
To ensure that you're ready to go with some simple, delicious, and nutritious meals on those busy weeknights or when you just want an easy dinner, here's a look at our picks for the top 5 ingredient keto dinner recipes.
Recipe

Nutritional information (per serve)

Time

1g carbs
44g protein
21g fat
382 calories

Prep time: 2 mins | Cook time: 1 hour 30 mins

3g carbs
31g protein
27g fat
389 calories

Prep time: 10 mins | Cook time: 4 hours

12g carbs
23g protein
32g fat
423 calories

Prep time: 10 mins | Cook time: 20 mins

14.5g carbs
23.1g protein
7.3g fat
212 calories

Prep time: 15 mins | Cook time: 50 mins

9g carbs
57g protein
22g fat
480 calories

Prep time: 15 mins | Cook time: 25 mins

2g carbs
27g protein
17g fat
281 calories

Prep time: 5 mins | Cook time: 35 mins
1. Ninja Foodi Pressure Cooker Pot Roast Recipe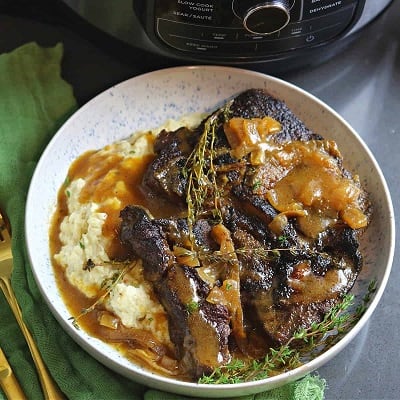 Pot roast is one of those good-for-the-soul meals, but some recipes are a bit complicated to make. Not this one! With just five ingredients and a pressure cooker, you'll have a juicy, tender roast that you'll love sinking your teeth into. If you prefer slow-cooked, then you could also make this as a fantastic keto crockpot recipe.
It has 21 grams of fat and 1 net carb! Amazing!
Find the recipe at drdavinahseats.com.
2. Keto BBQ Baby Back Ribs
This is another 5-ingredient keto recipe from drdavinahseats.com, and boy, oh boy, is it delicious! These finger-licking good ribs have just 3 net carbs and 27 grams of fat.
3. One-Pan Pesto Chicken and Veggies
Light, yet fulfilling, and oh-so satisfying, this 5-ingredient keto recipe tastes like it came right from Italy! It takes just about 30 minutes to prepare, from start to finish, making it perfect for those busy weeknights or for those looking for easy beginner keto recipes.
Each serving has around 12 net carbs and 32 grams of fat.
Head to juliasalbum.com for the full recipe.
4. 4-Ingredient Chicken Zucchini Rolls
Five ingredients too much? Well, how about these 4-ingredient chicken zucchini rolls? They're super-easy, super-healthy, and totally delicious to make.
Each serving has about 212 calories, 14.5 carbs, and 7.3 grams of fat, making this a perfect healthy snack recipe for weight loss.
Find the full list of ingredients and instructions at primaverakitchen.com.
5. Oven Baked Chicken Breasts
This recipe for oven baked chicken breasts are low in calories, but big on flavor. Because they're only made with five ingredients, they're so easy to assemble, too.
Just assemble everything, pop it in the oven, and in about 40 minutes, you'll have an amazingly yummy and delightfully fulfilling meal that only has about 7 net carbs and 480 calories.
Find the full recipe at savorytooth.com.
6. Baked Garlic Butter Chicken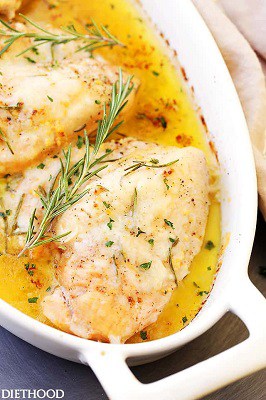 We're wrapping up our list of 5-ingredient keto recipes with this incredible baked garlic butter chicken. Of course, it's totally easy to make and it's so flavorful, too. In fact, it looks so delicious that we think we know what's for dinner in our house!
Each serving has about 281 calories and 2 net carbs.
Head to diethoot.com for the full recipe.
Our Thoughts on 5-Ingredient Keto Recipes
With these few ingredient keto recipes, making a delicious low-carb meal has never been easier!