The ketogenic diet is a low-carb, high-fat diet that has been proven to be a successful way to lose weight and improve health. Numerous studies have found that by severely reducing carbohydrate intake and increasing the consumption of good fats promotes weight loss, promotes fat loss (particularly in the abdominal region), reduces appetite, lowers blood pressure, stabilizes blood glucose levels, decreases triglyceride levels, and even increases HDL (the "good") cholesterol levels; among other things. With so many benefits, it's easy to see why keto is the most popular diet plan in the United States.
How does it work? Going keto, as stated, involves eating foods that are high in healthy fats, have a medium amount of protein, and are low in carbohydrates. By dramatically reducing your carb intake, the body no longer relies on the glucose they contain for fuel. Within just a couple of days of shifting to this diet plan, glucose stores run out and the body starts burning fat stores for fuel instead. This is known as "ketosis", a metabolic process that encourages ketone production by the liver. Ketones are a fatty acid, which your body will naturally use as its primary energy source.
If you'd like to get started on the keto diet, like with any diet, setting yourself up for success is a must. It goes without saying that you want your new diet plan to be as easy as possible.
What's the best way to make keto easy for beginners and how should you start the keto diet?
The best way to start this diet is by determining which foods are considered keto-friendly and which foods are not. Once you know which foods are safe to eat, you can then use those ingredients to create recipes that are low in calories and high in healthy fats. Fortunately, there are so many foods that meet the keto guidelines, and thus there are lots of easy keto recipes for beginners. The fact that there are so many quick keto meals that are easy to make is one of the primary reasons why this diet is so popular. After all, who wants to go through the struggle of painstakingly designing recipes that will meet the requirements of a diet? When the foods that you can safely consume on a specific diet are limited, the chances that the diet will fail are pretty high.
How long will it take for you to see weight loss results on the keto diet?
The answer to that depends on several different factors, such as your age, your gender, and your lifestyle. With that said, to give you an idea, a 2008 study found that men who strictly followed the keto diet for a minimum of four weeks lost about 12 pounds on average. The amount of weight loss and the time it will take to see results varies; however, it is possible to lose 12 pounds or more in as little as a month. Anecdotally, many on the keto diet have reported losing between 1 pound to 10 pounds or more within the first week! Do keep in mind that it depends on your current weight, health, and activity level. Generally speaking, people who weigh more tend to lose weight faster than those who weigh less after starting the keto diet.
Keto Diet Recipes for Beginners
Now that you have a background on this diet, to help you get started on the right food, we've rounded up a list of eight tasty, fulfilling, and easy to make keto meals for beginners.
Without further ado, let's take a look at our top picks for the best keto diet recipes for beginners.
Recipe

Nutritional information (per serve)

Time

7g carbs
33g protein
16g fat
304 calories

Prep time: 2 mins | Cook time: 15 mins

10g carbs
38g protein
20g fat
379 calories

Prep time: 2 mins | Cook time: 25 mins

1.9g carbs
4g protein
8.4g fat
98 calories

Prep time: 3 mins | Cook time: 1-2 mins

23g carbs
6g protein
17g fat
217 calories

Prep time: 5 mins | Cook time: 0 mins

3g carbs
15g protein
13g fat
181 calories

Prep time: 5 mins | Cook time: 5 mins

4.4g carbs
26.7g protein
30.4g fat
403 calories

Prep time: 15 mins | Cook time: 11 mins

1g carbs
36g protein
29g fat
414 calories

Prep time: 10 mins | Cook time: 15 mins

6.5g carbs
24g protein
33g fat
430 calories

Prep time: 15 mins | Cook time: 5 mins
1. Instant Pot Salsa Chicken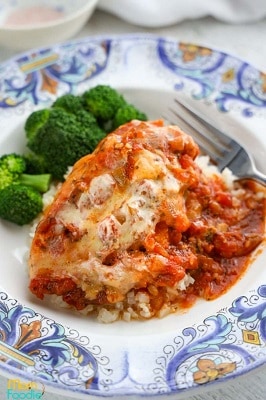 This Instant Pot Salsa Chicken is so easy to make, and it's so delicious that it will taste like you spent hours preparing it. It's just one of the many keto Instant Pot meals you can easily whip up.
And, there's only 7g of carbs per serving.
Find the full recipe at momfoodie.com.
2. Easy Chicken Fajita Casserole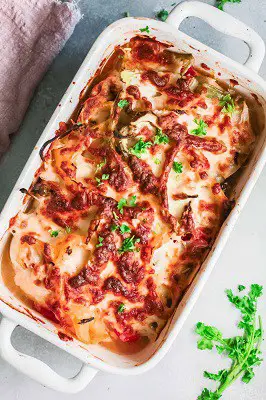 Whether you're looking for an easy keto recipe for beginners that's suitable for meal prepping or to enjoy right away, this chicken fajita casserole will be sure to please. Indeed, it's one of the simpler keto casseroles you can make.
It takes less than 30 minutes to make and there's less than 10g of carbs per serving.
Check out budgetdelicious.com for the full recipe.
3. 90-Second Keto Bread
Though it isn't a meal, you can certainly pair it with other keto-friendly ingredients, such as bacon, lean turkey, or a lean, grass-fed burger, to make a satisfying low-carb meal. Or, just spread some butter on it and eat it as a yummy low-carb keto snack.
There's only 1.9g of carbs per loaf.
Stop by thekitchen.com for more info.
4. Keto Mint Chip Breakfast Smoothie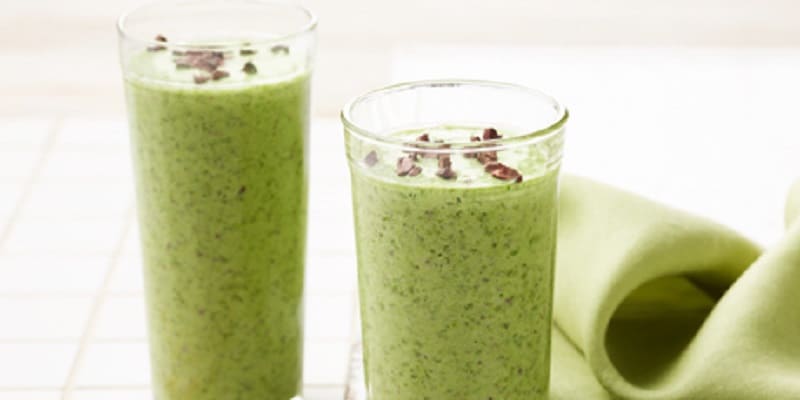 Talk about a tasty way to start the day! This refreshing, satisfying, and easy to make keto recipe will be sure to put a smile on your face. It takes just 5 minutes to make.
Each serving has approximately 17g fat and 217 calories.
Find the full recipe at foodnetwork.ca.
5. Keto Pizza Omelette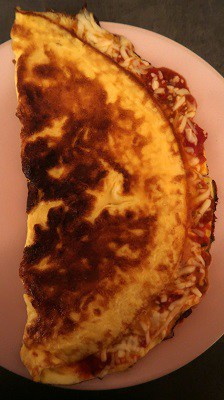 Great for breakfast, lunch, or dinner, this easy keto recipe for beginners is oh-so-satisfying.
It takes about 10 minutes to make and there's only 181 calories per serving.
Stop by yummyinspirations.net for more info.
6. Meat Lover Pizza Cups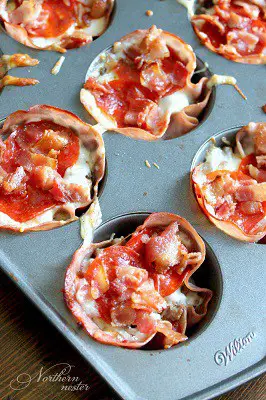 These meat lover pizza cups are a keto-friendly take on an all-time favorite meal. Made with mozzarella cheese, ham, pepperoni, bacon, Italian sausage, and sugar-free pizza sauce, these bite-sized, low-calorie pizza cups take about 26 minutes to make.
This recipe delivers 26.7g protein and 4.4g carbs.
Visit northernnester.com for the full recipe.
7. Spinach Mozzarella Stuffed Burgers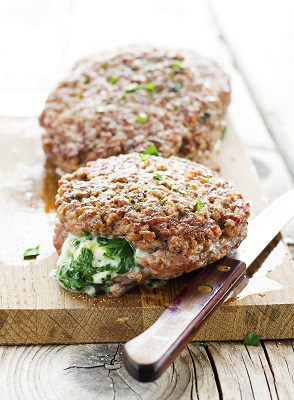 These low-calorie, high healthy fat burgers are packed with flavor and essential nutrients. They're totally fulfilling, too.
One patty yields 414 calories and 29 grams of fat.
Find the full recipe at theironyou.com.
8. Shrimp Avocado Salad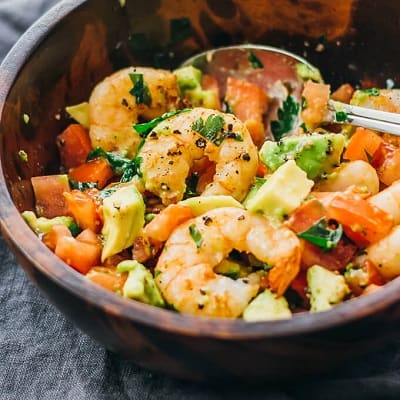 Light, refreshing, and totally satisfying, this keto recipe for beginners takes around 20 minutes to make and only has about 6.5g of net carbs per serving.
The ingredients and instructions can be found at savorytooth.com.
Our Thoughts on Keto Recipes for Beginners
The above are just a small sampling of keto recipes for beginners. They should get you started on the right foot, but you can easily search online for other easy keto meals for beginners and you'll find no shortage of recipes to choose from.