Of all the different diet plans, one tops the list: the keto (short for ketogenic) diet. In fact, it's the #1 diet in the United States. This high fat, low carb diet has proven to be an excellent way to lose weight, but weight loss isn't the only benefit. Several studies have found that the keto diet also offers several other health benefits, such as increased endurance, heightened energy levels, satiated appetite, reduced triglyceride levels, boosted HDL cholesterol levels (the "good" cholesterol), and even lowered insulin and blood sugar levels. This makes it ideal for diabetics and those who are insulin resistant. It's also been shown to maintain healthy blood pressure levels and can even be an effective way to combat metabolic syndrome.
With so many benefits, it's easy to see why the keto diet is so popular. Whether you're looking to lose weight or you simply want to improve your overall health, you might be thinking about giving the keto diet a try. Steak, pork, lamb, cheese, nuts, and even butter and bacon; the list of approved foods is long, which makes planning quick and easy keto meals a cinch. However, snacking on the keto diet can sometimes be a bit tricky.
To achieve the results that the keto diet can provide, when you're feeling peckish between meals, you do need to be mindful of the snacks you grab. Chips, cookies, and crackers are a no-no; low-carb snacks are a must. And while some basic raw foods—like good keto vegetables—can be great quick and nutritious snacks, sometimes you'll want something a little more interesting. Such keto snack ideas might sound tricky, but believe it or not, it's actually a lot easier than it sounds.
Read on for some easy to put together, delicious, and nutritious low-carb snacks on the go that are perfect for the keto diet.
Common Questions About Keto Snacks
If you're just getting started on the keto diet, there's no doubt that you have some questions about snacking. Below, you'll find answers to some of the most frequently asked questions that keto dieters have about snacks.
Is it ok to snack on keto?
Yes! Snacking on the keto diet is absolutely permitted; however, do note that many find that they aren't really hungry between meals, as the diet is so high in fats and low in carbs that it really does keep you feeling satiated. With that said, however, if it isn't time for a meal and you end up feeling hunger pangs, you can totally grab something to munch on. Do note, however, to stay on track, skip the store-bought snacks and go for homemade keto snacks instead. By making them yourself, you can ensure you're munching on the kinds of food most likely to support your weight loss.
Is peanut butter keto?
Keto is high in healthy fats and protein, so it sounds like it would be a perfect ingredient for homemade keto snacks. While yes, peanut butter is keto-friendly, forego the commercial brands, as they're packed with sugar and other ingredients that aren't exactly keto-friendly. To ensure your peanut butter is keto-approved, make sure it's pure; that is, it only contains peanuts and salt. You can purchase natural peanut butter or you can try your hand at making it yourself for a low-carb snack.
Is popcorn a good low-carb snack?
Popcorn is a classic snack; however, because it's made of corn (obviously), popcorn does contain carbs, which is the adversary of ketosis, so at first thought, it might not seem like a good keto snack idea. However, you can safely consume popcorn on the keto diet; just make sure it's air-popped and that it isn't laden with additives. As long as you stick to natural popcorn, it does make for a good low-carb snack on the go.
Low Carb Keto Snacks
If you think that making homemade keto snacks sounds tough, think again! Below, we've compiled a list of tasty, nutritious, low-carb snacks that are easy to make and will totally keep you on track with the keto diet.
1. Caprese Salad Kabobs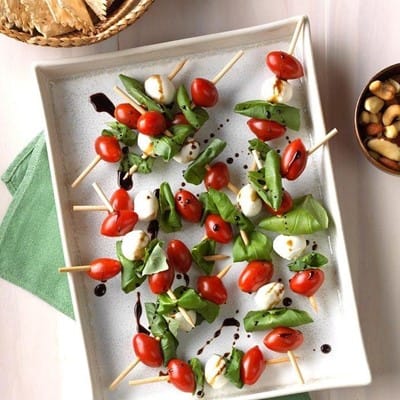 Balls of fresh mozzarella, grape tomatoes, and fresh basil skewered onto kabobs and drizzled with balsamic vinegar and olive oil, Caprese salad kabobs totally fall within the guidelines of the keto diet. Assemble and munch right away or slip them in the fridge for a ready-made snack that you can nosh on whenever. They're nice and colourful too, making them a perfect keto recipe for kids.
This recipe yields 12 kabobs and each kabob has 4g of fat, 2g of carbs, 1g of protein, and 44 calories.
Find the full recipe at tasteofhome.com.
2. Avocado Chips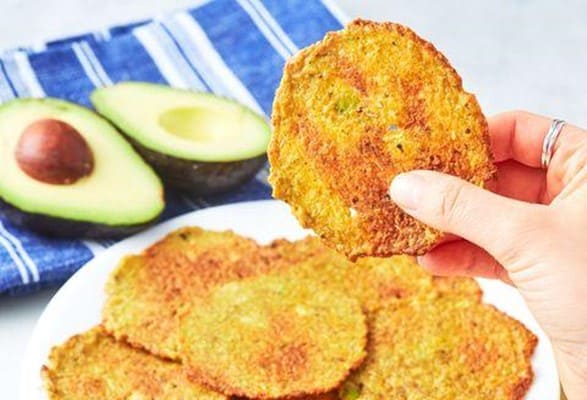 Avocados are one of the most keto-friendly foods around, and these keto chips make for a super delicious and highly nutritious snack. The main ingredient is, of course, avocado, which is paired with freshly grated parm cheese, Italian seasoning, lemon juice, garlic powders, kosher salt, and freshly ground black pepper.
They only take about 5 minutes to prepare and will perfectly compliment your favorite lazy keto meals
This homemade keto snack yields 15 chips and each chip offers 10g of fat, 7g of protein, 4g of carbohydrates, and 120 calories.
Visit delish.com to find the full recipe.
3. Chocolate Peanut Butter Keto Cups
While Reese's Peanut Butter Cups may not be keto-friendly, these chocolate peanut butter keto cups are! Natural peanut butter, cocoa powder, liquid stevia, and coconut oil are among the ingredients that will keep you on track with this low-carb, high-fat diet.
The recipe yields 12 servings, and each serving offers 26g of fat, 3.4g of carbohydrates, and 246 calories.
For the full list of ingredients and directions, visit allrecipes.com.
4. Keto Soft Pretzels
Who says you can't enjoy soft pretzels when you're watching your carbs? This low-carb snack is made with modified Fathead dough, grated Parm, shredded mozzarella, and cream cheese (among other ingredients), to create a flavorful, chewy, and oh-so-satisfying keto-friendly snack.
One soft pretzel offers 29g of fat, 11g of carbs, 21g of protein, and 378 calories.
Check out healthyrecipesblogs.com for the full list of ingredients and step-by-step instructions.
5. Two Ingredient Keto Deviled Eggs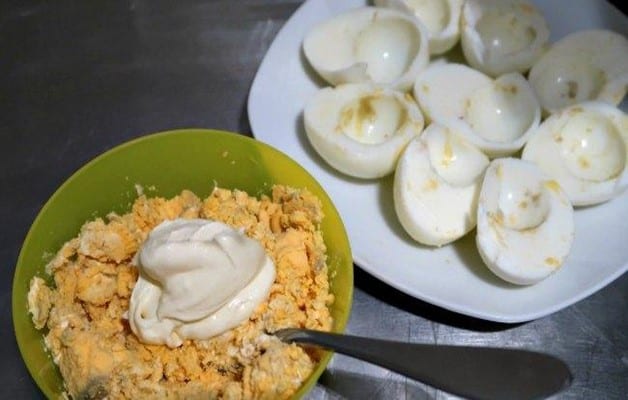 Talk about an easy low-carb snack recipe! All you need for this homemade keto snack is hard-boiled eggs and about 20g of sour cream. Cut the hardboiled eggs in half, remove the yolks, mix the yolks with sour cream, fill each egg white half with the mixture, and voila! It's a satisfying high fat, low-carb snack, and an easy keto recipe for beginners.
The number of eggs you use is up to you, but each deviled egg will contain about 1g of carb, 6.7g of protein, 12.5g of fat, and 140 calories.
Find the full recipe at yummyinspirations.net.
Our Thoughts on Low Carb Keto Snacks
Snacking on the keto diet doesn't have to be hard. The above are just a small sampling of easy-to-make keto snack ideas that will be sure to satisfy your taste buds and quell your hunger pangs between meals while ensuring you stay on track with a low carb, high-fat diet.