Diets aren't just for weight loss; they're also about learning how to eat right and make smart food choices. After all, as the saying goes, "you are what you eat". And with so many processed foods being aimed at children, many parents find it increasingly difficult to get their kiddos to eat right. In an effort to help your child make wise food decisions at a young age and improve their overall health, you might be thinking of introducing them to the keto diet.
Is Keto Safe For Kids?
While keto is safe for kids, you should never put your child on a diet without first speaking to your doctor or other qualified health professional. Kids need a balanced diet to promote healthy growth and development, which includes getting good quality carbohydrates (e.g., from whole foods).
Broadly speaking, the keto diet is all about eating unprocessed, whole foods that are low in carbohydrates and high in healthy fats and protein. This type of diet plan not only helps to promote weight loss and provide numerous other health benefits, it also represents making smart food choices. By teaching your child how to make smart food choices at a young age, you can set them up for healthy eating – and a healthy lifestyle – for the rest of their lives. While putting your child on the keto diet is almost certainly not necessary (or recommended), it won't hurt to provide them the occasional low-carb meal or snack.
So, you're probably wondering what type of keto kid recipes to include on the menu. While some good low-carb fruits or crunchy keto veggies are never a bad choice, sometimes you'll need something a little more interesting. We've rounded up a list of eight of the best low-carb recipes for kids that we think even the pickiest of eaters will enjoy.
Kid-Friendly Keto Recipes
Below, you'll find a nice, well-rounded collection of keto kid recipes. To make eating right even more exciting, get your little ones involved in making these keto recipes for kids. Doing so will not only teach them a whole host of invaluable lessons (cooking, mathematical skills, reading skills, and even personal responsibilities).
So, without further ado, here's a look at our top picks for the best keto kids recipes that your little ones will be sure to love.
Recipe

Nutritional information (per serve)

Time

19g carbs
16g protein
29g fat
344 calories

Prep time: 5 mins | Cook time: 0 mins

4g carbs
16g protein
15g fat
207 calories

Prep time: 10 mins | Cook time: 5 mins

4g carbs
10.04g protein
20.5g fat
253 calories

Prep time: 10 mins | Cook time: 50 mins

5g carbs
16g protein
16g fat
220 calories

Prep time: 10mins | Cook time: 25 mins

4g carbs
71g protein
49g fat
690 calories

Prep time: 15 mins | Cook time: 30 mins

6g carbs
28g protein
27g fat
369 calories

Prep time: 20 mins | Cook time: 20 mins

11g carbs
34g protein
2g fat
202 calories

Prep time: 10 mins | Cook time: 20 mins

6.1g carbs
52.7g protein
40.5g fat
599 calories

Prep time: 5 mins | Cook time: 15 mins

5g carbs
13g protein
25g fat
292 calories

Prep time: 20 mins | Cook time: 20 mins
1. Keto Chocolate Peanut Butter Milkshakes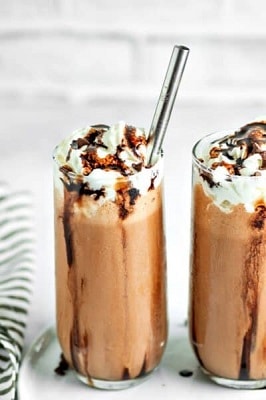 There's just something amazing about chocolate and peanut butter on their own. Bring the two flavors together to create a taste sensation that's just out of this world (no wonder why Reese's Peanut Butter Cups are one of the most beloved candies). This recipe for keto chocolate peanut butter milkshakes is totally kid-approved – and totally easy to make. Pair them with some yummy keto ice cream, and you'll have an extra special tasty treat that your kids will be sure to love.
It takes just 5 minutes to make and each drink has only 344 calories.
Visit drdavinahseats.com for the full recipe.
2. Low Carb and Gluten Free Mozzarella Sticks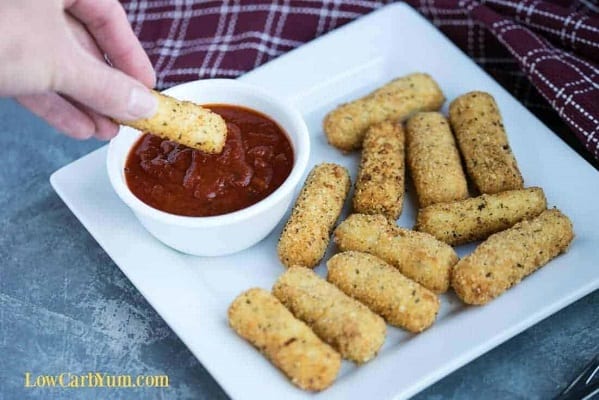 Mozzarella sticks are the go-to kid food, and this rendition is totally keto-approved. It takes just about 15 minutes to make and each serving (3 sticks) has just around 4 grams of carbs and 16 grams of protein.
Visit lowcarbyum.com to find the full list of ingredients and instructions.
3. Keto Cinnamon Roll French Roast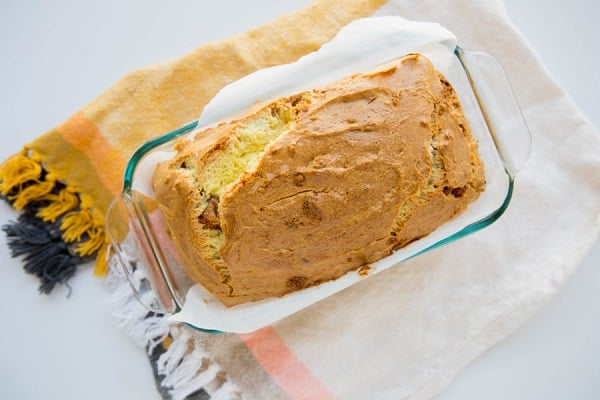 While Pillsbury cinnamon rolls may be delicious, they are anything but keto-friendly and are so far from healthy. This recipe for French toast, however, tastes even better than the highly processed Pillsbury cinnamon rolls. By substituting out the sugar and wheat flour, you turn this unhealthy classic into a healthy low-carb keto snack.
The recipe has just 4 net grams of carbs and 10.04 grams of protein.
Check out perfectketo.com to find the full recipe.
4. Easy Keto Pizza Casserole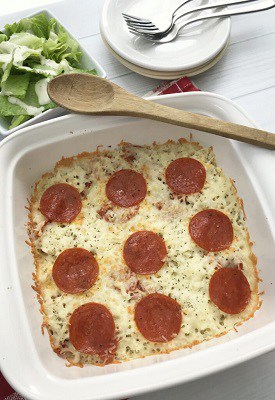 Kids and pizza go together like peanut butter and jelly, but traditional pizza is far from healthy or keto-friendly. This keto recipe for kids puts a different twist on pizza, which adds a level of interest and fun; plus, it's super delicious and it's good for your kiddos, too.
A serving size has just around 5 net grams of carbs.
For the full recipe visit, stylishcravings.com.
5. Fully Loaded Burger Bowls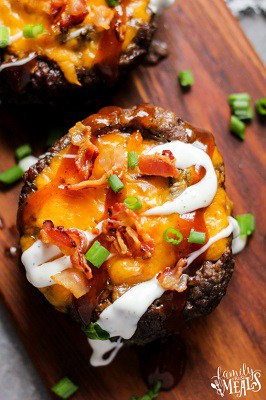 Burgers are another all-time kid favorite, and these fully loaded burger bowls add another element of fun to eating.
Plus, because each serving has just about 4 net grams of carbs and 71 grams of protein, they're super healthy, too.
Head to familyfreshmeals.com to find the full list of ingredients and directions.
6. Low Carb Meatball Subs
Meatball subs are another favorite among kiddos, and this version is low carb, making it keto-approved, and it's super easy to make, so you can totally get your little ones involved in making them.
Each serving (1/2 a sub) has about 6 net carbs and 28 grams of protein. Talk about a delicious and nutritious meal for the tykes.
To find the full recipe, visit simplysohealthy.com.
7. 30 Minute Mozzarella Chicken in Homemade Tomato Sauce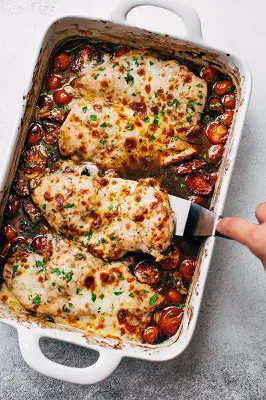 This recipe tastes similar to mozzarella sticks, but with the addition, it packs more protein, which makes it a totally kid-approved keto recipe. It's quick and easy to make, too, so it's a perfect weeknight meal that will be ready in just about 30 minutes.
Each serving offers 202 calories and 2g fat.
You can find the full recipe by visiting littlespicejar.com.
8. Keto Chicken Quesadilla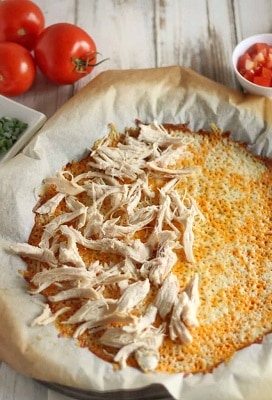 Chicken quesadillas are another winner among kids of all ages, and even the pickiest of eaters will love this keto-friendly rendition. They're gluten free, low carb, and offer a decent amount of protein, too. Plus, they're so easy to make, easy to eat, and downright tasty that your kids will surely be asking for seconds.
These quesadillas have about 5.4 net carbs per ½ slice and 52.7 grams of protein. Serve with homemade quac, salsa, or sour cream for even more flavor.
Find the full recipe at officiallyglutenfree.com.
9. Easy Broccoli Cheese Soup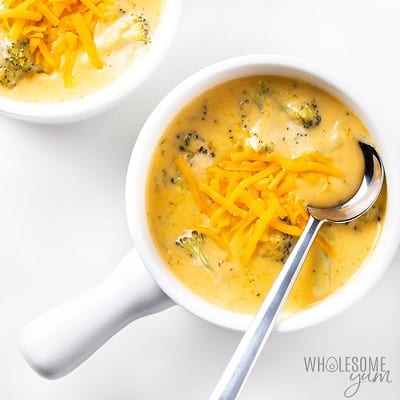 This keto kid recipe can be a healthy snack or full meal that will be sure to warm your little ones up on a cold winter day. From start to finish, it takes just 20 minutes to make, and it's so tasty that your kiddos will be lick the bowl clean!
A bowl of this soup has just 4 grams of net carbs, 13 grams of protein, and 292 calories.
Visit wholesomeyum.com for the full list of ingredients and directions.
Our Thoughts on Keto Recipes for Kids
With these tasty, easy to make, and nutritious recipes, you'll have no trouble getting your kids to eat a healthy, well-balanced diet.