Whether you need to shed a few pounds or you want to naturally improve your overall health, you may be looking around at different types of diet plans. If so, there's no doubt that you've seen the term "keto diet" during your research. "Keto" is short for "ketogenic", a diet plan that is centered on high fat, moderate protein, and low carbohydrate intake.
The goal of the keto diet is to encourage your body to enter the state of ketosis, a metabolic process that naturally occurs when the body doesn't have enough stores of carbs to burn for energy, and instead, it burns fat. When the body burns fat, it produces ketones, which are then used for fuel.
The keto diet is highly effective for weight loss; however, it also provides several other health benefits. Numerous studies have found that it boosts endurance and performance, reduces hunger, and has even been shown to be an effective way to manage type 2 diabetes.
In order to achieve the documented results that the keto diet can provide, sticking to a strict food plan is crucial—including prepping keto snacks. Most of what you'll consume is healthy, unsaturated fats (seeds, nuts, avocados, etc.) and some saturated fats (organic coconut oil and butter). Roughly 20-30% of what you eat should be healthy proteins, such as lean meat and poultry. No more than 10% of your diet should be carbohydrates, including carbs that are considered healthy like those in whole grains, carrots, and potatoes.
Because the diet is so strict, keto meal prep is highly recommended. Not only does meal prepping increase your chances of success (as it ensures that what you're eating is keto-friendly) but it also saves you time and money, and even reduces food waste.
What are some of the ideal foods to eat on the keto diet? While the amount of fats, proteins, and carbs you eat is very strict, there are a lot of foods that are keto-friendly. Examples include:
Seafood. Fatty fish, such as salmon, mackerel, and sardines, clams, squid, oysters, and mussels
Cheese. High fat, low carb cheese, such as brie, cheddar, blue cheese, Colby jack, feta, cottage cheese, mozzarella, muenster, and cream cheese
Low-carb veggies. Non-starchy, low-carb vegetables; cauliflower, spaghetti squash, zucchini, broccoli, cabbage, asparagus, eggplant, kale, tomatoes, spinach, and peppers, for example
Meat. Organic, grass-fed meat is carb-free and high and protein, such as lamb chops, all cuts of beef, chicken breast and thighs, etc.; however, limit processed meats, such as deli meat, hot dogs, salami, and sausages
Fruits. Low carb fruits such as avocado, strawberries, watermelons (in moderation), raspberries, blueberries, peaches, and cantaloupe
As you can see, there are tons of different foods that you can safely eat on a keto diet; and the above is just a short list of keto-friendly foods. With that said, there are loads of different easy keto meal prep ideas. To set yourself up for your mid-day meals, keep reading for some easy keto lunch meal prep ideas.
Airtight Meal Prep Containers Are Essential
Before we dive into our favorite keto meal prep ideas for lunch, first, it's essential to understand the importance of having the right containers. In order for your keto lunch meal prep to be successful, air-tight containers are an absolute must. When you slice, dice, chop, steam, broil, and broil food, in order to preserve the freshness, it needs to be stored in airtight containers. These containers prevent the food from being exposed to air, which thus prevents the food from spoiling, keeps it fresher longer, and locks in the flavor. Air tight containers also make your meal prep quick, and a quick keto meal is a good keto meal!
Leak-proof glass or Pyrex containers with properly fitted lids are ideal. Not only do they block out air, but they also prevent leaking and spilling. Once you've completed your keto lunch meal prep at the beginning of the week, stow your food away in air-tight containers and simply open up the fridge, pop a container into your lunch box before you head out for the day, and you'll be able to enjoy a delicious, nutritious, fresh, and frustration-free mid-day keto meal.
Cheap Keto Meal Prep Ideas
To set you up for success, here's a look at some easy keto meal prep ideas that would be perfect for lunch.
Recipe
Nutritional info (per serve)
Time

1g net carbs
11g protein
22g fat
243 calories

Prep time: 15 mins

Cook time: 0 mins

3g net carbs
33g protein
43g fat
530 calories

Prep time: 10 mins

Cook time: 10 mins

6g net carbs
28g protein
15g fat
287 calories

Prep time: 20 mins

Cook time: 20 mins

6g net carbs
9g protein
36g fat
390 calories

Prep time: 5 mins

Cook time: 2 mins

8g net carbs
13.5g protein
8.8g fat
162 calories

Prep time: 10 mins

Cook time: 8 hrs
1. Keto Tuna Salad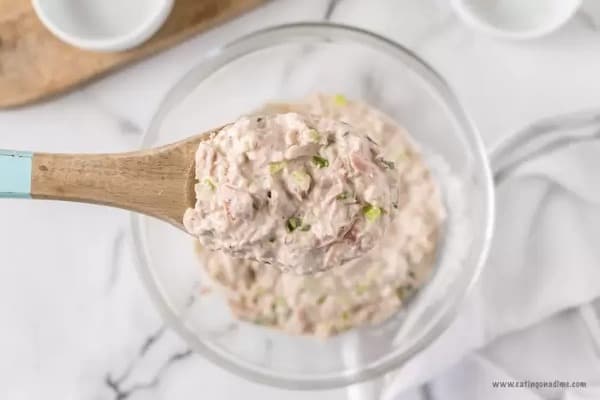 Tuna is packed with healthy fats and protein and is completely fat-free. This keto tuna salad recipe is easy to assemble, highly nutritious, pairs well with any type of salad, and is absolutely delicious.
It offers up 22g of fat, 11g of protein, 1g of carbs, 243 calories, and makes enough for 6 servings.
Find the full recipe at eatingonadime.
2. Big Mac Salad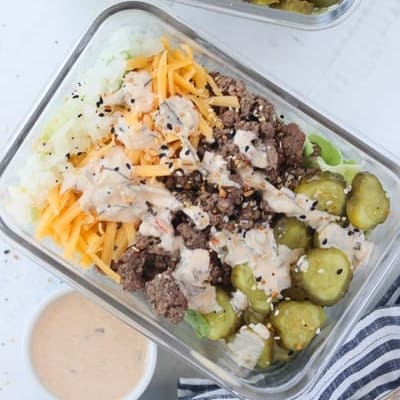 Big Macs may be tasty, but McDonald's is anything but. With this Big Mac Salad recipe, you can enjoy the taste of the fast-food chain's iconic sandwich without any of the guilt.
Taste-bud tantalizing and oh-so-satisfying, this easy keto meal prep yields 4 servings and each serving packs 44g of fat, 39g of protein, 3g of carbs, and 530 calories.
You can find this keto lunch meal prep recipe at wholelottayum.
3. Low Carb Greek Chicken Meal Prep Bowls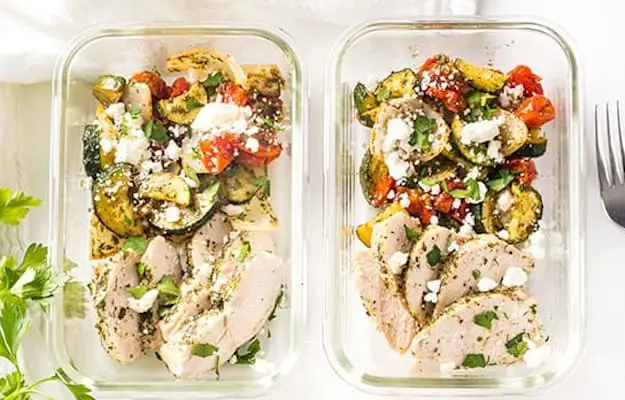 It takes about 20 minutes to whip up these low-carb Greek chicken bowls.
You'll have enough for four flavor-packed meals, with each serving size offering up 15g of fat, 28g of protein, 6g of carbs, and 287 calories.
After reheating, add a dash of balsamic vinegar and olive oil to add some freshness and even more flavor.
Visit wolesomeyum to find the full recipe.
4. Keto Broccoli Salad with Bacon and Cheddar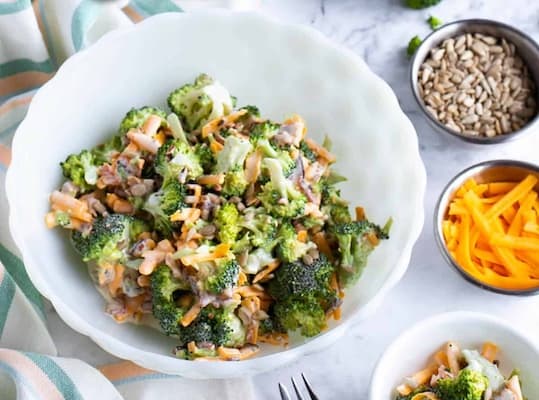 Light, yet tasty and very fulfilling, this keto broccoli salad with bacon and cheddar is perfect for lunch. It's tantalizingly tasty and will give you the boost of energy you need to power through the rest of your day. It's so simple to make too—it's the perfect lazy keto meal!
A 156g serving size delivers around 6g of carbs, 9g of protein, 36g of fat, and about 390 calories.
Head to lowcarbyum for the full recipe.
5. Slow Cooker Cabbage Roll Soup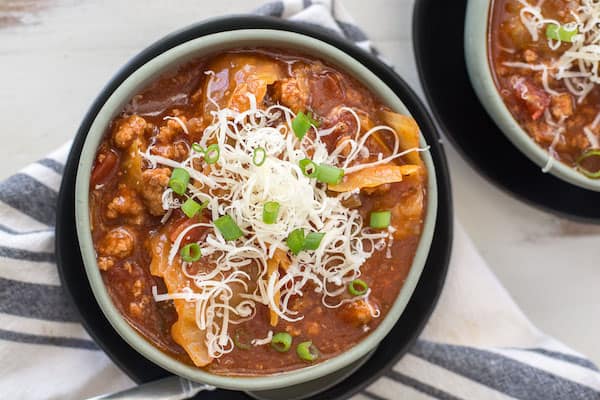 This low-carb, high-protein soup is perfect for those cold days. It can be made in a slow cooker, instant pot or pressure cooker, or even a stockpot on the stove. Mixing ground beef, tomatoes, and plenty of cabbage, this soup will warm even the coldest of bellies.
It makes 8 servings, with each 1.25 cup serving having 8g carbs, 13.5g of protein, 8.8g of fat, and about 162 calories.
Visit maebells to find the full recipe.
Our Thoughts on Keto Lunch Meal Prep
Keto lunch meal prep is the perfect way to stay on track with a keto-friendly diet. The meals outlined above are great keto recipes for beginners: They're easy to make, super tasty, packed with essential nutrients, and keep well in the fridge. Perfect for a healthy mid-day meal.