Pre keto, rice dishes were among my favorite, with a good fried rice being very near the top. Discovering a simple and yummy way to do cauliflower rice has opened up the possibilities to make alternatives to rice dishes that were previously no good because they tasted nothing like the real thing.
This keto fried rice is made using that unique method for cauliflower rice. Chuck in some diced pork, and it is a delicious low-carb variation of Japanese Chahan. It's super quick and easy to make, and is therefore a perfect lazy keto recipe for a light Sunday lunch or dinner.
The mix of green peppers, spring onions, pickled ginger, and of course soy sauce, gives it an authentic Japanese flavor without the excessive carbs. It does have about 8g of net carbs, so you'll need to be mindful of your carb intake in other meals. But with 18g of fat and 22g of protein, it'll leave you feeling well-satisfied.
How Do You Make the Caulirice So It Tastes Authentic?
With a cheese grater and a frying pan!
Cut the cauliflower into chunks large enough to hold easily, and then the medium side of a cheese grater to grate it into chunks about the size of rice grains. If you like to wash your vegetables before using them, then you need to make sure you've dried the cauliflower very thoroughly before grating it otherwise it could end up mushy and gross.
Once grated, simply fry it in a frying pan or skillet heated at medium heat, with a little olive oil and some salt and pepper. Make sure the frying isn't too hot or you'll easily get little burned bits, and don't overuse the oil so as to avoid making the caulirice too moist.
You only need to fry it for about 3 or 4 minutes, tossing it regularly.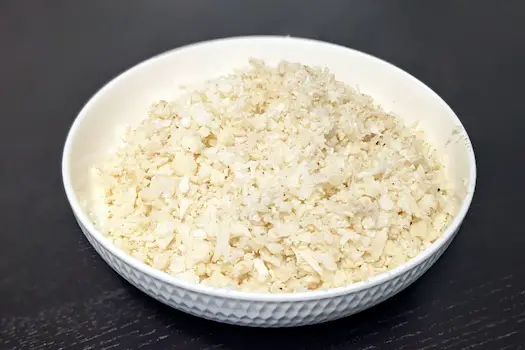 How To Make Keto Fried Rice with Pork?
Prepare the caulirice using the method above. Transfer it into it's own bowl and keep the frying pan on medium heat
Cook a 2-egg omelette. Swirl the mixture in the pan with a little butter. Once cooked on one side, flip and cook on the other. transfer to a plate when done
Fry the minced or chopped garlic in a little olive oil until fragrant. Then add in 100g of diced pork belly, turn the heat to high, and cook through.
Add 2 diced mini green capsicum and about half of one chopped spring onion, and cook for a minute or two. while that's cooking, quickly dice up the omelette.
Add the caulirice and egg into the pan with pork and veggies. Mix in the soy sauce (you can also use tamarin if you prefer), and stir through. Cook, stirring until fully combined and steaming hot (about a minute).
Serve up on a plate and garnish with remaining spring onions, pickled ginger and black sesame seeds

How well does this keto fried caulirice keep?

It keeps ok in the fridge for about 3 days. Reheating in the microwave can make the cauliflower a bit mushy, but refrying it is generally pretty nice. It only makes two serves, so my partner and I usually polish it off fresh cooked.
---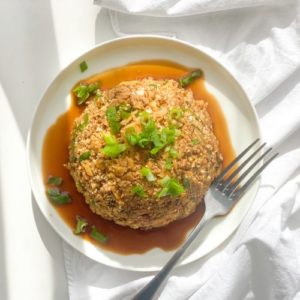 Keto Fried Rice with Pork (Keto Fried Caulirice)
A low-carb variation on a a traditional Japanes Chahan, this dish uses cauliflower rice to make it suitably keto. The pork and egg adds some much needed protein, while the veggies help it taste nice and authentic. It has about 10g of net carbs and only 310 calories!
Equipment
1 Large frying pan or skillet

1 Chopping board

1 Kitchen knife

1 Cheese grater

(for the caulirice)
Ingredients  
1/2

Large

Cauliflower

2

Large

Eggs

100

Grams

Pork belly

2

Mini

Green peppers (capsicums)

2

Cloves

Garlic

(minced or chopped)

1.5

Tbsp

Soy sauce or Tamarin

1

Tsp

Black sesame seeds

(optional)

1

Tsp

Pickled ginger
Instructions 
The Caulirice
Chop the half head of cauliflower into a couple of hand sized chunks

Grate with a cheese grater using the medium side

Fry in a large frying pan on medium heat with a drizzle of olive oil and some salt and pepper to taste for about 3 or 4 minutes
The Fried Caulirice
Beat 2 eggs and add to the frying pan on medium heat with a little butter. Fry on each side until cooked through. Remove to a separate plate.

Cook the garlic in some olive oil until fragrant, then add the pork belly. Cook through.

Add the capsicum and half the spring onion, and cook for about a minute. While that's cooking quickly dice the omelette into small cubes.

Add the caulirice and omelette into the pan along with the soy sauce or Tamarin. Stir through.

Cook on high heat until well-mixed and steaming hot.

Serve with spring onion, pickled ginger and black sesame seeds as garnish
Notes