Whether you're new to the keto diet or you've been eating low carb, high healthy fat for a while, you want to make sure that you have a well-rounded selection of foods to choose from. After all, in order to reap the benefits that keto offers – weight loss, appetite suppression, improved heart health, reduced blood pressure, and even blood glucose (sugar) management (just to name a few benefits) – it's imperative that you stick to a well-balanced diet that features foods that are keto-approved.
Meat is a staple on the keto diet; particularly lean, grass-fed, organic meats, including ground beef. Not only does it meet the keto guidelines, but it's also affordable, easy to work with, highly versatile, and a simple way to get in the macronutrients that you need in order to achieve your diet goals. It's available in different fat percentages, too, so you can get the healthy fats and the protein that you need. Whether you're meal prepping for the week or you're planning a quick, healthy, and easy to whip-up weeknight meal, here's a look at some simple keto recipes with ground beef that you're definitely going to want to add to the menu.
Best Keto Ground Beef Recipes
Below, we've rounded up a list of some of the best keto hamburger recipes we could find. All are definitely high in healthy fats and low in calories; plus, they're so not complicated to make and are super tasty. So, without further ado, let's jump in and take a look at our top picks for the best easy keto ground beef recipes.
Recipe

Nutritional information (per serve)

Time

9.7g carbs
40.7g protein
52.6g fat
676 calories

Prep time: 20 mins | Cook time: 18 mins

9.2g carbs
32.6g protein
31.3g fat
447 calories

Prep time: 10 mins | Cook time: 50 mins

12.8g carbs
31.9g protein
32.3g fat
469 calories

Prep time: 10 mins | Cook time: 20 mins

7.8g carbs
23.1g protein
23.9g fat
340 calories

Prep time: 5 mins | Cook time: 20 mins

21g carbs
48g protein
25g fat
499 calories

Prep time: 30 mins | Cook time: 4 hours

6.7g carbs
34.5g protein
36.6g fat
510 calories

Prep time: 20 mins | Cook time: 35 mins

6g carbs
34g protein
41g fat
544 calories

Prep time: 15 mins | Cook time: 30 mins

3g carbs
31g protein
48g fat
579 calories

Prep time: 20 mins | Cook time: 1 hour

3g carbs
74g protein
50g fat
773 calories

Prep time: 15 mins | Cook time: 2 hours and 40 mins
1. Easy Keto Beef Tacos
Who doesn't love tacos? They're bursting with flavor, offer plenty of macro and micronutrients, and they're just plain fun to eat. Plus, they're affordable and easy to make.
Each serving has just 676 calories, 9.7 net carbs, and 52.6 grams of fat.
Serve up this yummy keto taco dish from allrecipes.com on Taco Tuesday – or any night of the week!
2. Keto Tex-Mex Ground Beef Casserole
This is another simple ground beef keto recipe that comes from allrecipes.com that's simple to cook up and will certainly be a crowd pleaser. It offers all the flavor of tacos in a casserole!
Assemble, pop it in the oven, and in about an hour, you'll have a meal that has 447 calories, 9.2 net carbs, and 31.3 grams of fat per serving.
3. Low Carb Beef and Cheesy Spaghetti Squash Bake
This dish is quite unique, thanks to the spaghetti squash, which we totally wouldn't have thought to use with ground beef. It features onions, garlic, celery, cheddar and parmesan cheese, among other tasty ingredients.
Each serving has about 289 calories, 12.8 net carbs, and 32.2 grams of fat.
Find the recipe at food.com.
4. Low Carb Ground Beef Slaw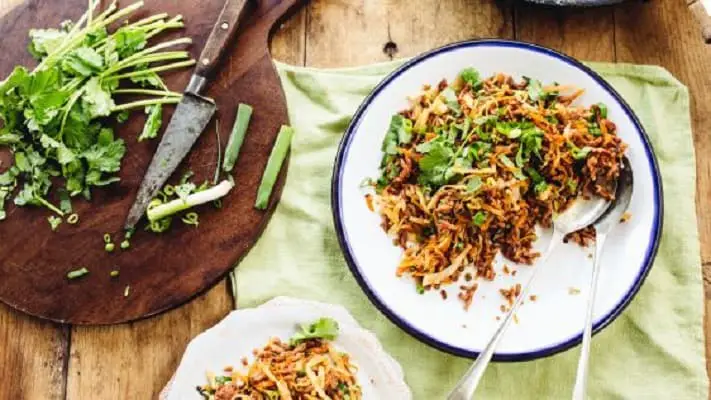 This dish would work great as a side dish or an entrée. It's also great to whip up on a busy week night or at the start of the week to reheat for lunches.
Each serving has only 215 calories, 23.9 grams of fat, and just 2.8 net carbs.
Visit food.com for the full recipe.
5. Crockpot Paleo Chili
The name may say "paleo", but this chili recipe is totally keto-friendly. Since it's made in the crockpot, you can assemble the ingredients in the morning, let it steep throughout the day, and you'll have a fulfilling, delicious, low calorie meal to enjoy at meal time. It's a perfect keto and paleo dinner recipe.
This recipe offers 499 calories and 48g of protein per serve.
Check out the full recipe at themodernproper.com.
6. Beef, Spinach, and Mozzarella One-Pot Bake
Ground beef, cheese, veggies, and a single pot; talk about a totally simple keto-friendly dish to make! It's so flavorful that it will be sure to be a family favorite.
Each serving has just 6.7 net carbs, 36.6 grams of fat, and 510 calories.
Head to ketodietapp.com for the full list of ingredients and instructions.
7. Keto Lasagna with Zucchini Noodles
With just five simple ingredients, you can put together a totally delicious, highly nutritious, and super easy to make keto-friendly meal. With a bit of practice and refinement, you can make this delicious keto lasagne recipe almost indistinguishable from the traditional version.
This dish serves up four servings, and each serving contains about 544 calories, 6 net carbs, 34 grams of protein, and 41 grams of fat.
Grab the complete recipe at ketogasm.com.
8. Breakfast Meatloaf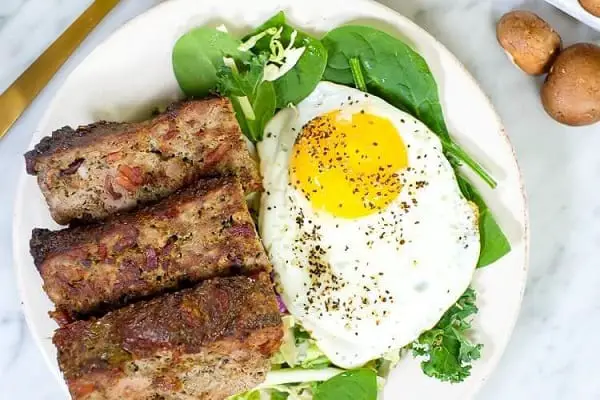 What's that you say? Meatloaf for breakfast? Heck yes! Breakfast meatloaf with bacon is so savory, delicious, and packed with good-for-you fats and protein, it's a great way to fuel up to start your day so you can power through until lunchtime.
Each serving has just 579 calories, 3 net carbs, 31 grams of protein, and 48 grams of fat.
Find the full list of ingredients and instructions at realsimplegood.com.
9. Keto Swedish Meatballs
Swedish meatballs are an all-time favorite, but traditional recipes usually laden with carbs and calories; not exactly keto-friendly. Well, this recipe for Swedish meatballs has been modified to meet the keto guidelines.
This dish serves up four servings, with each serving having just 3 net carbs, 50 grams of fat, and 773 calories. These meatballs also keep for around 5 – 6 days in the fridge, and so are the perfect option to include in your keto meal prepping.
To add these keto Swedish meatballs to your cookbook, head to wickedstuffed.com for the full recipe.
Our Thoughts on Keto Recipes with Ground Beef
Ground beef is one of the most versatile keto-friendly meats you can find, and the nine recipes above are proof positive of just how many delicious low calories meals you can make. With this variety of dishes, you'll be sure to have a nice, well-rounded selection of taste bud-tantalizing, good-for-you, keto-friendly meals.