Hearing the word "diet" often elicits a slight feeling of discomfort in our bellies. We can be overtly repulsed by the idea of being hungry or eating anything less tasty than what we're used to.
The ketogenic diet is no different.
Heavily restricting carbohydrates means completely avoiding foods many of us have come to love: Pasta, rice, sweets, ice cream, and even certain fruits. Thankfully, meat is one food group that doesn't need to be avoided (for the most part) on the keto diet.
This article will focus on one meaty ingredient that makes almost any meal a mouth-watering delicacy: Bacon.
Can You Have Bacon On Keto?
Yes, you can eat bacon on keto. Bacon is low in carbohydrates and high in protein and fat. A typical 100g serve of pan-fried bacon has approximately 1.4g of net carbs, 37g of protein, and 42g of fat. This makes it the ideal ingredient in a keto-friendly, low-carb meal or snack.
Best Keto Bacon Recipes
1. Keto Bacon Cheeseburger Casserole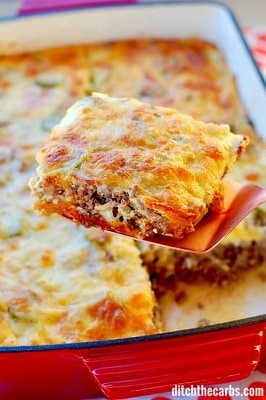 Who doesn't love the taste of juicy cheeseburger? It's a winning combination when it is guilt-free!This recipe requires ingredients you most likely already have in your kitchen. A combination of ground beef and crispy bacon covered with cheese sauce will keep you full for a long time.
Per serving this meal has just 3g of net carbs, 33g of protein, and 51g of fat for a total of 613 calories.
Find the full recipe on ditchthecarb.com
2. Keto Bacon, Cheese, and Avocado Egg Bites
Bacon and eggs are not an ideal pair just for breakfast. Instead, you can make an amazing appetizer with just a little twist with boiling eggs and adding avocado and cheese. Simple and easy to make but totally delicious.
A serving of this recipe offers 450 calories, 3g net carbs, 23g protein, and 37g fat.
Find the full recipe on ketocustomplan.com.
3. Cheddar Bacon Keto Biscuits Recipe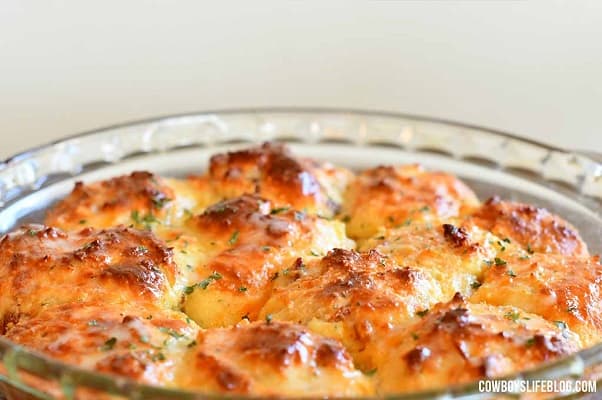 One of our favorite keto recipes with bacon is these biscuits. They are loaded with cheddar and ranch dressing, making it a perfect replacement for bread as you can also bake it in the form of a loaf. You can also store it in a container for a few days, and have it as a snack or combine it with different kinds of soups and potages. Our recommendation is to pair these with a slow-cooked bacon and keto pumpkin soup, which one of the best keto pumpkin recipes you can imagine!
One serving of these biscuits has a total of 377 calories, 30g of fat, 9g of carbs, and 20g of protein.
This recipe is from cowboyslifesblog.com.
4. Keto Crockpot Bacon Ranch Chicken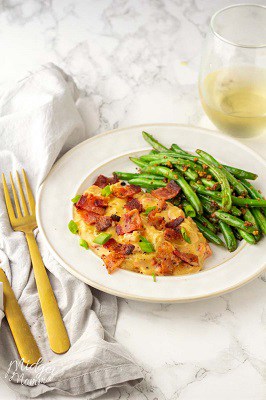 This crockpot chicken with bacon will blow your mind! It is creamy, full of flavor, and easy to make. You will need some sour cream, whipped cheese cream, diced tomatoes, bacon, chicken, and finally ranch dressing. This is a meal you can serve with all kinds of vegetables fresh, grilled, or roasted.
It is a high-calorie meal (774kcal) with 4g of carbs, 48g of protein, and 62g of fat.
You can find the detailed instructions on midgetmomma.com.
5. Bacon Chips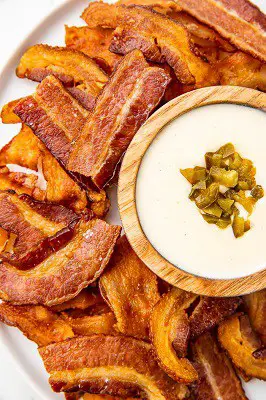 There are a lot of dips you can enjoy while on a keto diet, but instead of potato chips or tortilla, make your own beacon chips in no time. This is the easiest recipe you can make. You will need an oven, bacon, and approximately 30min. That's it! If you use 8 slices of bacon, it gives you a snack of 367kcal, 1g of carb, 11g of protein, and 35g of fat. But we do suggest cutting this quantity for 2 servings.
Check a few tips and tricks to make it perfect on 40aprons.com
6. Bacon-wrapped Asparagus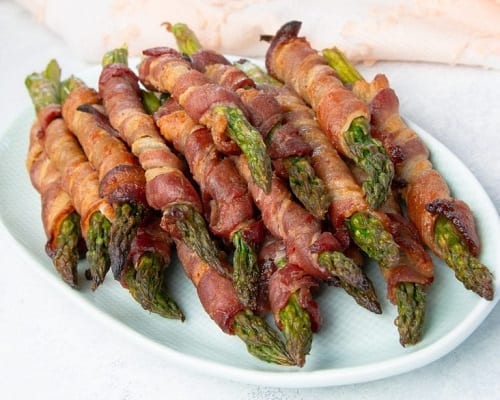 Asparagus has a very unique and intense savory flavor. When wrapped in bacon you get one healthy, crunchy side dish. Per serving it has only 91kcal, 1g carb, 9g fat, and 3g protein. A perfect low-carb bacon recipe!
Visit the ketokarma.com blog for more details.
7. Keto Chicken Bacon Ranch Taquitos
If you love Mexican cuisine, and you are looking for the perfect keto recipe with bacon, look no more. These taquitos made from mozzarella cheese with chicken, bacon, and ranch filling will leave your mouth watering.
Farmlifediy.com has the recipe in detail, and each serving whips up 329 calories, 19 grams of fat, 3.5 grams of carbs, and 19.7 grams of protein.
8. Creamy Roasted Garlic and Mushroom Soup with Bacon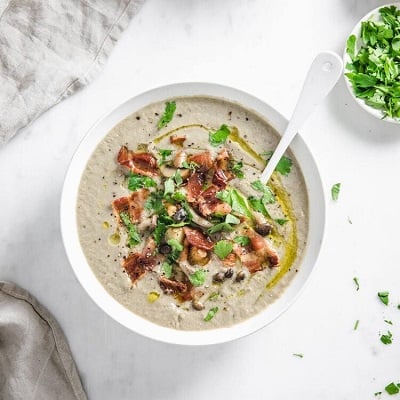 A combination of garlic, onions, olive oil, mushrooms, and crispy bacon on top makes this creamy soup next-level tasty. If you are watching calorie intake, this is a recipe for you. One serving (1 ½ cups) has only 250kcal but will leave you feeling full.
Also, it has 19.6g fat, 7.5g carb, and 11.6g protein.
Follow the instructions on peaceloveandlowcarb.com and surely this soup will often be on your dining table.
9. Bacon Pancakes
What is life without pancakes? This is a 4 ingredient recipe that is totally keto-friendly. And as the realsimplegood.com says it is so good you may never want to go back to regular pancakes. You can eat them with different toppings greek yogurt, sour cream, or cream cheese. Just let your imagination go wild!
This meal is high in calories, it has 663kcal, 7g carbs, 23g protein, and 61g of fat.
10. Easy Keto Bacon Broccoli Salad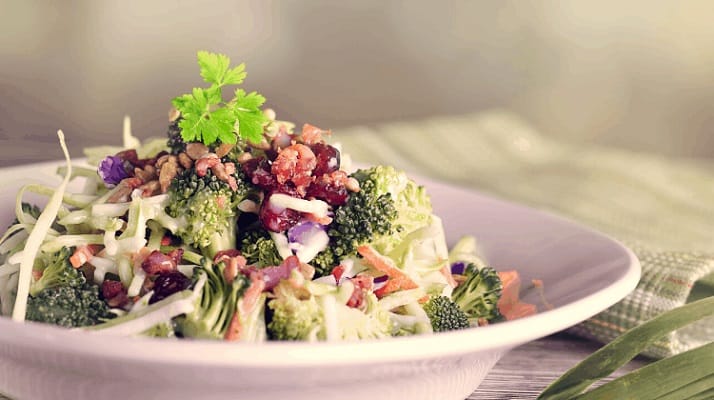 Everyone can make a salad with a lot of veggies, something creamy, and something crunchy. We chose this bacon broccoli salad from the castleinthemountains.com blog. Broccoli is a vegetable rich in many nutrients – fiber, vitamin C, vitamin K, iron, and potassium. Also, it has more proteins than most other vegetables.
One cup of this salad is considered as one serving and it serves 417 calories, 4g of carbs, 10g of protein, and 40g of fat.
Our Thoughts on Keto Bacon Recipes
Any meat lover will tell you that everything tastes better with bacon, and we couldn't agree more. The combinations are endless when it comes to keto, low-carb bacon recipes. This basic ingredient can help you elevate almost any meal. It is versatile and can be used in breakfasts, lunches, dinners, and snacks. Plus, you have to admit, it often helps bring out your inner cook.
But, let's not forget – bacon isn't just about taste. Other than being a good source of protein and fat, it's also rich in vital micronutrients like iron, magnesium, phosphorus, and potassium.