For keto dieters, chicken thighs are the perfect choice for a lunch or dinner entrée. Why? Because they're chock-full of protein and healthy fats so they are totally keto-approved and will keep you on track with your dietary goals.
Are chicken thighs good for keto?
The keto diet is a low carb, high healthy fat diet, which is exactly why chicken thighs are the perfect choice for this diet. The average amount of carbohydrates that chicken thighs contain varies, as it depends on size and how you're preparing them. That said, on average, chicken thighs are carb-free! You read that right, they contain very few or no carbs at all! If you're frying them, however, you will be adding carbs to the mix, so if you plan on frying your chicken thighs, do be mindful of what you're breading them with and what type of oil you're using to fry them in.
Because chicken thighs are either carb-free or extremely low in carbs, when you're making up your keto cookbook, you're definitely going to want to include some keto chicken thigh recipes. To help save you some time and to ensure that you stay on track and meet your dietary needs, we've taken the liberty of putting together a list of some great tasting, easy to make, low-carb chicken thigh recipes for you.
Best Keto Chicken Thigh Recipes
The following keto-friendly chicken thigh recipes are so finger-licking good that they'll be sure to leave you totally satisfied. So, without further ado, let's jump in and take a look at our top picks for the best chicken thigh keto meals.
1. Roasted Chicken Thighs with Fresh Basil
This recipe is so tender and juicy that it will certainly delight your taste buds. It's made with a delightful array of fresh herbs, which really adds a nice punch to the flavor. In about 40 minutes, you'll be sinking your teeth into a delightfully keto-friendly meal. This one is a perfect option for taking to work in your keto lunchbox.
Each serving has about 194 calories, 14 grams of fat, and 1 net carb.
Check out the full recipe at thespruceeats.com.
2. Harissa Grilled Chicken Skewers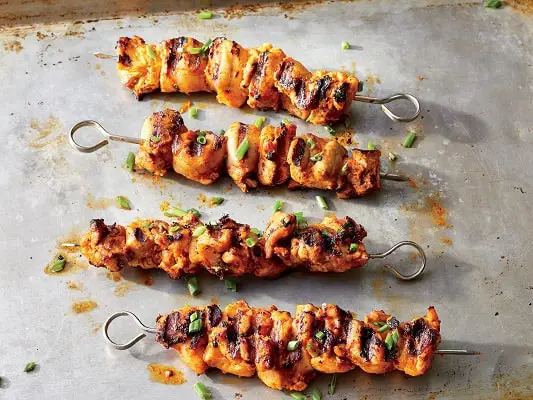 Harissa grilled chicken skewers combine the perfect blend of spicy and sweet. They're perfect for throwing on the grill on a summer evening, or you could toss them in the oven or an air fryer, too. After marinating for about 4 hours, it takes just about 30 minutes to cook the chicken through.
This recipe, which can be found at myrecipes.com, serves up four servings, and each serving offers about 322 calories, 19 grams of fat, and 5 net carbs.
3. Simple Sheet Pan Chicken and Veggies
On those super-busy weeknights, this recipe for simple sheet pan chicken and veggies is the perfect dish. The chicken and veggies are cooked on the same pan, so it's totally easy to make. The chicken comes out perfectly tender and the skin has just the right crispness. The recipe calls for potatoes, carrots, and green beans, though you can use any type of veggie you'd like. It takes about 5 minutes to prep and 50 minutes to cook.
Each serving offers about 321 calories, 19 grams of fat, and 28 grams of carbs.
Check out the full recipe at myrecipes.com.
4. Keto Caprese Chicken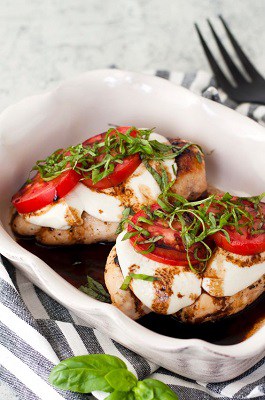 As soon as this chicken hits your taste buds, you'll feel as if you've been transported to an Italian bistro. It involves less than 5 ingredients, all of which are keto-friendly, and you can have the meal whipped up in just about 30 minutes. The fresh mozzarella cheese, Italian seasoning, tomatoes, balsamic, and basil come together to create a light, yet fulfilling, and totally delicious dish.
Each serving has about 460 calories, 5 net carbs, and 24 grams of fat.
Check out dietdoctor.com for the full recipe.
5. Keto Avocado Alfredo Sauce with Zoodles and Chicken
Think you can't have alfredo on keto? Think again! With a few simple modifications, this dish is low in carbs, high in healthy fats, and jam-packed with flavor. The zucchini noodles ("zoodles") are the perfect replacement for traditional pasta. It does take a little bit of time to make this dish, but we promise, it's totally worth it.
Each serving has around 7 net carbs, 49 grams of fat, and 648 calories.
Visit dietdoctor.com to check out the full recipe.
6. Creamy Tuscan Garlic Chicken
Another Italian-inspired keto-friendly dish (what can we say, we love Italian), the slightly sweet and creamy sauce used in this creamy Tuscan garlic chicken combine perfectly with parmesan cheese, spinach, and sun dried tomatoes to create a total taste sensation that will leave your mouth – and your belly – happy. This recipe maintains its flavors well, and therefore will make a great keto lunch for work.
Each serving has 368 calories, 25 grams of fat, and 7 grams of net carbs.
Visit therecipecritic.com to find the full recipe.
7. Keto Chicken Enchilada Bowl
You'll feel as if you went south of the border with this super tasty, yet incredibly easy to make keto-friendly dish. Seriously, it's ridiculously yummy and will leave you licking your lips. You need just 20 minutes to prep and 30 minutes to cook to create a sensational keto dish that yields 4 servings.
Each serving has just 6.14 net carbs, 40.21 grams of fat, and 568 calories.
Head to heyketomama.com to find the detailed recipe.
8. Greek Lemon Chicken Skewers with Tzatziki Sauce
There's nothing better than a gyro; well, except the carbs. Well, with this recipe, you can enjoy this delightful Greek-inspired dish without having to feel guilty about the calories. The Mediterranean flavors would pair wonderfully with a fresh salad filled with keto-friendly veggies and a glass of white wine.
This recipe offers 238 calories and 5 grams net carbs per serving.
Visit purewow.com for the full recipe.
9. Crock Pot Whole Chicken with Garlic Herb Butter
Rounding out our list of the best keto chicken recipes is a whole chicken! With just 394 calories, 30 grams of fat, and 4 net carbs per serving, it will definitely keep you on track with your keto diet. Even better, it's so easy to make. It takes around 5 to 10 minutes to prep and the slow cooker does the rest for you.
Visit wholesomeyum.com to find the full recipe.
Our Thoughts About These Keto Chicken Recipes
Chicken is the ideal protein for a keto diet, as it's low in carbs and is so versatile that you can make a wide variety of flavorful meals and never get tired of eating chicken – as our list totally proves.