One of the hardest parts of any diet is being consistently strict, and sticking to the foods that meet the guidelines outlined by said diet. While the keto diet, a low-carb, high fat diet plan, happens to be one of the easier ones to stick to (because there are so many foods that are keto-approved) it can still be a challenge to come up with meal ideas; especially when it comes to on-the-go lunches.
Whether you work or just have a busy schedule, figuring out what you can safely eat and preparing your meals can be tough.
What should you eat for lunch on a ketogenic diet?
Honestly, anything that you would eat at any other time of the day! In other words, foods with a low carbohydrate content and a hearty amount of healthy fats. Items that you can have on your lunch menu include:
Low-carb veggies. There are tons of low-carb veggies, such as peppers, lettuce, celery, radishes, avocado, broccoli, and cauliflower are all considered keto-friendly.
Low-carb fruits. All types of berries, such as strawberries, blueberries, raspberries, and blackberries, melons, like cantaloupe and watermelon, peaches, and cherries are all excellent choices for the keto diet.
Meats. Pretty much any lean meat would work for the keto diet; organic, grass-fed meats are the best. Examples include beef, pork, chicken, steak, and lamb.
Seafood. High-fat fishes, like salmon, tuna, mackerel, sardines, monkfish, and cod, as well as shellfish, like mussels, oysters, and clams, and even octopus and squid are all excellent seafood items for the keto diet.
Cheeses. From brie to Swiss, there are literally dozens of cheeses that you can enjoy on the keto diet; cottage and cream cheese, too.
Seeds and nuts. Peanuts, cashews, almonds, pecans, chia seeds, hemp seeds, sesame seeds, and poppy seeds are all great options for the keto diet.
The above are just a small sample of the keto-approved foods that you can safely eat for lunch. Needless to say, there are plenty of keto lunch ideas. To get you started on the right track or to help you switch up your mid-day meals, we've narrowed down a list of what we think are the eight best keto lunchbox ideas.
Easy-Pack Keto Lunches
We've selected a well-rounded list of ideas that would make for easy, tasty, and totally satisfying keto brown bag lunch ideas. Read on for our top picks for the best low-carb lunchbox ideas for work.
Recipe

Nutritional information (per serve)

Time

9g carbs
20g protein
25g fat
332 calories

Prep time: 10 mins | Cook time: 10 mins

13.2g carbs
50.3g protein
21.2g fat
453 calories

Prep time: 10 mins | Cook time: 0 mins

7g carbs
8g protein
4g fat
99 calories

Prep time: 5 mins | Cook time: 25 mins

16g carbs
9g protein
8g fat
170 calories

Prep time: 10 mins | Cook time: 15 mins

10g carbs
40g protein
38g fat
545 calories

Prep time: 10 mins | Cook time: 0 mins

4g carbs
21g protein
27g fat
332 calories

Prep time: 14 mins | Cook time: 1 min

3g carbs
30g protein
7g fat
318 calories

Prep time: 10 mins | Cook time: 25 mins

0.9g carbs
10g protein
20.6g fat
235 calories

Prep time: 5 mins | Cook time: 0 mins
1. Easy Healthy Taco Salad
If you have extra time in the morning, make this salad fresh, or make it a day ahead. Either way, this keto lunch idea takes just 20 minutes to make and it's sure to be a satisfying mid-day meal.
This salad has just 5g of net carbs and 332 calories.
Visit wholesomeyum.com for the full recipe.
2. Chicken Salad with Blueberries and Hemp Seeds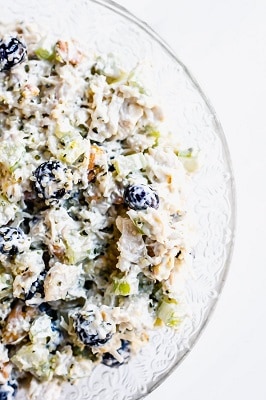 This kept lunchbox idea is low in carbs and high in flavor. It's so super-easy to make, too, and it will be sure to give you the energy you need to make it through the rest of the day. The combinations of flavors might sound odd, but they come together to create an incredible taste sensation.
This recipe whips up about 13.2g carbs and whopping 50.6g of protein per ½ cup serve.
For the full recipe, visit simpilyjillicious.com.
3. Cauliflower Fried Rice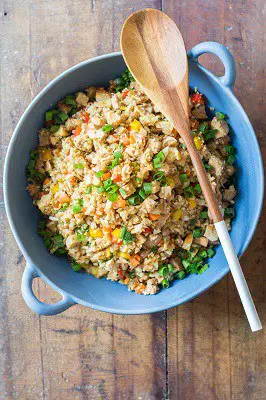 Cauliflower is an excellent alternative to traditional rice. It has minimal carbs and It's so versatile that you'll never even know it's cauliflower! This recipe takes a total of 30 minutes and is perfect for keto lunch prepping.
Each serving has about 7g of net carbs and 8g of protein.
Find the recipe at freenhealthycooking.com.
4. Korean Beef Bowls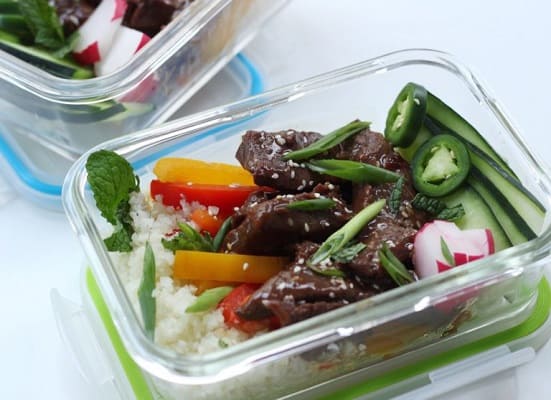 For a quick meal prep low-carb lunchbox idea for work, these Korean beef bowls are an excellent option. They're flavorful, fulfilling, packed with essential nutrients, and take just 25 minutes to make.
Each serving has about 16g of carbs and 9 grams of protein.
Stop by wholekitchensink.com.
5. Chicken Cucumber Avocado Salad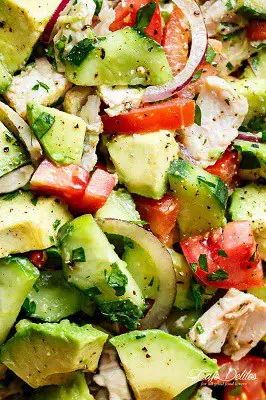 This is another quick and easy keto brown bag lunch idea. It's filling, yet light and won't weigh you down. Literally all of the ingredients are some of the best recommendations for the keto diet, so you know it's good for you and will keep you on-track.
Each serving has about 10 net grams of carbs.
Visit cafedelites.com for the complete recipe.
6. Buffalo Chicken Salad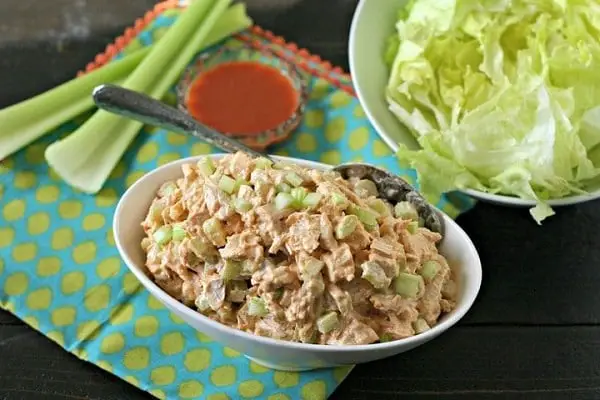 This is keto-friendly chicken salad packs a little bit of a kick. Again, it's low in fact and high in healthy fats, making it a perfect choice for a keto lunch. Eat it on a bed of iceberg or romaine lettuce or spread it on sliced cucumbers to add even more interest to your mid-day meal.
The calorie content is just 332 grams, with 243 of those calories coming from fat.
Check out everydaymaven.com for the full list of ingredients and instructions.
7. Keto Cloud Bread Lemon Chicken Wraps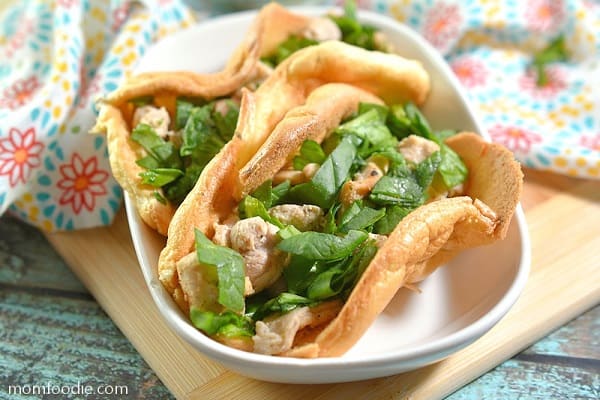 This keto brown bag lunch is perfect for those who love bread. Cloud bread is the perfect way to get your bread fix without having to worry about going off course. The lemon chicken tastes so amazing with it, too; and of course, it's keto-friendly, too.
It has just about 3 net grams of carbs, 30 grams of protein, and a total of 318 calories.
You can find the full recipe at momfoodie.com.
8. Keto Italian Sub Roll-Ups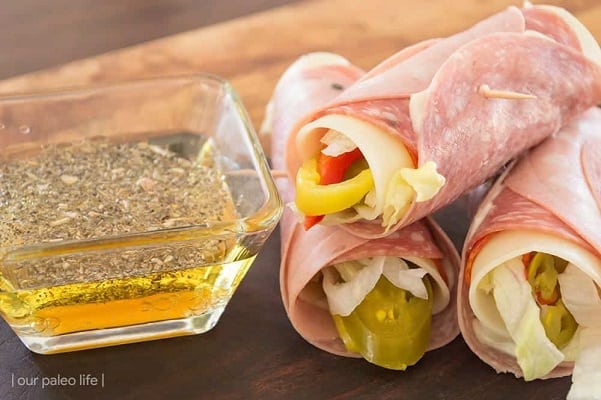 These high fat, low carb Italian sub roll-ups are such a great choice for a keto lunch. One or two of them also make for a yummy, ultra low-carb snack!
They have less than 1 net carb, 20 grams of fat, and 10 grams of protein, and the flavor is just so amazing that there's no doubt you'll be satisfied.
Visit ourpaleolife.com for the full list of ingredients and instructions.
Our Thoughts on Keto Lunch Box Ideas
As you can see, there are plenty of keto lunchbox ideas to choose from, and in our opinion, the above eight recipes are some of the best around. Easy to make, tasty, and satisfying; each one will be sure to please.