If you're wanting to give the keto diet a try as a vegetarian, you might be wondering if it's possible without having to compromise your vegetarian lifestyle. The keto diet is a low-carb, high fat diet, and so some people assume that means that meat and animal fats are necessary components.
While it's true that lean, organic, grass-fed meats and animal fats are definitely keto-friendly, they aren't the only foods that meet the low carb, high fat guidelines stipulated by the ketogenic diet. There are actually tons of keto-approved meatless ingredients to choose from. In other words, yes, you can totally do a vegetarian keto diet! In fact, if your aim with the diet is to lose weight, then doing it vegetarian can be particularly effective considering that vegetables, fruits, and other plant-based foods are among the best weight loss foods available to humans. You just need to ensure you're getting enough protein, either by eating protein-rich plants (like spinach or tofu), or by supplementing with things like rice protein powders.
What's the secret to success? Planning vegetarian keto recipes ahead of time. By sitting down and figuring out exactly which keto veggies, low-carb fruits, nuts, seeds, and other meatless foods you can safely consume on this diet, you can then develop a vegetarian keto meal plan. If you're just getting started, however, trying to figure out keto recipes vegetarian might seem like a daunting task. To help steer you in the right direction, we've compiled a list of what we believe are the best low-carb vegetarian recipes for weight loss.
Best Keto Recipes for Vegetarians
After scouring through tons of cookbooks, websites, and blogs for easy vegetarian keto recipes, we've found eight outstanding options that we're confident you'll love. Read on to find our top recipes for a vegetarian keto meal plan.
Recipe

Nutritional information (per serving)

Time

10g carbs
14g protein
33g fat
393 calories

Prep time: 10 mins | Cook time: 25-30 mins

6.8g carbs
16.8g protein
26.3g fat
330 calories

Prep time: 10 mins | Cook time: 0 mins

26g carbs
32g protein
146g fat
1524 calories

Prep time: 15 mins | Cook time: 0 mins

6g carbs
21g protein
17g fat
288 calories

Prep time: 5 mins | Cook time: 5 mins

7.1g carbs
17.84g protein
16.28g fat
246 calories

Prep time: 10 mins | Cook time: 35-45 mins

19g carbs
16g protein
36g fat
436 calories

Prep time: 20 mins | Cook time: 20 mins

1g carbs
6g protein
8g fat
100 calories

Prep time: 5 mins | Cook time: 20 mins

8.1g carbs
16.3g protein
32.7g fat
403 calories

Prep time: 5 mins | Cook time: 15-20 mins
1. Low-Carb Cauliflower Mac and Cheese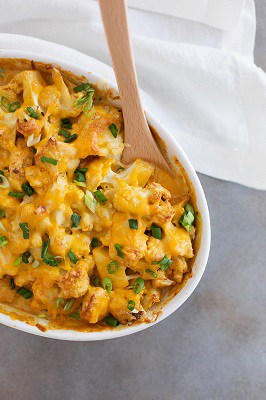 While it may be the ultimate comfort food, traditional mac and cheese is anything but keto-friendly; however, with this version, you can enjoy a low-carb vegetarian recipe for weight loss without having to worry about sacrificing your diet.
All ingredients are vegetarian-friendly and it takes just 30 minutes to make for a dish that has just 10 grams of carbs per serving.
Find the recipe at perfectketo.com.
2. Vegetarian Keto Club Salad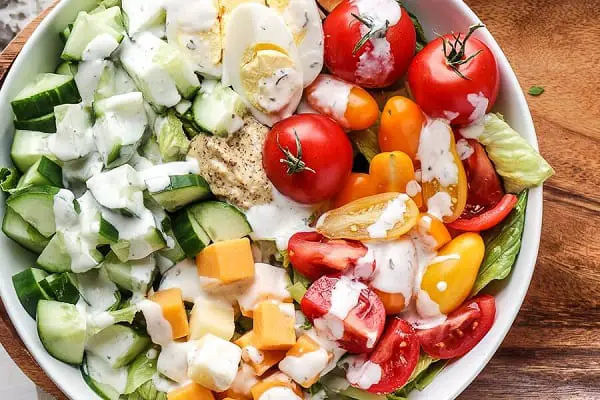 A traditional club salad is keto-friendly, but not vegetarian-friendly. This version is both. It omits the meat and instead, it's made with wholesome veggies, cheese, hard boiled eggs, and creamy low-calorie dressing.
The total net carb count is just 4.83 grams.
For the full recipe, visit ruled.me.
3. Keto Broccoli Salad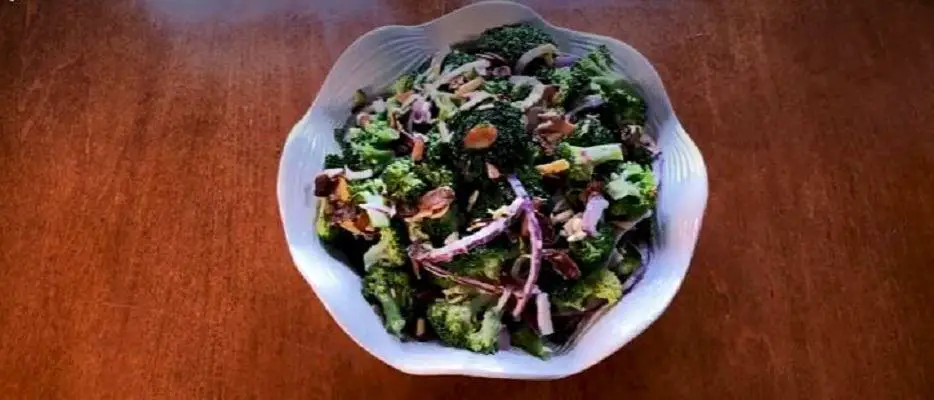 Meatless: check. Veggies: check. Flavorful: check. Low-carb: check(ish). In other words, this keto broccoli salad recipe quadruple-checks the keto-approved vegetarian meal criteria, and it takes just 35 minutes to make.
Each serving whips up about 26g of carbs, so make sure your breakfast and lunch contain 10g of carbs or fewer to ensure you stay within your allowance.
You can find this awesome recipe at delish.com.
4. Keto Porridge
A great alternative to oatmeal, this keto porridge is made with coconut flour and milled flaxseed for a creamy, delicious, and vegetarian-approved way to start your day and keep you feeling full until lunchtime. The porridge alone has just 6 grams of net carbs per serving. Mix in some keto-friendly fruits, like blueberries, strawberries, raspberries, and/or blackberries, or even peaches to add even more flavor.
Visit ketogenic.com to find the recipe.
5. Vegetarian Three Cheese Quiche Stuffed Peppers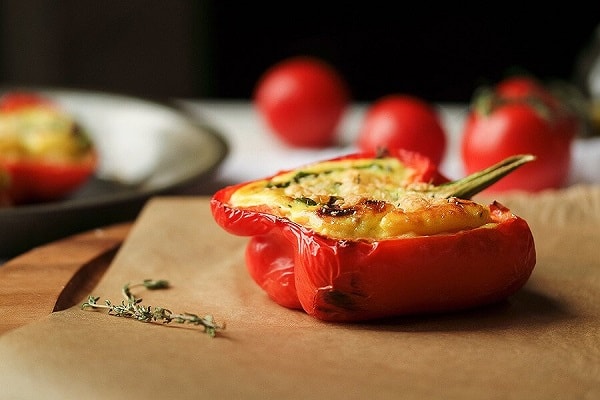 This low-carb vegetarian recipe for weight loss combined stuffed peppers, cheese, and quiche to make a totally satisfying meal. It's pretty easy to make, to boot!
Each pepper has just 5.97 grams of net carbs.
Check out ruled.me for the complete recipe.
6. Keto Cauliflower Pizza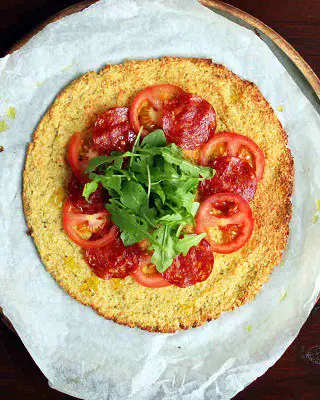 Pizza is always a favorite among vegetarians, but it isn't exactly keto-approved. With this recipe, however, you can enjoy pizza without having to worry about unwanted carbs. That's because the crust is made with cauliflower! It's pretty easy to make, too.
The total carb count is just 19 grams per pizza.
Check it out at ketosummit.com.
7. Keto Pancakes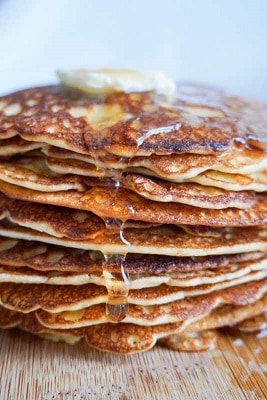 Pancakes may be a breakfast staple, but traditional recipes tend to be calorie laden. This rendition, however, is low in carbs; in fact, each pancake has just 1 net gram of carbs. You can top it with keto-friendly, sugar-free maple syrup, as well as keto-friendly fruits, like strawberries, raspberries, or blueberries (steer clear of bananas, though, because they aren't keto-friendly).
Find the pancake recipe at ketoconnect.com.
8. Easy Keto Egg and Vegetable Skillet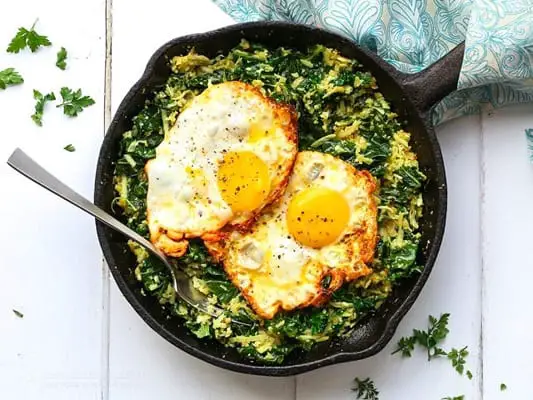 Good for breakfast, lunch, or dinner, this easy keto egg and vegetable skillet is jam-packed with vegetables. The eggs give it a nice protein punch, too.
The carb count is just 12.4 grams and the protein content is 20.3 grams.
Stop by ketodietapp.com to find the ingredients and recipe.
Our Thoughts on Vegetarian Keto Recipes
As you can easily see, there are plenty of recipes that you can add to your vegetarian keto meal plan. Each of the recipes we outlined above are low in calories, completely meat free, easy to make, and loaded with flavor.