A lot of diets come and go, but there's one that seems to be here to stay: The Paleo Diet. The idea behind this diet is to consume foods that are very similar to what our human ancestors consumed during the Paleolithic Age (a.k.a. cavemen). If you think about it in those terms, it's really the first diet, as the Paleolithic age was about 10,000 years ago. And back then, it wasn't a weight loss diet, but rather it was simply sustenance. Other terms that the paleo diet goes by include the "Stone Age diet", the "caveman diet", and the "hunter-gatherer diet".
Foods commonly consumed as part of the paleo diet include lean meats, fish, veggies, fruits, seeds, and nuts. Essentially, anything that hunters and gatherers would have obtained are deemed paleo-friendly. Anything that was consumed on a wide-spread basis when planned farming began is deemed non-paleo-approved. In other words, things like grains, dairy, and legumes aren't ideal for the paleo diet.
In other words, pretty much any naturally derived food would be considered suitable for a paleo dinner. However, if you're just starting out with this type of diet and you're trying to set yourself up for success, you might be looking for some good, well-rounded, and tasty paleo dinner recipes. Well, you're in luck, because (not to toot our own horns), but we're experts in paleo dinners. Below, you'll find a roundup of some of our favorite quick paleo dinner recipes.
Recipe

Nutritional information (per serve)

Time

30g carbs
40g protein
16.8g fat
434 calories

Prep time: 10 mins | Cook time: 20-25 mins

6g carbs
21g protein
24.4g fat
332 calories

Prep time: 10 mins | Cook time: 15 mins

10g carbs
15g protein
19g fat
280 calories

Prep time: 5 mins | Cook time: 25 mins

7g carbs
37.3 protein
10g fat
268 calories

Prep time: 7 mins | Cook time: 8 mins

11g carbs
36g protein
23g fat
400 calories

Prep time: 10 mins | Cook time: 20 mins

6g carbs
100g protein
67g fat
704 calories

Prep time: 10 mins | Cook time: 15-20 mins

11g carbs
13g protein
13g fat
215 calories

Prep time: 15 mins | Cook time: 20 mins

10g carbs
34g protein
31g fat
457 calories

Prep time: 20 mins | Cook time: 30 mins

11.2g carbs
33.5g protein
30.1g fat
428 calories

Prep time: 10 mins | Cook time: 20 mins

36g carbs
19.2g protein
25.2g fat
429 calories

Prep time: 30 mins | Cook time: 10 mins

29g carbs
29g protein
15.5g fat
355 calories

Prep time: 5 mins | Cook time: 20 mins
Easy Paleo Dinners
After doing a lot of research ourselves and a bit of trial and error, we've compiled a list of what we consider to be the best quick paleo meals.
1. Honey and Sesame-Glazed Chicken Breasts with Green Beans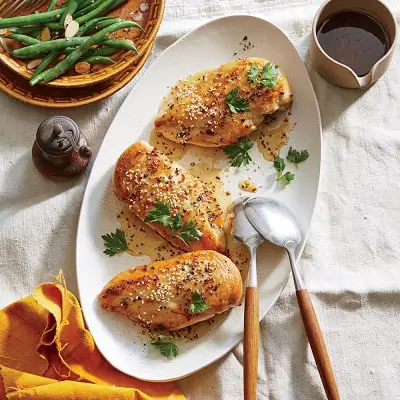 Toasted sesame and sweet honey coated on top of fresh, organic chicken breasts come together to create a taste bud tantalizing paleo dinner. Serve the chicken on top of a bed of farm-fresh veggies for a totally satisfying quick paleo dinner.
This dish contains about 434 calories and 40g of protein.
Find the full recipe at myrecipes.com.
2. Blackened Steak Salad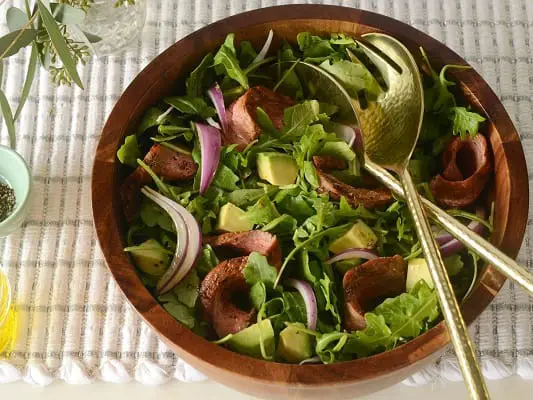 This light, but satisfying paleo dinner recipe can be put together in just a matter of minutes (minus the prep and cook time for the steak). With a few simple ingredients that you probably already have in your pantry, fresh veggies, and lean, organic, grass-fed beef, you can whip up a tasty paleo dinner.
It's low-carb and high fat, so it would also qualify as a really simple keto dinner too!
This recipe delivers 332 calories and 21g protein.
Check out cookinglight.com for the full recipe.
3. Zucchini and Sweet Potato Frittata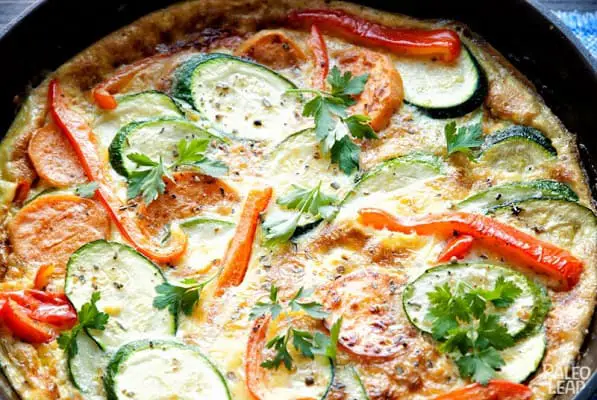 Eggs are one of the quickest and easiest paleo-friendly foods, and frittatas are another way to enjoy them. Zucchini, sweet potatoes, red bell pepper, and a few other basic ingredients add to this flavorful concoction. Not are these frittatas a quick and easy paleo dinner, they'll also make for a hearty paleo breakfast too!
Each serving has about 10g carbs and 15g protein.
Stop by paleoleap.com for the full list of ingredients and directions.
4. Roasted Shrimp and Broccoli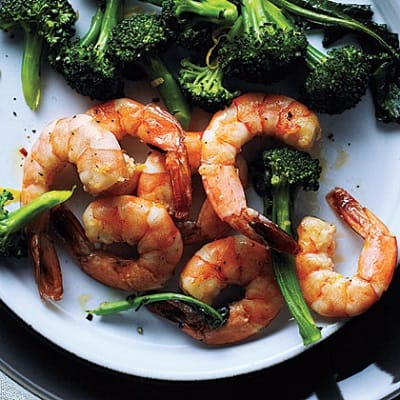 You can whip up this paleo dinner in no time! Roasted shrimp, broccoli, lemon, and a handful of basic spices are all you need to make this quick paleo meal.
Each serving has about 37.3g protein and 7g carbs.
The full list of ingredients and step-by-step instructions can be found at myrecipes.com.
5. Dilly Salmon Packets with Carrots
This is another light, easy to assemble, and totally delicious and fulfilling paleo dinner recipe. Dill combined with wild-caught salmon makes for such a unique flavor, and carrots are the perfect accoutrement.
In about 30 minutes, you'll have a totally satisfying dinner that offers up 11g carbs and 36g protein.
Stop by cookinglight.com for the full list of ingredients and instructions.
6. Paleo-Friendly Burgers
Who says you can't enjoy burgers when you're on the paleo diet? In fact, hamburgers are one of the easiest paleo dinners you can make.
This recipe yields approximately 100g protein and 67g fat.
This recipe, featured on paleoleap.com substitutes the non-paleo-friendly traditional bun for a Portobello mushroom bun, for a delectable meal.
7. Sweet and Sour Pork Chops
Sweet and sour sauce make fresh farm-raised pork chops even more flavorful. From start to finish, it takes about 30 to 45 minutes to put this easy paleo dinner together, and it's oh-so-satisfying.
Each serving contains 215 calories and 13g protein.
Find the full recipe at theironeyou.com.
8. Easy Keto Meatballs with Marinara Sauce
There's just something so fulfilling about meatballs, and this simple to assemble and cook keto dinner recipe can be tossed together in no time. Make a few extra servings that you can reheat for lunch throughout the week.
Each serving yields 457 calories and 10g carbs.
You can find the recipe at noshtastic.com.
9. Quick and Easy Fish Curry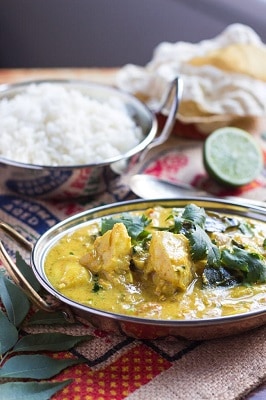 All you need is 30 minutes and a few simple ingredients to put together this paleo dinner recipe. A mild fish, such as tilapia, flounder, or monk, would be the ideal choice to go with the bold flavors of the curry.
One serving offers about 11.2g carbs and 33.5g protein.
The full recipe is featured on thecookspyjamas.com.
10. Paleo Pineapple Fried Rice
This meal is perfect to enjoy fresh, yet it's also super tasty when reheated, making it ideal for meal prepping. It substitutes cauliflower rice for traditional rice, which not only makes it paleo-friendly, but also enhances the taste.
This recipe offers 25.2g fat and 429 calories.
Getinspiredeveryday.com lists the full recipe.
11. Kale and Beet Salad with Salmon
Last, but certainly not least, on our list of easy paleo dinners is this kale and beet salad with salmon. Succulent salmon is the perfect accent to kale, and a few other veggies and spices make this meal simply amazing.
There are about 29g protein and 15.5g fat per serving.
Find the full recipe at myrecipes.com.
Our Thoughts on Paleo Dinner Recipes
There are so many delicious, easy to make paleo dinner recipes. All you need is some creativity to put together a delightfully delicious, satisfying, and good-for-you meal, and the 11 recipes featured above are a great place to get started.