Whether you're looking for an appetizer for a dinner party or a special event, or you just want to put together something for a quick nosh to satiate your appetite between meals – or even if you're thinking about something different for lunch or dinner – queso dip is always a great choice. However, if you're on the keto diet, a lot of the queso recipes that are out there are loaded with carbs; not exactly keto-friendly.
Is queso keto?
Well, it isn't the cheese itself that's the problem; it's the added ingredients that many queso recipes are packed with that make them calorie dense.
Fortunately, we've solved the dilemma for you! Below, you'll find a roundup of our top picks for the best low-carb queso recipes. Get ready to grab a bag of chips, slice up some keto veggies (peppers, cauliflower, or broccoli would totally work), or break out the keto bread and start dipping into these tasty keto queso dips.
Keto Queso Recipes
After scouring the internet and reading through our own library of cookbooks, we've found what we think are the best keto queso recipes out there.
Recipe

Nutritional Information (per serve)

Time

1g carbs
5g protein
8g fat
92 calories

Prep time: 10 mins | Cook time: 2 hours

3g carbs
11g protein
25g fat
269 calories

Prep time: 2 mins | Cook time: 5 mins

2g carbs
3g protein
9g fat
104 calories

Prep time: 2 mins | Cook time: 2 hours

2g carbs
6g protein
12g fat
205 calories

Prep time: 5 mins | Cook time: 15 mins
1. Easy Queso Dip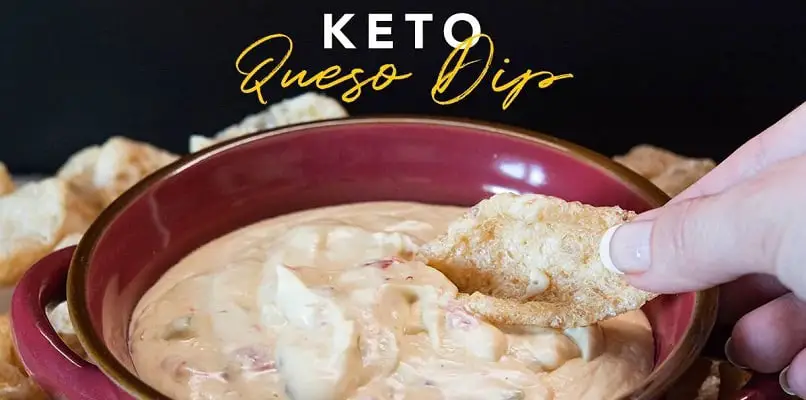 The name might sound pretty basic, but the flavor is anything but! This easy queso recipe dip is packed with the flavors of pepper hack and cream cheese, combined with Rotel, green chilis, and some other basic low-carb ingredients.
One of the most important rules of the keto diet is to stay below 20g of carbs for the day. Well, this dip serves about 24 and each serving has around 1 net carb and 8 grams of fat, ensuring it won't make much of a dent in your carb limit!
Find the recipe on wholebodyliving.com.
2. Three-Ingredient Queso Dip
All you need is three simple ingredients and about 7 minutes and you'll have a flavorful, low carb keto queso recipe to sink your teeth into. It's made with 1 cup of heavy cream, cheddar or Mexican blend cheese, and some heavy cream or full-fat coconut milk. You can add in some jalapenos or pico, too, if you'd like to.
It has around 3 net carbs and 25 grams of fat.
Check out theharvestskillet.com for the full recipe.
3. Crock Pot Keto Queso Dip Recipe
Pull out the trusty old crock pot for this keto queso dip recipe! All you need to do is add the three simple ingredients, including cream cheese, salsa verde, and Monterey jack cheese into the pot, and in around 2 hours, you'll be able to start dipping it into yummy goodness.
Each serve offers 104 calories and 9g of fat.
Find the full recipe at wholesomeyum.com.
4. Easy Keto Queso Cheese Dip
We always find great recipes at drdavinahseats.com, and her easy keto queso cheese dip is no exception! It's made with some pretty basic ingredients, and it'll be ready to eat in just around 20 minutes.
Each serving has around 2 net carbs and 20 grams of fat. It's so creamy, cheesy, and delicious, it will leave you licking your fingers.
Our Thoughts on Keto Queso Dips
The low-carb queso recipes sound so tasty that our mouths are watering just reading through the ingredients! In fact, we might just need to pull out the crockpot and whip up a batch today!