One of the best parts of going to a carnival is the food. As soon as you enter the fairgrounds, the aroma of fried food tantalizes you; especially the funnel cake. There's just one problem, however: You're on the keto diet, and traditional funnel cake is loaded with carbs and calories, making it totally not a keto-friendly dessert. Does that mean that you have to forego the quintessential carnival food? Not at all!
How do you make funnel cake keto?
Just like pretty much everything else, you can absolutely make funnel cake keto-friendly. How? By simply substituting wheat flour and sugar for low-carb almond flour or coconut flour and sweeteners, like monk fruit sweetener or erythritol. If you think that almond flour funnel cake or coconut flour funnel cake won't taste as good as the original recipe? Think again!
We've rounded up a collection of some of the best low-carb funnel cake recipes that taste just as delicious – if not even better – than the original. Our mouths are watering just thinking about these sweet, delicious, yet surprisingly delicious treats. Make these as standalone desserts, or have as part of a keto baked goods extravaganza!
Keto Funnel Cake Recipes
Pull out a pen or make sure that your printer is loaded with paper and ink, because you're totally going to want to include the following keto funnel cake recipes to your cookbook. Below, you'll find our picks for the best keto funnel cakes around.
Recipe

Nutritional information (per serve)

Time

3g carbs
6g protein
50g fat
475 calories

Prep time: 10 mins | Cook time: 5 mins

4g carbs
6.5g protein
6.5g fat
90 calories

Prep time: 10 mins | Cook time: 5 mins

1g carbs
2g protein
12g fat
150 calories

Prep time: 5 mins | Cook time: 5 mins

3g carbs
4g protein
2g fat
45 calories

Prep time: 10 mins | Cook time: 25 mins

3.8g carbs
12.3 protein
12.1g fat
163 calories

Prep time: 20 mins | Cook time: 7 mins
1. The Easiest Keto Funnel Cake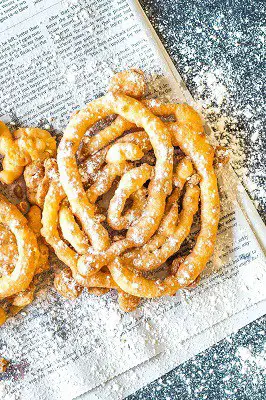 You'll be sure to feel like you're walking through the country fair with this keto funnel cake. In just a few minutes, you'll be sinking your teeth into a taste sensation. All you need are a few simple ingredients and about 15 minutes to whip up this amazing treat.
The recipe yields two servings, and each serving has around 475 calories, 3 net carbs, and 50 grams of fat.
Grab the full recipe at castironketo.net.
2. Homemade Keto Funnel Cake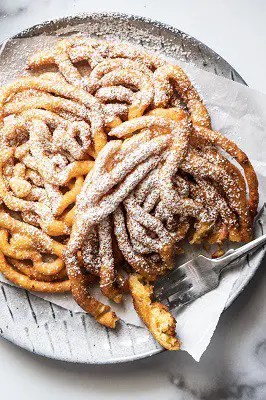 Perfectly crispy, delightfully sweet, and incredibly tasty; this keto funnel cake recipe takes about 15 minutes to whip up. Some of the key ingredients include lupin and almond flour, erythritol and vanilla extract, and makes six funnel cakes. These go perfect with a favored rich keto chocolate dessert!
Each funnel cake has about 4 net carbs, 6.5 grams of fat, and 90 calories.
Find the full recipe at gnom-gnom.com.
3. Vegan Funnel Cake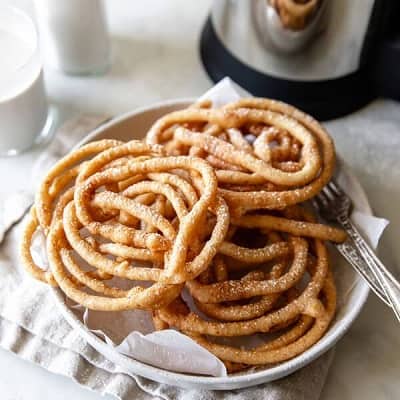 These vegan funnel cakes may be gluten-free and dairy-free, but they definitely aren't taste-free! It's made with gluten-free flour, almond pulp, powdered sugar (we recommend one that's made with monk-fruit sweetener, and plant-based milk (almond or coconut would work well).
The recipe yields about 8 to 10 funnel cakes, and each cake has about 1 net carb, 12 grams of fat, and 150 calories.
Get the full recipe at almondcow.co.
4. Sugar-Free Baked Funnel Cakes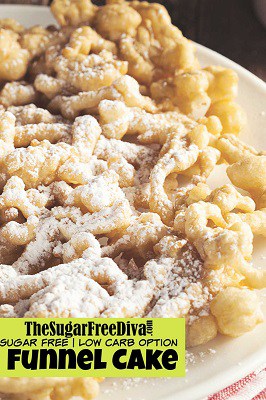 Turn your oven into a funnel cake factory! This sugar-free recipe is made with ingredients that you probably already have in your kitchen, including almond flour, baking powder, salt, milk, eggs, vanilla extract, and sugar-free powdered sugar.
The recipe yields 8 servings and each serving has 3 net carbs, 2 grams of fat, and 45 calories.
Head to thesugarfreediva.com to find the full recipe.
5. Keto Funnel Cake with Mozzarella Cheese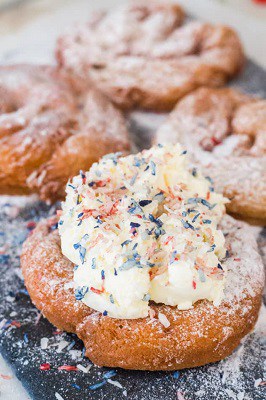 This is the most unique keto funnel cake recipe on the list, as it's made with mozzarella cheese, which is surprisingly delicious.
The recipe yields eight funnel cakes and each one has about 163 calories, 12. 1 grams of fat, and 3.8 net carbs.
Check out thehungyelephant.ca to grab the full recipe.
Our Thoughts on Low Carb Keto Funnel Cake Recipes
Just because you're on the keto diet doesn't mean you have to give up one of your favorite carnival treats. With the recipes listed above, you can turn out low-carb, highly-flavorful, keto-friendly funnel cakes.