Do you love eating spicy snacks like poppers while you are watching the game? Perhaps cheese-dipped jalapenos are your go-to appetizer for parties or family gatherings. When you switch your meal plan over to one that is low-carb, you have to give up a lot of dishes, but this doesn't have to be one of them. We searched the internet and gathered a collection of eight delicious recipes for low-carb jalapeno poppers that you can make at home. Each of these recipes is keto beginner-friendly in addition to being ultra-delicious.
Are jalapenos keto?
Jalapenos and peppers, in general, are very low in carbohydrates. On average, a jalapeno pepper will have 1 gram of carbs which equals out to 0.6 grams of net carbs for each pepper. Peppers are also weight loss boosters and great meal add-ins for those looking to add a burst of flavor.
Are stuffed jalapenos keto?
Stuffed jalapenos are also generally keto-friendly. Most traditional recipes call for various types of cheese and meat, both of which are great for those following a low-carb lifestyle. You can also follow recipes for keto stuffed jalapenos if you want to reduce the number of carbs even further.
8 Low-Carb Jalapeno Poppers Recipes
1. Air Fryer Keto Jalapeno Poppers
Have you been looking for another use for that air fryer you bought at the start of your diet? If so, this easy keto poppers recipe is just what you have been looking for. With only 1 net carb per serving, you can whip up a couple batches in time for your next party. Or have them as an appetizer alongside some keto tacos for a Mexican fusion evening!
Serving: 1 Popper
Net Carbohydrates: 1g
Fat: 8g
Protein: 4g
Calories: 96
Get the full recipe here.
2. Cream Cheese Jalapeno Poppers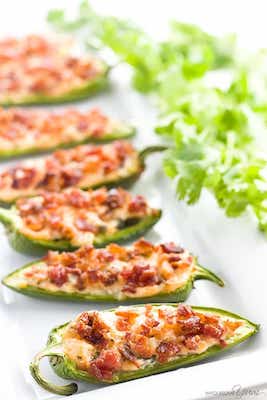 Cream cheese is a big no-no for most diets, but on keto it happens to be one of the best ingredients for any dish. For a creamy, flavorful side dish or appetizer that is also keto friendly.
Serving: 1 Popper
Net Carbohydrates: 0.7g
Fat: 4g
Protein: 2g
Calories: 49
Get the full recipe here.
3. Keto Jalapeño Popper Taquitos with Bacon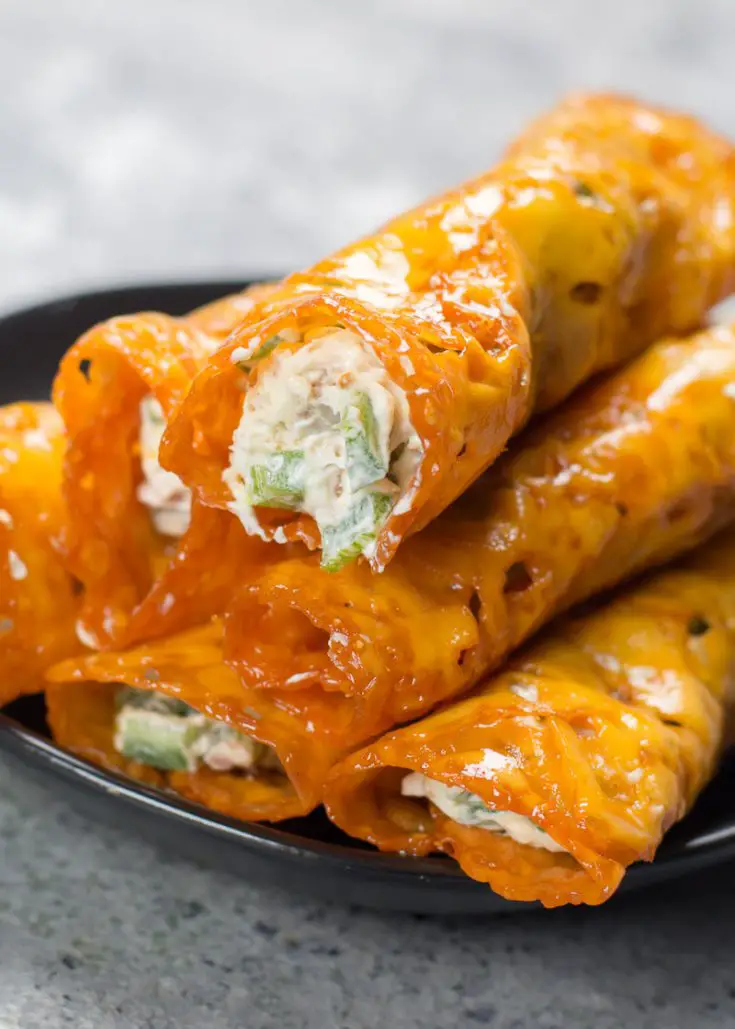 Are you looking for a unique appetizer or perhaps a quick lunch with a Mexican flair? These Jalapeño Popper Taquitos are sure to hit the spot. You can use regular bacon or turkey bacon to achieve that delicious salty crunch. These go amazingly well with some keto cornbread 🙂
Serving: 3 Taquitos
Net Carbohydrates: 1.5g
Fat: 49g
Protein: 18g
Calories: 535
Get the full recipe here.
4. Bacon Wrapped Low Carb Jalapeno Poppers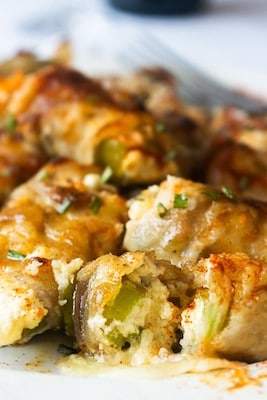 Do you love bacon? If so, this is the perfect pre-game snack for your keto catered party. The salty crunch will pair well with the cheesy goodness and spicy tang of the fresh jalapenos in this recipe.
Serving: 8 Poppers
Net Carbohydrates: 3g
Fat: 18g
Protein: 10g
Calories: 225
Get the full recipe here.
5. Stuffed Low-Carb Jalapeño Poppers
Stuffed peppers are a great staple that you can have for a keto-friendly lunch or snack any time of the day. The servings are generous and filled with flavor so you will easily forget that you are on a diet.
Serving: 2 Poppers
Net Carbohydrates: 3g
Fat: 7g
Protein: 4g
Calories: 138
Get the full recipe here.
6. Low Carb Fried Jalapeno Poppers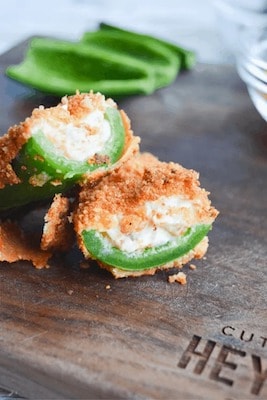 What is better than low-carb jalapeno peppers with a spicy dip? Deep frying them of course! You can use your air fryer or you can shallow fry them in keto friendly oils for added nutrition. With a serving size of 2 poppers these portions are generous enough for the whole family.
Serving: 2 Poppers
Net Carbohydrates: 7.3g
Fat: 32g
Protein: 15.7g
Calories: 372
Get the full recipe here.
7. Low Carb Chicken Jalapeno Poppers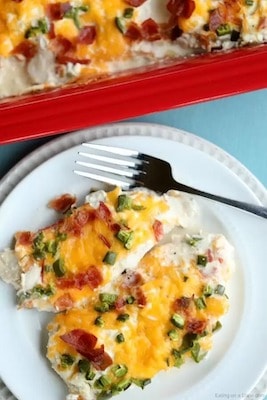 For those who love jalapeno poppers but prefer to stay away from pork, this keto friendly recipe is sure to be a hit. Made with wholesome chicken you will get that same rich flavor profile without the saltiness of bacon. There is only 1 gram of net carbs per serving too!.
Serving: 2 Poppers
Net Carbohydrates: 1g
Fat: 16g
Protein: 17g
Calories: 277
Get the full recipe here.
8. Keto Jalapeno Popper Casserole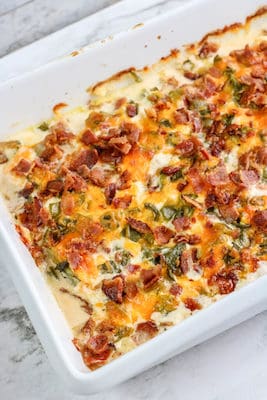 For a great keto-recipe that can feed a crowd, try out keto jalapeno popper casserole. You get the same great taste as a popper appetizer , but with more food to keep you full for hours.
Serving: ¼ of Preparation
Net Carbohydrates: 3g
Fat: 13g
Protein: 8g
Calories: 372
Get the full recipe here.
Our Thoughts on Keto Jalapeno Poppers
Following a low-carb lifestyle has never been easier when you can eat the foods that you already love. With these easy Keto jalapeno poppers, you can enjoy your tailgate party, weekend bash, or create a tasty snack without derailing your diet.