The keto diet has not only proven to be an effective way to lose weight, but it's also been shown to provide numerous health benefits such as decreased blood pressure, increased HDL cholesterol levels, blood glucose maintenance, and reduced triglycerides. In other words, in a world full of endless diet plans, keto is, without a doubt, one of the best around.
Whether you're thinking about starting the keto diet or you've been doing it for a while, in order to reap the numerous benefits of this diet, you need to plan ahead. This diet calls for eating foods that are low in calories and high in healthy fats, which might seem pretty easy to do on a daily basis; however, when it comes to certain events, sticking with your diet can be a bit more challenging. Thanksgiving is one of those events.
Of course, giving thanks for all of your blessings is the foundation of this American holiday, but food plays a big part in the festivities, too. Unfortunately, a lot of the staple Thanksgiving foods aren't exactly keto-friendly. For example, cranberries, which are one of the most popular foods consumed on this holiday, contain about 9.2 g of net carbs per serving (1 cup). That's a bit on the high side, and if you want to eat them, you really need to reduce your serving size. Fortunately, however, there are a lot of keto Thanksgiving recipes that you can safely consume without having to worry about thwarting your diet.
After scouring the internet and reading through dozens of blogs, food sites, and cookbooks, we've rounded up a list of what we believe are eight of the best keto Thanksgiving meal ideas. Below, you'll find a brief overview of these recipes that would be the perfect addition to your keto Thanksgiving menu.
Recipe

Nutritional information (per serving)

Time

0.9g carbs
68.2g protein
33.7g fat
597 calories

Prep time: 15 mins | Cook time: 3-4 hours

11g carbs
1g protein
1g fat
50 calories

Prep time: 5 mins | Cook time: 10 mins

5g carbs
15g protein
12g fat
190 calories

Prep time: 10 mins | Cook time: 20 mins

4. Brussels Sprouts with Bacon, Parmesan, and Garlic Aioli Sauce

9g carbs
5g protein
27g fat
286 calories

Prep time: 20 mins | Cook time: 20 mins

2g carbs
1g protein
5g fat
59 calories

Prep time: 15 mins | Cook time: 20 mins

3.5g carbs
4g protein
2.5g fat
50 calories

Prep time: 5 mins | Cook time: 10 mins

5g carbs
3.5g protein
0.5g fat
70 calories

Prep time: 3 mins | Cook time: 5 mins

3g carbs
3g protein
35 fat
336 calories

Prep time: 15 mins | Cook time: 0 mins

15.2g carbs
4.4g protein
10.5g fat
139 calories

Prep time: 20 mins | Cook time: 70 mins
Add These Delicious Meals to Your Keto Thanksgiving Menu
From savory to sweet, here, you'll find a well-rounded list of Thanksgiving keto recipes. When you're planning your low-carb Thanksgiving menu, you're totally going to want to include at least one – if not all – of these tasty and satisfying recipes. With these Thanksgiving meal ideas, you'll totally have something to be thankful for.
1. Easy Herb Roasted Turkey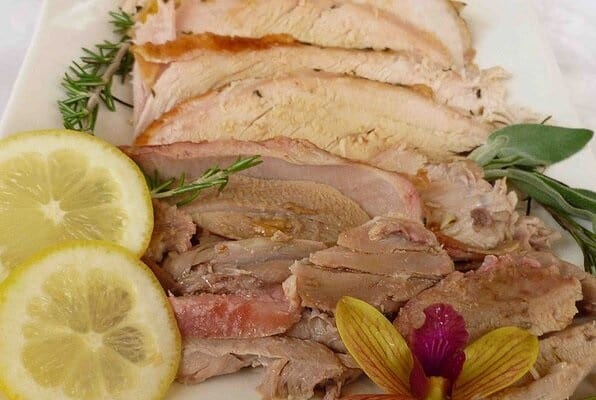 This herb roasted turkey will be the star of your Keto Thanksgiving menu. Choose an organic, grass-fed, free-range turkey, and top it with a few different low-carb herbs and spice for a mouth-watering Thanksgiving keto main course.
With just 0.9g of net carbs (without stuffing, gravy, etc.), you can have confidence knowing you won't be cheating on your diet. Also, you can top it off with your favorite keto turkey gravy and keto biscuits to round out the traditional feast!
Get the full recipe at allrecipes.com.
2. Keto Cranberry Sauce
Cranberry is a much-loved Thanksgiving side dish, and while we mentioned that the calorie content is pretty high, you can make modifications to make it keto-friendly. This recipe is low in carbs but high in taste and will be sure to beautifully accent your turkey.
Each serving offers 1g protein and 1g of fat.
Visit delish.com for the full recipe.
3. Low Carb Riced Cauliflower Stuffing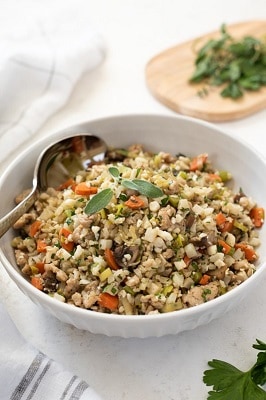 Traditional stuffing is made with bread, so it's laden with empty calories; in other words, it's anything but keto-friendly.
With this recipe, however, cauliflower replaces the bread, for a flavor-packed side dish that has just 5 net grams of carbs per serving.
Go to flavorthemoments.com for the full recipe.
4. Brussels Sprouts with Bacon, Parmesan, and Garlic Aioli Sauce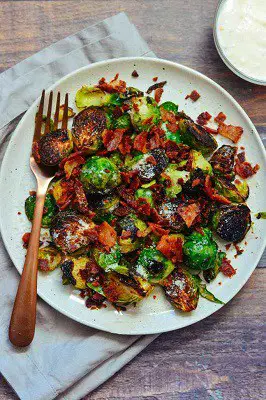 This is another totally tasty side dish that will be sure to make a hit on your keto Thanksgiving menu. The flavors of the sprouts, bacon, cheese, and sauce combine to create a total taste sensation.
This recipe whips up a total of 5g protein, 27g fat and 286 calories per serving.
Check out cookswithsoul.com for the full list of ingredients and instructions.
5. Buttery Mashed Cauliflower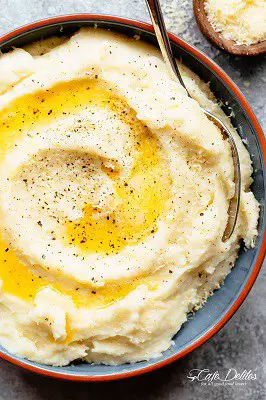 Mashed potatoes are another Thanksgiving favorite, but regular potatoes are top on the list of foods that should be totally avoided on the keto diet. This buttery mashed cauliflower has the taste and texture of real mashed potatoes such that no one will know the difference. It's the perfect keto side dish!
A serving has just 2 net grams of carbs.
Visit cafedelites.com for the full recipe.
6. Grilled Prosciutto Wrapped Asparagus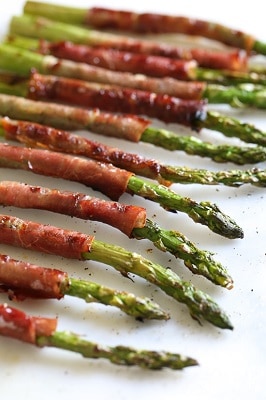 This easy to make keto-approved dish would take great as a side with your meal or as an appetizer to tide your guests over until it's time to dig in. No matter when you serve them, these grilled prosciutto wrapped asparagus spears are sure to be finger-licking good.
They have just 3.5 net grams of carbs and can be made in just 15 minutes.
Go to skinnytaste.com for the recipe.
7. Wilted Baby Spinach with Garlic and Oil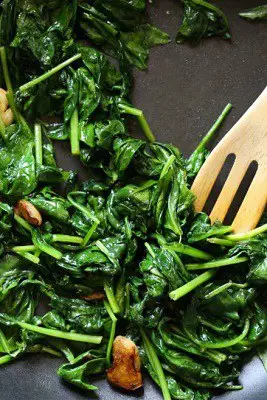 Spinach is one of the best keto-friendly veggies around. Not only is the calorie content super low, but it's also loaded with essential vitamins, minerals, and nutrients. This recipe is so quick and easy to make, you can whip it up in just 8 minutes, and the taste is absolutely incredible.
Each serving is just 5 net grams of carbs.
This is another recipe found on skinnytaste.com.
8. Keto Chocolate Fat Bomb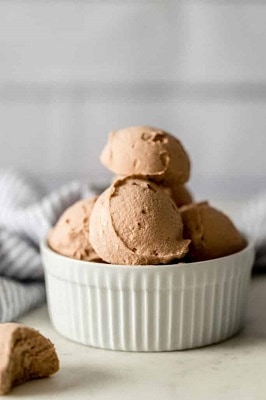 These chocolate fat bombs will be sure to be the highlight of your keto Thanksgiving menu. Made with cream cheese, butter, heavy cream, sweetener, cocoa powder, and vanilla extract, they're kind of like little chocolate cheesecakes.
Each fat bomb has just 3 net grams of carbs, and the taste is absolutely amazing.
Visit simplylakita.com for the full recipe.
9. Keto Pumpkin Pie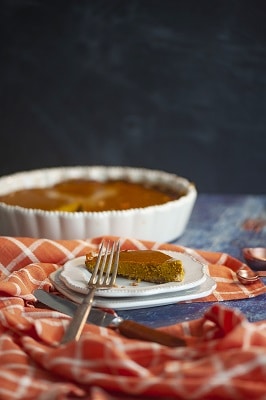 No Thanksgiving meal is complete without pumpkin pie. This recipe is totally keto-friendly, yet it's so incredibly delicious that you likely won't realize that it's low-carb! It's an old recipe made new, and may well become your family's favorite keto Thanksgiving dessert.
It tastes as good as it is keto-friendly, each serving amounts only to 139 calories.
To find the full list of ingredients and instructions, head to allrecipes.com.
Our Thoughts on Keto Thanksgiving Recipes
As you can see, there are literally so many delicious recipes that you can include on a low-carb Thanksgiving menu. The recipes highlighted above are just a small sampling of the dozens of options available. If you don't like or can't get the usual Thanksgiving turkey, you could easily substitute in one of many keto chicken thigh recipes!
You totally don't have to steer off your diet course or sacrifice your love of food on Thanksgiving. With these recipes, you can have a fulfilling and delicious holiday.