Whether you're new to keto or you've been on it for a while, in order to achieve the benefits of eating a low-carb, high-fat diet, you need to set yourself up for success. What you eat is absolutely essential on the keto diet, and that means consuming a specific amount of carbs and fat each day. How can you set yourself up for success? By figuring out what you can eat and creating a cookbook that's full of yummy, healthy, fulfilling, low carb, high healthy fat diets.
Is Quiche Keto?
If you're looking for easy to reheat meals, or an all-in-one meal that can be eaten for breakfast, lunch, or dinner, quiche is often a go-to choice. The problem is, however, traditionally, quiche isn't keto. That's because it's made with ingredients that are very high in carbohydrates; the exact opposite of what you're supposed to eat on a ketogenic diet.
How Do You Make Quiche Keto?
Fortunately, just like many other dishes that traditionally contain a high calorie content, there are ways that you can modify quiche and make it keto-friendly. How do you do that? By completely eliminating the crust, or by replacing the traditional crust with a low-carb rendition that's made with low carb flour, such as wheat flour, or with almond meal.
7 Low-Carb Quiche Recipes
To make the process of whipping up low carb, keto-friendly quiches as easy as possible, we've put together a list of some of the best keto quiches out there. These recipes are super easy to make, incredibly delicious, can be eaten for any meal, are perfect for meal prepping, and of course, they totally meet the keto guidelines.
Recipe

Nutritional Information (per serve)

Time

2.8g carbs
11.4g protein
13.7g fat
176 calories

Prep time: 10 mins | Cook time: 30 mins

1g carbs
13g protein
19g fat
235 calories

Prep time: 10 mins | Cook time: 40 mins

6.5g carbs
20g protein
26g fat
327 calories

Prep time: 15 mins | Cook time: 45 mins

2g carbs
20g protein
27g fat
343 calories

Prep time: 15 mins | Cook time: 45 mins

6.72g carbs
12.88g protein
10.17g fat
166 calories

Prep time: 15 mins | Cook time: 45 mins

6g carbs
17g protein
36g fat
418 calories

Prep time: 30 mins | Cook time: 30 mins

3.9g carbs
29 protein
37.9 fat
458 calories

Prep time: 15 mins | Cook time: 35 mins
1. Avocado Bacon Crustless Quiche
Avocado, bacon, and eggs come together to make a totally tasty keto meal that's super easy to make. This tasty delight is a super easy keto recipe for beginners, as it only takes about 40 minutes to put together. It serves 6, and each serving has just 2.8 net carbs, 13.7 grams of fat, and 176 calories.
Find the recipe at thewholesomedish.com.
2. Crustless Ham and Cheese Quiche
This low carb rendition of a classic quiche recipe is just as satisfying, but it has a fraction of the carbs. It will totally satisfy your taste buds, fill your belly, and keep you on track with your diet.
Each serving has 1 gram of net carbs, 19 grams of fat, and 235 calories. The whole family will love this one, but it's an especially great keto recipe for kids.
Check out easylowcarb.com for the full recipe.
3. Crustless Spinach Bacon Quiche
Spinach, eggs, and bacon combine to make a delightfully tasting dish that you can eat fresh or make ahead of time and heat up throughout the week. Each serving has only about 327 calories, 26 grams of fat, and just 6.5 net carbs.
Check out lowcarbmaven.com for the full recipe.
4. Brie and Bacon Quiche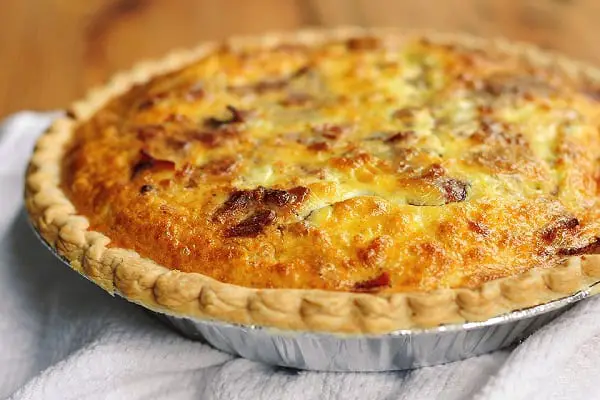 This is an interesting take on a traditional dish, as it's made with brie cheese, which adds a unique and totally delightful flavor that will be sure to make your taste buds happy. This keto-friendly dish takes just about 45 minutes to make, from start to finish.
Each serving offers 343 calories, 27g of fat, and just 2g of carbs!
You can find the full recipe at tastykitchen.com.
5. Spinach Mushroom and Feta Crustless Quiche
This recipe is another interesting spin on more traditional quiches. Not only is it crustless, but it's made with feta and spinach, which lends a very Mediterranean flavor.
This keto-friendly dish serves six, and each serving has 165.8 calories, 6.72 grams of carbs, and 10.17 grams of fat. It also keeps really well in the fridge, and therefore it's a perfect inclusion in your keto lunchbox.
Find the complete recipe at budgetbytes.com.
6. Keto Quiche Lorraine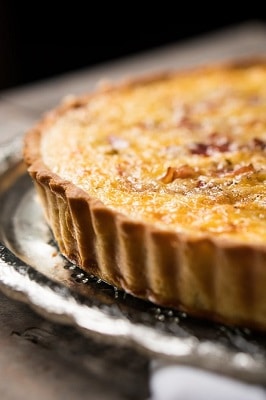 Instead of going crustless, this keto quiche Lorraine not only features a crust, but the crust is super flaky! Not only does it meet the keto guidelines, but it's vegan-friendly, too.
Each slice of this quiche has about 418 calories, 6 net carbs, and 36 grams of fat.
Head to gnom-gnom.com to find the full recipe.
7. Black and Blue Hamburger Pie
Though it isn't called "quiche", it totally counts as one, as it meets the qualifications of a quiche; in other words, eggs are the primary ingredient. All of the flavors combine to make a totally yummy dish that will definitely satisfy your tummy.
Each slice of this black and blue hamburger pie has about 458 calories, 37.9 grams of fat, and 3.9 net grams of carbs.
To find the full list of ingredients and detailed instructions, head to simplysohealthy.com.
Our Thoughts on Keto Quiches
Keto is an easy to make, tasty, and fulfilling meal that packs eggs, veggies, and cheeses into one dish. While the ingredients used in traditional quiches are usually keto-friendly, the problem is the crust, which is usually packed with carbs. Fortunately, however, you can easily make quiche keto-friendly, and the recipes mentioned above are proof positive of how you can do just that and enjoy a tasty, delicious, and nutritious meal.