Sometimes I'm just after a quick and easy breakfast that's high in protein and not too calorie heavy. Well, this keto cottage cheese breakfast bowl is one of my favs for that very reason! The cottage cheese provides a ton of protein without adding as much fat as other dairy products / cheeses. In fact, this is easily one the best low-carb cottage cheese recipes I have!
I use the term 'keto' fairly loosely here, because it has some fresh fruit in it and I know many ketoers strictly avoid all fructose.
I'm very active though. In particular, I powerlift. So, I allow myself some extra carbs on heavy training days because I fatigue extremely quickly without them.
You can make this with just a little fruit, or none at all. Leave in just the nuts if you wish! It's quick, easy, and yummy however you do it!
How to make this keto cottage cheese breakfast bowl?
It's so simple that I won't prattle on.
Just mix the cottage cheese and yogurt together, add your berries and nuts, drizzle some vanilla extract over it, and then sprinkle on some nutmeg. Done!
I will note that some people I've shared this with did not like the lumpiness of the cottage cheese. So, I tried blending the yogurt and cheese together first to get rid of the lumps, and my partner thought it was much better! So there's an idea for you 😉
---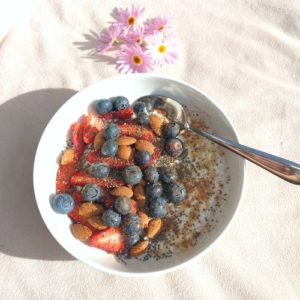 Keto Cottage Cheese Breakfast Bowl
This delicious and light breakfast bowl is incredibly quick and easy to make, and is super high in protein. Perfect for those days where your activity levels are high and your energy has to match. WARNING: This may contain as much as 17g net carbs, so you may need to watch your count for the rest of your meals if you have a strict limit.
Ingredients  
1/2

cup

Cottage cheese

1/2

cup

Greek yoghurt

28

g

Fresh blueberries

(whole)

28

g

Fresh strawberries

(sliced)

14

g

Almonds

1/2

tsp

Vanilla extract

1/4

tsp

Ground cinnamon

1/2

tbsp

Black chia seeds
Instructions 
Mix the cottage cheese and yoghurt together thoroughly

Sprinkle the berries and almonds on top, along with the chia seeds

Drizzle vanilla extract over the lot of it, and then sprinkle on the ground cinnamon. Enjoy!
Notes

Note: You can try blending the cottage cheese and yogurt first if you don't like the lumpy texture of the cheese.