If you're trying to shed some pounds and looking for an easy, low-hassle breakfast idea that involves minimal effort, overnight oats are an excellent choice. When you're In a rush in the morning, trying to figure out what you can eat without thwarting your efforts to lose weight can feel like a daunting task. Healthy overnight oats recipes for weight loss are the perfect solution.
Why?
Because they're already ready to go! Just whip them up at the beginning of the week or the night before, heat them up in the morning and you'll kick-start your metabolism and fuel your energy levels. Also, while oats are relatively high in carbohydrates (not typically considered great for shedding pounds), they have a low glycemic index, meaning they release energy slowly and help you feel fuller for longer. Thus, oats can be a great weight loss food!
What are overnight oats?
They're an alternative to traditional oatmeal that doesn't require any cooking. Instead of the standard method of preparing oats, which involves boiling and can be time-consuming (definitely not ideal when you're in a hurry), overnight oats are mixed with milk or an alternative that's dairy-free, left to sit overnight in the fridge, and are ready to go in the morning. The oats soak up the milk or dairy-free alternative (like almond milk, rice milk, cashew milk, etc.), which will soften them up and give them a satisfying texture. Enjoy them as-is, or you can mix in some additional ingredients, like fruit, flax, peanut butter, chia seeds, or even Greek yogurt, to add some extra flavor, texture, and valuable vitamins, minerals, and nutrients.
Is overnight oatmeal healthy?
Absolutely! On their own, overnight oats are totally healthy. They're rich in vitamins and minerals, such as phosphorus, manganese, and calcium (just to name a few vital nutrients), as well as loads of fiber and protein. To ensure that they remain healthy, however, it's important to be wise about what you mix in with them. Things like low carb fruits (strawberries, blueberries, and raspberries), chia seeds, and Greek yogurt or keto yogurt will add to the nutritional benefits that overnight oats provide. However, if you mix in things like Nutella or anything that has refined sugars, you'll detract from their nutritional content – and the weight loss support they provide.
Can oatmeal help with weight loss?
Yep! Because they're packed with protein and fiber and since they satiate your hunger, fuel your energy levels, and kick-start your metabolism, they can definitely support weight loss. However, as noted above, in order to ensure that they do help you achieve your mission to drop some pounds, watch what you mix in with them; steer clear of refined sugars, for example. Mix them with the right stuff, and you'll have a perfect healthy snack to support your weight loss efforts.
Healthy Overnight Oats Recipe for Weight Loss
Interested in trying oatmeal recipes for weight loss? If so, then read on to find some simple, nutritious, and delicious overnight oats for weight loss recipes.
Recipe

Nutritional information (per serve)

Prep time

29g carbs
11g protein
13g fat
277 calories

Prep time: 3 mins

48.3g carbs
12g protein
7.6g fat
298 calories

Prep time: 3 mins

33g carbs
9g protein
5g fat
215 calories

Prep time: 5 mins

55g carbs
9g protein
5g fat
294 calories

Prep time: 10 mins

64g carbs
14g protein
8g fat
382 calories

Prep time: 8-10 mins

50g carbs
6g protein
6g fat
264 calories

Prep time: 5 mins

74g carbs
16g protein
20g fat
537 calories

Prep time: 5 mins

45g carbs
7g protein
5g fat
256 calories

Prep time: 10 mins

66g carbs
21g protein
15g fat
461 calories

Prep time: 10 mins
1. The Easiest Peanut Butter Overnight Oats Recipes Ever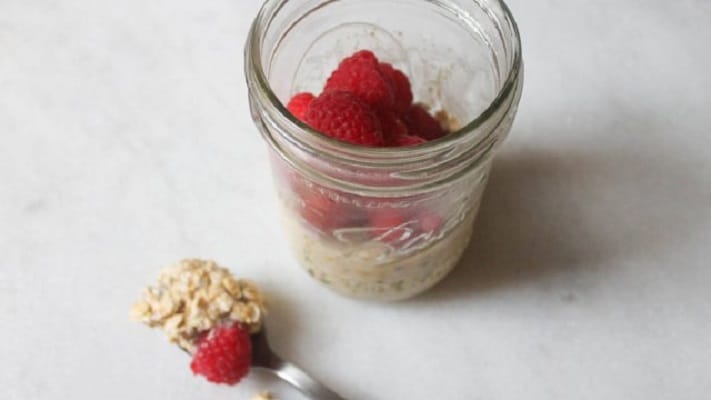 Rolled cut oats, dairy or dairy-free milk (like almond milk), peanut butter, and maple syrup come together to create a totally tasty, protein-packed breakfast that will be sure to help you power through your day. Add in some chia seeds or raspberries for extra flavor and nutrients.
The recipe packs 277 calories in total.
Check out the recipe at eatthis.com.
2. Overnight Oats with Blueberries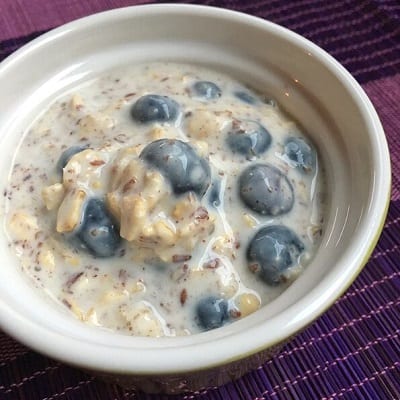 It takes just 5 minutes to prep this delicious overnight oats with blueberries dish. Just toss everything into an air-tight jar, seal it up, and set it in the fridge for about 8 hours and you'll have a hearty, fulfilling breakfast.
Each serve has 298 calories and 12g of protein.
Check out the full recipe at allrecipes.com.
3. Chocolate Peanut Butter Overnight Oats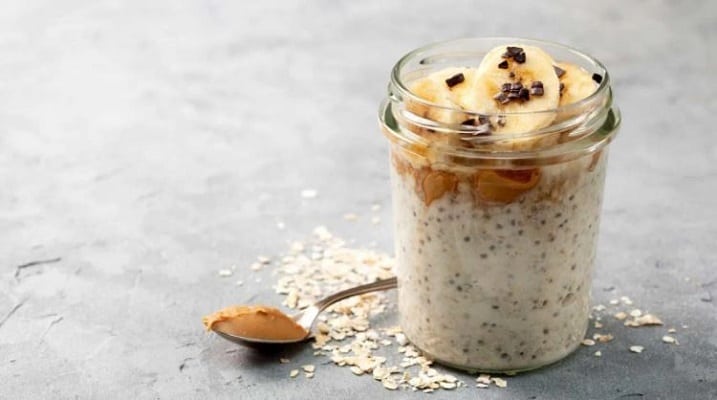 With this overnight oat recipe, you'll feel like you're biting into a peanut butter cup for breakfast! It serves up a healthy dose of protein and fiber to fuel your day and will surely keep you satisfied until lunch.
Each serve offers 215 calories and 33g of carbs.
Find the complete recipe at healthline.com.
4. Raspberry Mocha Overnight Oats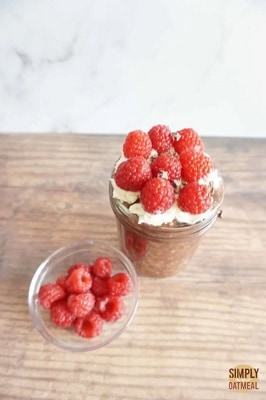 Chocolate and raspberries combine to create a delightful breakfast experience that's as healthy as it is satisfying.
Each serving has just 294 calories, 5 grams of healthy fat, and 9 grams of protein.
Check out the full recipe at simplyoatmeal.com.
5. Blueberry Lemon Overnight Oats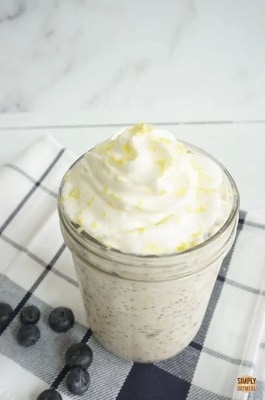 The combination of blueberries and lemon in this healthy overnight oats recipe for weight loss create a surprisingly refreshing breakfast treat.
Each serving has about 382 calories, 8 grams of fat, and 14 grams of protein.
We found this recipe at simplyoatmeal.com.
6. Healthy Mango-Ginger Overnight Oats Recipe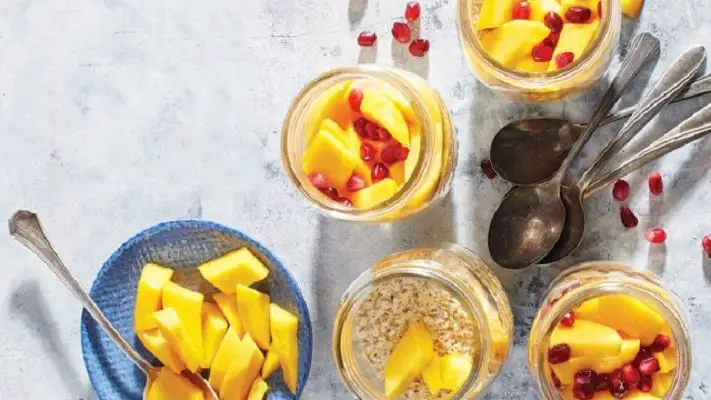 You'll feel as if you've been whisked away to a tropical paradise with each bite of this healthy mango-ginger overnight oats recipe. The flavors are so delightful that it will surely become one of your favorite breakfast dishes.
It has about 264 calories, 6 grams of fat, and 6 grams of protein per serving.
Head to eatthis.com for the full list of ingredients and instructions.
7. Overnight Oats with A Blueberry Cashew Cream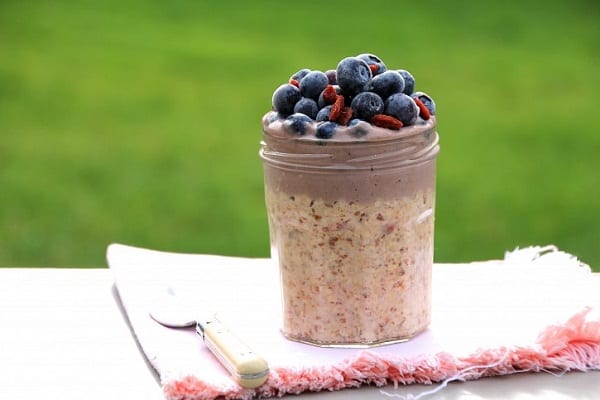 This blueberry cash cream overnight oat recipe has such a delightfully creamy texture and an amazingly delicious flavor. It's packed with essential vitamins, minerals, fiber, plant protein, and antioxidants, too.
Each serve has 20 grams of fat and 537 calories.
Find the full recipe at naturally sassy.co.uk.
8. Overnight Chilled Plum Oatmeal Pudding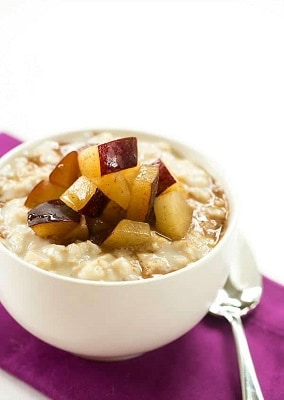 Chilled plum oatmeal pudding just sounds so decadent. While the texture and taste certainly are, it's loaded with essential vitamins, minerals, and nutrients, so it's totally healthy.
And with 5 grams of fat and 256 calories, it will totally support your weight loss goals.
You can grab the full recipe at browneyedbaker.com.
9. Banana Bread Overnight Oats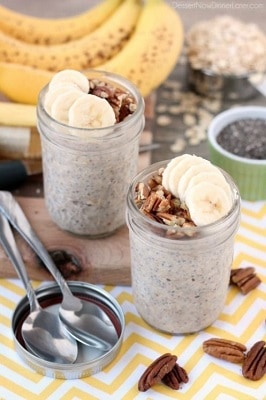 As the name suggests, this recipe for overnight oats is inspired by banana bread, but it's way healthier. Oats, Greek yogurt, milk (or a non-dairy alternative, chia seeds, cinnamon, pecans, and of course, banana, all come together to create an absolutely decadent breakfast treat.
There's 461 calories, 66 grams of carbs, 21 grams of protein, and 15 grams of fat per serving.
Find the recipe at superhealthykids.com.
Our Thoughts on Oatmeal Recipes for Weight Loss
These healthy overnight oats recipes for weight loss are a hassle-free way to enjoy a decadent, delicious, and nutritious breakfast. They require minimal effort to make, are packed with essential nutrients, and will be sure to help you power through your day.