The keto (short for ketogenic) diet is a low carb, high healthy fat diet that has been proven to provide numerous benefits. Not only is it an effective way to lose weight and satiate appetite, but several scientific studies have found that it can offer numerous health benefits, including:
Reduced triglycerides
Increased HDL (the good for you) cholesterol levels
Decreased blood sugar and insulin levels
Lowered blood pressure levels
Increased energy levels
Diminished anxiety and depression
Improved liver health
And those are just some of the benefits. It's easy to see why keto is one of the most popular diets in the United States and around the world! If you're on the keto diet, however, in order to reap the many benefits that it can provide, you do need to stick to eating a well-rounded menu of foods that adhere to the keto guidelines. While veggies are a go-to source of nutrition on all diets, when you're doing keto, you need to stick to low-carb veggies; peppers, lettuces, broccoli, cauliflower, etc. Starchy veggies, like white and sweet potatoes, yams, carrots, and tubers are considered a no-go, as their calorie content is high. While there are certainly several tasty salads and veggies you can safely eat on the keto diet, can you dip them in dressing?
Store-bought, processed salad dressings are usually on the "no" list for the keto diet. That's because they're usually packed with sugars and are loaded with calories. Fortunately, however, you can make your own homemade keto salad dressings.
What makes a salad dressing keto?
It should be made with high healthy fats, like avocado or extra virgin olive oils, and low or no calorie sweeteners, like monk fruit, stevia, or Yakon syrup. By sticking to these ingredients, and including tasty seasons, like garlic, basil, oregano, and thyme, you'll be able to make some great-tasting, keto-friendly dressings for salad. Beware, however; skip things like refined sugars and any ingredients labeled "diet", as they're usually loaded with carbs and aren't keto-friendly.
So, with all of that said, let's dive into some easy to make, totally delicious, and superbly nutritious homemade keto salad dressing recipes.
Best Keto Salad Dressings
To get you started on the right foot, we've rounded up a list of some of the best keto salad dressing recipes we could find. All are easy to make, low in calories, and high in flavor. Pour them in high quantities over your favorite keto salad recipes for a delicious and light eal.
Recipe

Nutritional Information (per serve)

Prep Time

1g carbs
2g protein
13g fat
130 calories

Prep time: 10 mins

2g carbs
1g protein
8g fat
84 calories

Prep time: 10 mins

1g carbs
1g protein
3g fat
41 calories

Prep time: 10 mins

0.5g carbs
4g protein
2.5g fat
38 calories

Prep time: 5 mins
1. Perfect Caesar Salad Dressing
A Caesar salad is totally keto-friendly, but the dressing usually isn't; in fact, most store-bought Caesar dressings are laden with calories. You can still enjoy this type of salad, though; just 86 the processed dressing and sub in this low calorie version.
Two tablespoons has just 130 calories, 13 grams of fat, and 1 net carb.
Check out tasteofhome.com for the full recipe.
2. Easy Keto Low-Carb Homemade Ranch Salad Dressing
Ranch is great on a salad and as a dipping sauce; it can even be used to add flavor to casseroles and keto-friendly pizzas (it's true!).
This ranch recipe has just 84 calories, 2 net carbs, and 8 grams of fat.
Visit staysnatched.com to find the full recipe.
3. Creamy Jalapeno Cilantro Dressing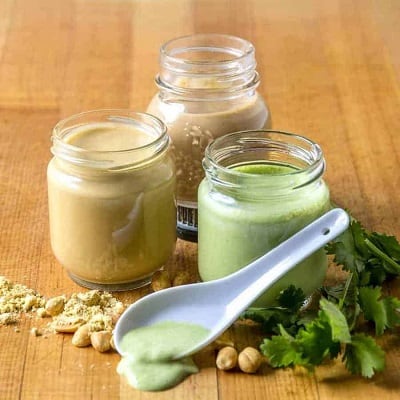 Add a spicy kick to your salads, veggies, or keto roll-ups with this dressing. Jalapenos add the perfect kick and cilantro and sour cream cool it off.
In just 30 minutes, this 1 net carb, 41 calorie, and 3 grams of fat dressing will be ready to enjoy.
To find the full recipe, visit twosleevers.com.
4. Keto Honey Mustard Dressing
"Surely honey mustard salad dressing can't be keto-friendly", you say? While that may be true of processed recipes, this homemade version definitely is. It's rich, creamy, and perfectly sweet.
It takes only 5 minutes to make and two tablespoons has just 0.5 net carbs, 2.5 grams of fat, and 38 calories.
Check out peaceloveandlowcarb.com to find the full recipe.
Our Thoughts on Keto Salad Dressing Recipes
The above is just a small sampling of the keto salad dressing recipe. They offer an array of tastes, are so easy to make, and all are low in carbs and high in healthy fats.