There's nothing better than a juicy, freshly-grilled steak. And if you're on the keto diet, you're in luck, because steak is totally keto-friendly (just make sure you stick to lean cuts of organic, grass-fed beef). If you want to add some flavor to your steak, however, trying to find a marinade can be tough, because a lot of marinades are loaded with sugars and empty carbs. To ensure your steaks are as tasty – and keto-friendly – as possible, we rounded up a list of keto marinades for steak.
Best Keto Steak Marinades
Marinade makes a steak more flavorful and tender. Ideally, you should marinate a steak for at least 20 minutes before grilling so that the meat can fully absorb the flavors. The best keto steak marinades have low-calorie, high healthy fats as their foundation, such as extra virgin olive oil, coconut oil, balsamic vinegar, and a variety of spices can be added to the mix; pepper, garlic, onion, etc.
So, what are some great keto steak marinades? Here's a roundup of some simple recipes that will be sure to add plenty of flavor to your steaks.
Recipe

Nutritional information (per serve)

Time

1.7g carbs
38.3g protein
26.4g fat
406 calories

*Includes steak

Prep time: 10 mins| Cook time: 10 mins

5g carbs
1g protein
11g fat
124 calories

Prep time: 5 mins | Cook time: 5 mins

3g carbs
35g protein
39g fat
545 calories

*Includes steak

Prep time: 10 mins | Cook time: 12 mins

5g carbs
1g protein
9g fat
109 calories

Prep time: 5 mins | Cook time: 0 mins

4g carbs
0g protein
9g fat
93 calories

Prep time: 5 mins | Cook time: 0 mins
1. Keto Chimichurri Flank Steak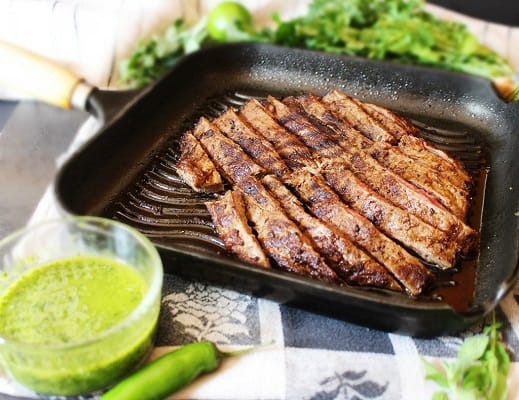 This chimichurri marinade will give your steak a hint of sweetness with a little bit of spice and will be sure to help you achieve that perfect char. Use it with flank or any other cut of beef.
The marinade has 1.7 net grams of carbs and 26.4 grams of fats.
Find the recipe at carbmanager.com.
2. Keto Steak Marinade with Balsamic Vinegar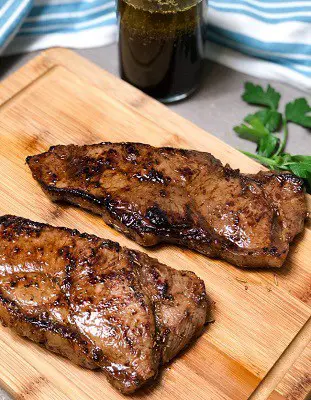 Ingredients like coco aminos (a low-carb alternative to soy sauce), balsamic vinegar, Worcestershire sauce, olive oil, and Italian season come together to create a great tasting marinade that will add more flavor to your beef and that will make it even tenderer.
It has about 11 grams of fat and 5 net grams of carbs.
Check out curbingcarbs.com for the full recipe.
3. Red Wine Steak Marinade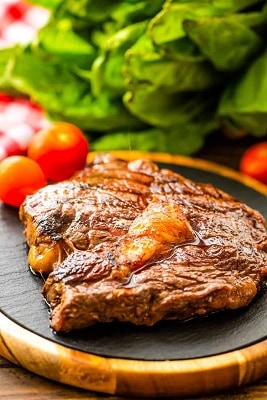 This red wine steak marinade has such a distinct flavor and will be sure to be a crowd pleaser. If you love sipping on a glass of red wine while you're munching on a steak, then this marinade is for you! You can use any type of red wine – Malbec, merlot, cabernet sauvignon, etc. – which will be combined with soy sauce, olive oil, and an array of spices. You can also use this marinade with poultry, and make a delicious keto chicken thigh recipe!
The recipe has 3 net grams of carbs and 35 grams of protein and it can be found at gimmesomegrilling.com.
4. 3 Ingredient Steak Marinade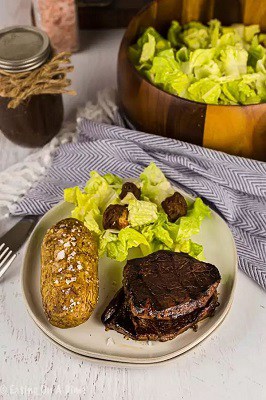 You really can't get any easier than this simple three ingredient marinade recipe. All you need is olive oil (we prefer extra virgin), soy sauce, and balsamic vinegar. Combine them in a bowl, place your steak in a baggie or a tray, pour your marinade over the top at least 15, 20 minutes before you start grilling, and you'll be ready to go!
The recipe has 9 grams of fat and 5 net grams of carbs and can be found on eatingonadime.com.
5. Gluten-Free Steak Marinade (Without Soy Sauce)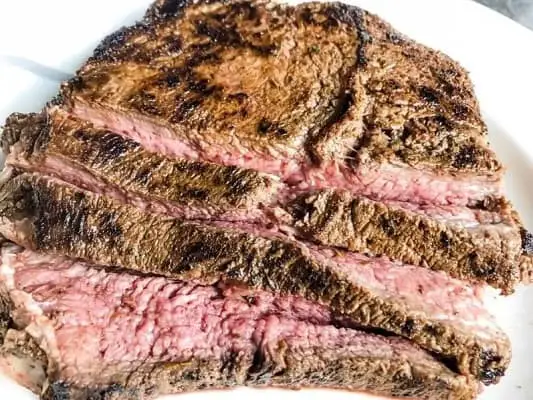 A lot of homemade recipes are made with soy sauce, but this one isn't. You just need lemon juice, water, Cajun seasoning, and high-heat oil, like avocado oil. Combine the ingredients, saturate your steak, let sit, grill, and voila! – You'll have a tender, succulent, tasty and gluten-free, low-carb marinade.
This marinade offers a total of 93 calories and 4g carbs.
Visit thehelpfulgf.com for the complete recipe.
Our Thoughts on Keto Steak Marinade
Lean meat is a staple when you've gone keto, and being able to enjoy a nice steak is one of the great things about this otherwise strict diet. I absolutely love cooking up a tenderloin steak along with a variety of keto salad recipes whenever I'm in the mood for a simple and quick keto meal.
The above marinades are the perfect way to add flavor and tenderness to your steaks and will ensure that you stay on-track and stay keto. And to finish things off, becasue we're feeling especially studious, here's an extra tip: If you want to achieve the perfect tenderness of your keto marinated steak, be sure to always track the temperature with a wireless meat thermometer to make sure the meat is cooked to the desired doneness