Taco Tuesdays were a tradition in my house throughout my childhood and much of my adult life. When I went keto, it felt too much to bear to give that up. With these delicious keto taco stuffed avocados, we simply use a halved avo as a taco shell substitute! This recipe is so simple – you need only a single frying pan or skillet – that it makes for a perfect lazy keto meal to have at lunch or dinner.
Is An Avo a Good Substitute for a Taco Shell?
Yep! Make sure you use a spoon to carve out a good chunk of avocado once you've pitted it to ensure the crater is big enough to fit plenty of filling. You can use that leftover avo to make a nice guacamole too!
When I can only get small avos, sometimes I find I can't get enough filling into the crater, no matter how much I scoop out. So, I just turn them into taco bowls by making a bed of lettuce, adding the meat filling onto that, then layering on the shredded cheese, tomatoes, and sour cream, I then slice up the avocado and tuck it along the sides. Top it with the cilantro and sliced jalapeños if desired, and voila!
How To Make Keto Taco Stuffed Avocados
It's super-simple.
Cook the meat in tomato paste and a homemade taco seasoning comprised of salt, cumin, garlic powder, onion powder, and dried oregano.
Pit your avocados, and then just fill up the crater with filling. Add the lettuce, grape tomatoes, cheese, and sour cream, garnish as desired, and enjoy! Make sure you carve out a bit of extra avo to make the crater larger.
How many carbs are in it?
Per half avocado, you're looking at about 3g net carbs. I find a half is good for a snack, while a double makes for a whole meal! Most of the very few carbs in this meal are in the tomato paste, dairy components, and the veggies themselves.
What can you serve these keto stuffed avocados with?
These go nicely with some refried beans.
They're also nice to have wrapped in keto tortillas.
How well does it keep?
The meat filling keeps for about 5 days in the fridge. Leave any unused avocados unpitted, and any unused filling unprepared and you can have keto taco stuffed avos all week that are as fresh as the day you made them!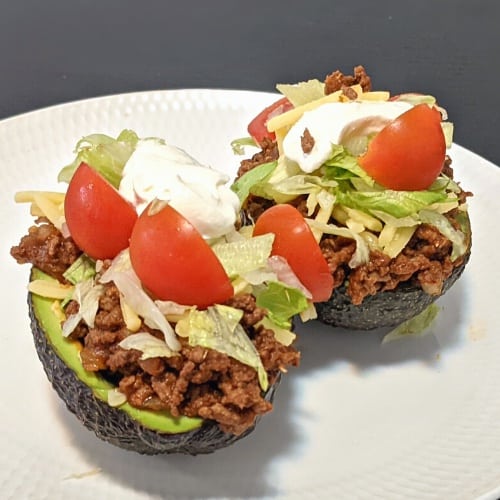 ---
Keto Taco Stuffed Avocados
These taco stuffed avocados are a delightful, fresh, and low-carb meal that are super-easy to cook up. Have them as a healthy snack or cook for the whole family on taco Tuesday!
Equipment
1 Large frying pan

(or skillet)

1 Chopping board

1 Sharp kitche knife
Ingredients  
1

lbs

Ground beef

2

tsp

Chilli powder or flakes

4

oz

Tomato paste

3

Avocados

(halved)

1

cup

Tasty cheddar cheese

(grated / shredded)

1/2

cup

Grape tomatoes

1/4

cup

Shredded lettuce

(iceberg or cos is best)

1/2

tsp

Salt

3/4

tsp

Cumin

1/2

tsp

Dried oregano

1/4

tsp

Garlic powder

1/4

tsp

Onion powder
Additions to add on top?
Cilantro

(rough chopped)

Sour cream

(to taste)

Jalapeños

(fresh or pickled, sliced)
Instructions 
Heat your frying pan or skillet over a medium heat and add the ground beef. Cook until browned.

Remove excess grease and water before adding in the seasonings and tomato paste. Cook for 3-5 minutes until fragrant.

Shred the lettuce and cheese, and chop the grape tomatoes in half.

Pit the avocados and scoop out a little of the flesh to create a nice large crater for the taco filling.

Add in the taco meat, and then top with cheese, tomato and lettuce. Sprinkle the cilantro on top and add a nice big dollop of sour cream. Add sliced jalapeños if desired.
Notes