At the end of a long, hard day, sometimes, you just want to kick back and relax, and if you're like more than half of American adults, that probably means having an alcoholic beverage. However, if you're on the keto diet, you might be wondering if imbibing an adult cocktail is safe. That's understandable, as a lot of drinks are laden with empty calories, and can actually slow your metabolism; two things that definitely aren't keto-approved. In fact, booze in general isn't exactly a weight loss food (or drink, rather).
Can you drink alcohol on keto?
Yes, but in order to avoid thwarting your diet, you do have to do some careful planning. In other words, you can't just grab a beer or any cocktail; you need to be smart about the libations you choose. The typical keto diet plan recommends consuming no more than 50 grams of carbs a day, and both what you eat and what you drink need to fit into that daily allowance.
What alcohol can you drink on keto?
Not all alcohol contains the same amount of carbs. You should avoid beverages that have a high sugar content, such as beer, mixed beverages, and sweet wines, as they have a lot of carbs. Spirts, on the other hand, such as vodka and whiskey, are carb-free. However, do be careful with what you mix them with, as sodas and fruit juices will spike the calorie content. Make yummy keto drinks by using carb-free spirits combined with chopped, diced or juiced keto fruits.
Whether it's after a day of work, over the weekend, at a celebration, or for any other occasion, if you're going to enjoy an alcoholic beverage, before you do, make sure you choose wisely. Look at labels and opt for libations that have low sugar and calorie counts. What are some good keto drinks? Below, we've rounded up six keto alcoholic drinks that you can safely enjoy without negatively impacting your diet progress.
Keto-Friendly Alcoholic Drinks
Recipe

Nutritional information (per serve)

Make time

~5g carbs
>1g protein
0g fat
97 calories

Prep time: 10 mins

7.5g carbs
0.7g protein
0.2g fat
157 calories

Prep time: 10 mins

<1g carbs
20g protein
0g fat
130 calories

Prep time: 10 mins

1.5g carbs
0g protein
0g fat
134 calories

Prep time: ~15 mins

5g carbs
0g protein
0g fat
93 calories

Prep time: 3 mins

2.8g carbs
0g protein
0g fat
80 calories

Prep time: 5 mins | Cook time: 5 mins
Keto-Friendly Alcoholic Drinks
If you're hosting an event, you're a guest at a party, or you're just relaxing at home on the weekend, here's a look at some great keto drinks that you can imbibe that won't foul your diet.
1. Watermelon Limeade Cocktail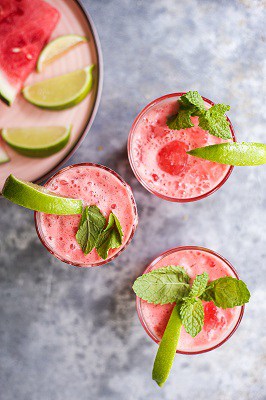 This keto drink will be sure to quench your thirst and cool you off on a hot summer day – or any other time of the year, really. It's light and sweet, yet it won't pack on the pounds, as instead of refined sugar, it's made with monk fruit sweetener (a keto-approved sweetener). The vodka, fresh lime juice, and watermelon all combine to create a delightful taste sensation.
It has about 97 calories per beverage.
Find the full recipe at thedefineddish.com.
2. Peach Martini with Raspberry
Like a martini, but want something that's a little sweeter and more flavorful than the standard rendition of this classic beverage, yet is still keto-approved? This peach martini with raspberry is a perfect choice! It's made with raspberry vodka, fresh peaches, and lemon-lime sparkling seltzer.
Each beverage has about 157 calories.
Visit foodfaithfitness.com for the complete list of ingredients and instructions.
3. Lemon Drop Vodka Cocktail
Fitviews.blogspot.com shared a fantastic recipe for a keto drink: a lemon drop vodka cocktail!
It's light, sweet, and such a delightful treat. It won't blow your calorie count, either; it has just about 130 calories per serving.
4. Low-Carb Moscow Mule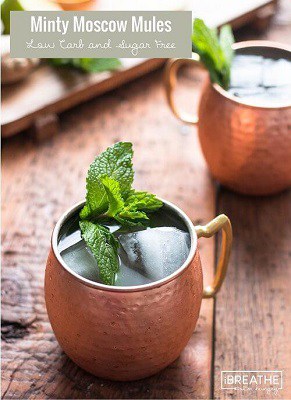 It's pretty easy to turn a Moscow Mule into a keto drink. This rendition of the classic is made with diet ginger beer and only has about 1.5 grams of carbs per serving. It's sure to be a refreshing beverage to enjoy for any occasion.
Check out ibreathimhungry.com for the full recipe.
5. Low-Carb Strawberry Daiquiri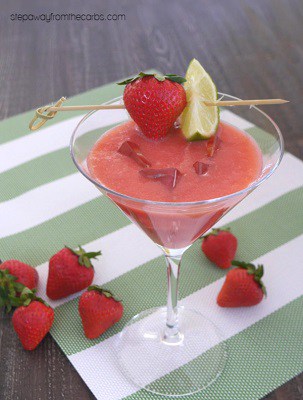 While a standard strawberry daiquiri isn't exactly keto-friendly, this version sure is! While it's made with the traditional strawberries and rum, instead of Triple Sec, it uses pure orange extract and low carb simple syrup.
The recipe yields about 93 calories per serving.
Find the recipe at stepawayfromthecarbs.com.
6. Grapefruit Ginger Fizz
Get ready to pucker-up! If you like sour, this grapefruit ginger fizz will suit your fancy. It's made with grapefruit and fresh ginger, as well as vodka, gin, and grapefruit juice, for a keto drink that only has about 80 calories per serving.
You can find the recipe at mylifecookbook.com.
Our Thoughts on Keto Alcoholic Drinks
Just because you're watching your calories, that doesn't mean that you can't imbibe alcoholic beverages. These six keto-friendly alcoholic drinks prove that you can safely enjoy booze when on the keto diet.